'Mamma Mia!' 2 Could Be Coming To The Stage In The Greatest Turn Of Events Ever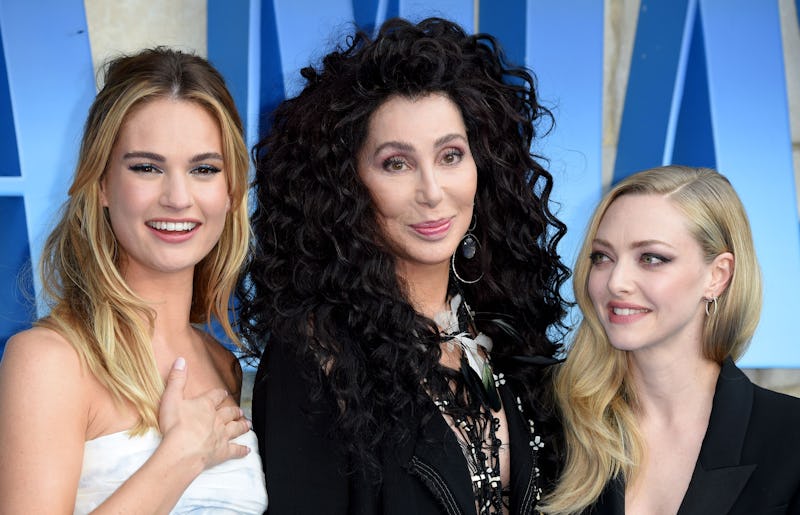 Anthony Harvey/Shutterstock
Film adaptations of musicals are certainly not hard to come by, and the same goes when you spin that premise on its head. So, I want to know what happens when you have a certain, Greek-infused musical that's adapted into a film and that film is given an immensely successful sequel... like, what happens next? Yes, of course, I'm talking about whether Mamma Mia! 2 will become a stage show, because I totally want to hop from one musical to the next in succession, like a mini-marathon but in a weird, probably implausible West End style.
I reached out to a representative for the ongoing London West End production, who informed me that sadly "there has been on confirmation that the second film will be turned into a stage show" as well. That is, not in the immediate future, so that's not to say that it won't happen eventually. However, the good news is that Judy Craymer, producer of the stage and film adaptations of Mamma Mia!, isn't ruling this prospect out. "It might. I mean, there's so much," she told Deadline. "I supposed what I'm trying to say is that it's always evolving. There's always something happening. Next year is 20 years of the show in London [...] and people have said, 'Will there be a new show?' Again, I would never want to presume that there'll be either, but, you know, I think we'll see. I think it's incredible that the music is still so irresistible to people."
OK, I'm excited now. Who's with me?
However, when it comes to sequels in the musical theatre realm, there isn't a particularly good track record. That's not a promising start, I know, but it needs to be said. Did you know Phantom of the Opera had a sequel? Nope, neither did I. You see, part two, which was entitled Love Never Dies, didn't particularly fair well, with critics The West End Whingers dubbing the sequel "Paint Never Dries", which is pretty damning to say the least. Bring Back Birdie was yet another failure of a sequel (following on from the success of Bye Bye Birdie) in the early '80s, branded a "mess" by New York Times critic Frank Rich.
Judging by these failures, if Mamma Mia! Here We Go Again! were to be adapted for the stage, it may just have the upper hand. Why? Well, it's already proven to be a much, much larger success than its predecessor. Mamma Mia! has a 58 percent rating on Rotten Tomatoes, whilst Here We Go Again! has increased to 79 percent, and is even "certified fresh"; a true honour in the online reviewing sphere.
Basically, Here We Go Again could easily count as a trial run for a stage adaptation. It's a safer way of giving the stage adaptation a sequel, whilst avoiding the risk of it failing dramatically. With a musical like Mamma Mia, it was pretty much destined to succeed due to the nature of its storytelling; it's all based on ABBA songs.
There's a narrative, sure, but the narrative derives from the lyrics. In turn, the stories that can be told from these songs are pretty much endless. Well, until there aren't any new songs left. But even then, Here We Go Again is literally using the same song as the first in its title, so it's already proving that reusing songs can work with pretty decent results.
As Craymer so expertly puts it: "I think there's always been a spirit to it that engages the audience [...] They love the music but they love the story and the characters."
It's the familiarity — and absolute joy — of ABBA and their songs literally brought to life that will forever captivate audiences, and if that doesn't prove Here We Go Again!should make its way to the stage I don't know what will.