'Marlon' Fans May Be Saying Goodbye To This Modern Family Very Soon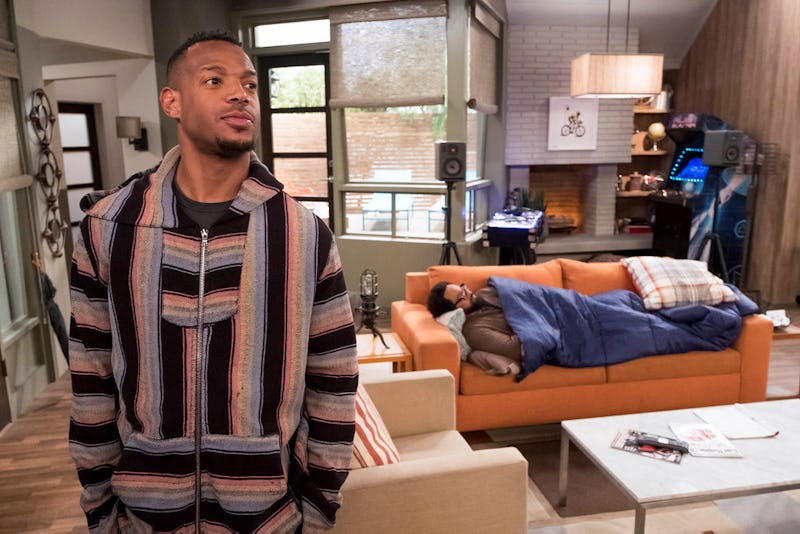 Vivian Zink/NBC
Marlon Wayans' self-titled NBC sitcom has found itself at the bottom of a ratings slump, despite a seemingly loyal following, so right now it's unclear if Marlon will return for Season 3. The current season comes to an end on July 12, and it's very possible that the finale may be the last episode that fans will get to see.
According to TVSeriesFinale.com, the show is down about 38 percent in viewership numbers from its first season, and about 43 percent down ratings-wise in the coveted 18-49 demographic. But, despite that fall from the first season to second season, TVLine reported last week that Marlon saw a season high in audience numbers with a solid 2.97 million tuning in, so it would seem that all hope is not lost.
The show focuses loosely on a fictionalized version of Wayans' own life, in which he raises his children while in an amicable but strictly non-romantic relationship with their mother. The dramatization casts him as a version of one of the sitcom world's most time-honored tropes: the bumbling father trying to balance out the always on-top-of-it mom, but with a family he loves more than anything.
In an interview with The New York Times from last year, the actor said that he and the real-life mother of his children made the choice to respect one another and co-parent, even when they were no longer romantically involved. He wanted Marlon to echo that sense of family. "There are so many broken families in this world, and in the African-American culture," Wayans said. "But you don't have to break up your family because you and your partner broke up. You still have to father your children, you still have to communicate, you still have to grow your family together."
Wayans himself is already a household name in comedy — some of his most memorable roots in the business trace back to the '90s. He was a cast member on In Living Color, and his other big project, The Wayans Bros., ran for more than 100 episodes. Since then, he's starred in some movie spoofs and smaller roles, but his name made Wayans feel like a safe bet for carrying another sitcom.
A look at Rotten Tomatoes's ratings system suggests that it's not exactly the critics who have been keeping this show going up to this point. Marlon has definitely seemed to be a bigger hit with audiences at large than it has been with those professionally analyzing the comedy. Its Rotten Tomatoes critics' rating sits at a totally neutral 50 percent positive score, while the same site's audience rating jumps to a 79 percent positive.
And that audience love is apparent if you're anywhere in the Marlon Twittersphere at pretty much any time of the day. Fans are constantly referencing the show's jokes and praising its characters, not to mention lobbying NBC to extend Marlon's run far beyond its current second season.
According to an interview with the Atlanta Journal-Constitution, Wayans didn't take the Season 1 summer date he was given by the network as a good sign at first, but then after realizing he'd be following NBC's biggest hit, America's Got Talent, he became more hopeful for the future. "They're launching it behind their biggest show," he said last summer. "They're giving me the best shot to win. You look at it from that lens and you're grateful."
You can't deny — Wayans and the rest of his cast always seem to be having a blast when onscreen, and audience reactions show that that hasn't gone unnoticed. No one knows for sure just yet if NBC will decide to take Marlon to another batch of episodes, but regardless of a renewal, it's cultivated a fanbase that's still firmly in the show's corner.