If You're Feeling Brave, 'Married At First Sight' Is Currently Casting Season 8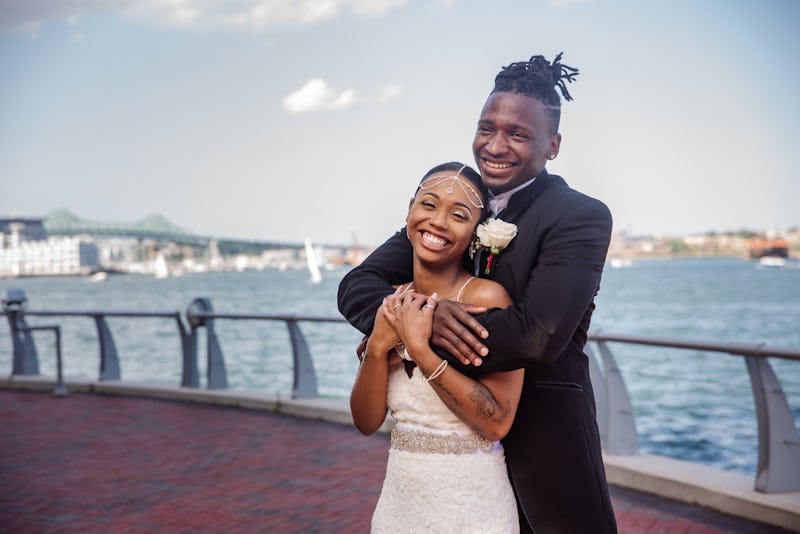 Lifetime
Imagine meeting your future spouse for the first time. Then imagine marrying them on the same day. It sounds totally crazy, but it's a wild concept-turned-social experiment that Married At First Sight brought to life in 2014. Four years, seven seasons, and many tears later, fans are wondering if Married At First Sight will return for Season 8. Because let's be honest — the show is the definition of guilty pleasure television.
If you're not familiar with how the show works, relationship experts pair up three couples based on their scientifically determined compatibility. By signing up for the show, contestants agree to marry whomever they're matched with seconds within meeting them. After spending the night in a hotel together and (maybe?) consummating their newfound marriage, they're off to a enjoy a honeymoon and eight weeks of married life before deciding their relationship's ultimate fate. Do they stay wed, or is divorce imminent?
Season 7 makes 21 couples who have endured the process, and while many of them choose to stay married at the end of the camera-omnipresent trial period, far fewer last the test of real life. As of July, of the 18 couples who had completed the show, four remain together, according to E! News. That's a 22.2 percent success rate.
"My hope was that we would be able to support these people and help them grow into better versions of themselves by bringing out skills to the process, by matching them through science," Dr. Pepper Schwartz, a sociologist on the show told E! News. "And the more we went on, the more I believed in it because I could see people listen and learn and it was fascinating and wonderful."
So it's possible that the show's goal isn't to necessarily create life-long marriages, but to give people who struggle with relationships the tools and experiences to improve and grow. The show's premiere expert trio was shocked to find out that anyone would even volunteer, and now, each city they visit garners around 50,000 applicants, per E! News.
An eighth season of MAFS has yet to be officially confirmed by Lifetime. However, the show's casting team looks to be scouring Charlotte, North Carolina for potential candidates. A flyer on their casting Facebook page reads, "Single and brave? Appear between 26 and 40? Live in the Charlotte area? Exhausted all dating options? Ready to find the love of your life? We want to hear from you!"
Clearly, they're not looking for anyone who's freshly an adult and stepping onto the dating scene. They're looking people who've been around the block a few times, and who are looking to try something new. And apparently, you have to *look* like you're between 26 and 40 years old, which seems like an oddly specific requirement. But that's not all — the application for the show is a 60-plus item questionnaire that asks about your childhood, family, and any deal breakers you might have when it comes to finding "the one." Somehow, those 50,000 applicants are narrowed down to three couples — six people who should be meant to be. But that doesn't necessarily mean they are.