Matt Damon & Jimmy Kimmel's Feud May Return Soon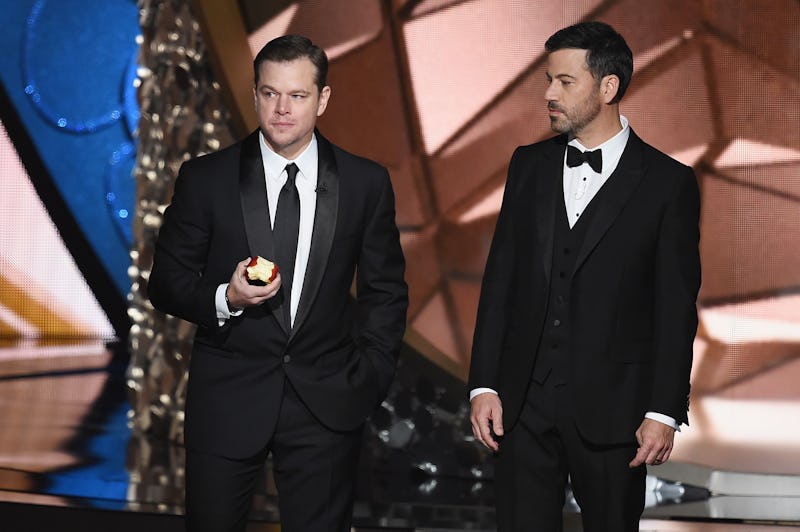 Kevin Winter/Getty Images Entertainment/Getty Images
When you think of Hollywood's greatest feuds, classic beefs such as the Joan Crawford and Bette Davis debacle of the 1950s, or the Team Jen versus Team Angelina craziness of the early 2000s come to mind. But a late night host taunting an A-list actor for over a decade is too random and too hilarious to ignore. The "feud" between Jimmy Kimmel and Matt Damon has gotten so out of hand that you might be questioning whether Matt Damon will attend the Oscars this year — even though he's a Manchester by the Sea producer. Kimmel is hosting the Academy Awards this year, so things could get awkward. But the first time Oscar host assured Good Morning America's T.J. Holmes on Wednesday, Feb. 22, that viewers should expect a Damon-Kimmel face-off for the ages.
He said,
"Unfortunately, we will see Matt Damon. I have to look at his face in the audience. Odds are I'm gonna say something. He's my arch enemy, really. I mean, if the Joker and the Batman were face to face, there would be some kind of a standoff and I would imagine that that will be the same for this."
Damon also confirmed himself that he will be at the show. He told Ellen DeGeneres, "...there's going to be hundreds of millions of people watching and hoping that [Jimmy Kimmel] messes up. I'm going to be there a few rows deep hoping that he messes up. I might even throw things at him."
But before you tune in on Sunday, Feb. 26, you may want some background on this ongoing late night fight. The Damon-Kimmel debacle dates back to December 2005, according to People magazine, when Kimmel was thinking of a joke to wrap up his show Jimmy Kimmel Live! After enduring a "bad show," the comedian told NPR in 2013, he thought he'd lift his spirits and make his producers laugh by saying, "I want to apologize to Matt Damon. We ran out of time." Kimmel went on to close his show with the same fake apology for a year, and thus the fake feud was born.
Damon's gotten his revenge on Kimmel countless times throughout their playful romp. Most notably, he crashed the stage while Kimmel was hosting the 2016 Emmys to taunt him after he lost the award for Best Variety Talk Series to John Oliver. Sauntering on stage while eating an apple, Damon quipped,
"I'm sorry. You lost and now you got to stand out here for the rest of the night in front of everybody when you probably just want to go home, curl up and cry ... You're a pretty big loser and I, for one, am really sorry about that and I think everybody else here feels really sorry for you."
With Kimmel's confirmation that Damon will be in the audience, you're in for a night full of laughs on Sunday. One can only imagine what Kimmel will think to say to Damon if Manchester By the Sea gets swept by La La Land!