Wow, 'Love Island's Megan & Wes Probably Won't Last According To THIS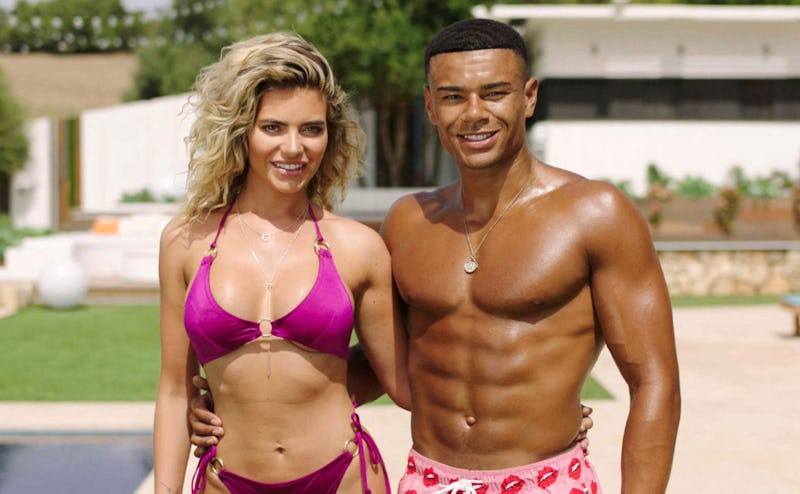 ITV/Shutterstock
Predicting who will still be together in six months' time is one of the only upsides to waving goodbye to Love Island for the summer. And while I don't have a crystal ball, everything fans of the show have seen over the past few weeks, plus a careful consultation of the odds, can help give some idea of who's in it for the long haul and who will be wiping away tears in a tell-all interview on This Morning in the near future. A lot of people have their doubts when it comes to Megan Barton Hanson and Wes Nelson — so, will Megan and Wes stay together? Or are they going to break up?
Well the bookies have spoken and they do not give the couple great odds for lasting outside the villa. William Hill has Dani Dyer and Jack Fincham dead cert for the crown, no surprises there, with Josh Denzel and Kaz Crossley next in the running. But unfortunately for Wes and Megan, in a press release issued to Bustle UK, the bookmakers not only names them as least likely to win, which is unexpected considering they've been together a lot longer than Laura Anderson and Paul Knops, but it also states that they're also most likely to split when they leave the villa, with odds of 6/5.
But then again, perhaps it's not surprising given Megan and Wes's romantic ups and downs during their time on the show. Let's recap. At first Wes was coupled up with Laura, saying he was falling for her big time. But cracks started to show when Ellie Brown entered the villa. Things quietened down a little when she chose to couple up with Dr. Alex George, but it really was just the calm before the storm, as then in came hurricane Megan. After a brief stint with Eyal Booker, she admitted her feelings for Wes in the go-to secret chat spot, and even asked him for an illicit snog. Wes's budding romance with Laura didn't have a hope in hell and his head was well and truly turned.
But before Wegan had even had time to become a thing, the boys were whisked off to Casa Amor, and six new guys touched down in the main villa, with Alex Miller among them. Being Spectacle Winner of the Year 2017, Alex's charms proved impossible for Megan to resist and while Wes was staying loyal in a villa a few miles away, she was cracking on. And when it came to the re-coupling, she opted to ditch him in favour of her new match.
Arriving back in the main villa, Wes wasn't about to let Megan go that easily, and he decided to graft like he's never grafted before. And thanks to a concerted effort on the chatting up front, plus a re-coupling that worked in his favour, viewers were waving goodbye to Malex? Aegan? and saying "you again?" to Wegan.
Since then the pair has had a fairly smooth time, bar some tricky questions in the lie detector challenge, and Megan even got the approval of Wes's mum and dad. Which was completely and utterly adorbs. He also revealed to his mum and dad that he is moving out once the series finishes to set up home with his new girlfriend Megan in Essex.
But how does Megan really feel about Wes? Well, in the Love Island final, she pretty much poured her heart out: "Wes I've never felt this way about someone before. I love waking up to you every single day and I can't help but fall more and more in love with you. You love me for me and that's a really special feeling. The moment you told me you loved me on the terrace was the highlight of my time on Love Island."
As for Wes, he insisted he feels the same way. He told Megan: "It's been amazing to see you grow as a person, I'm so excited to see what our future holds. What I can definitely promise you is that I'm madly in love with you and I'm falling even deeper every day."
So I must say I'm a little surprised by William Hill's assessment. I'd argue Wes and Megan have been through the most tests in the villa and always found their way back to each other, and if that isn't a recipe for success in the real world, then I don't know what is. I'm rooting for them, even if no one else is.