Meghan Markle Isn't Completely Absent In Season 8, 'Suits' Creator Says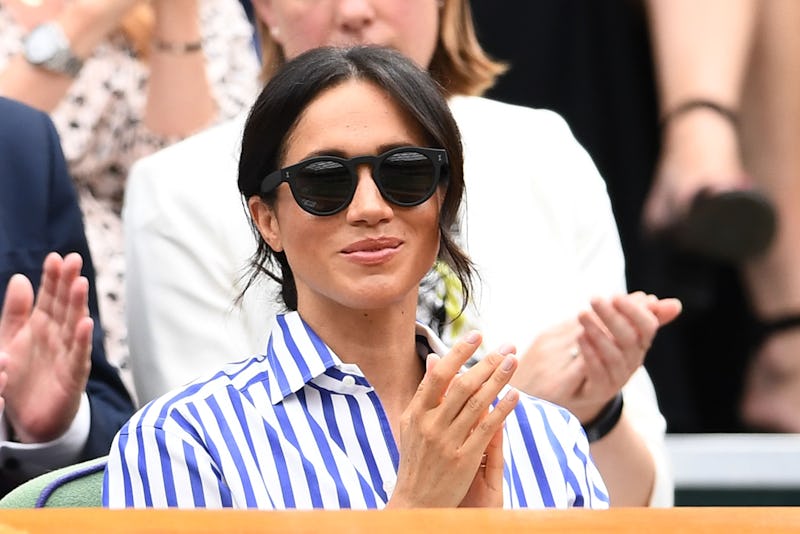 Clive Mason/Getty Images Entertainment/Getty Images
Lots of changes are happening on Suits as the series returns for Season 8. New characters are arriving as others leave for spin-offs and other projects. And, uh, royal marriages. Which had some people if Meghan Markle will be in Suits Season 8? Her sparkle will remain, but it seems like the once star of the series has wrapped for good.
You may have noticed that Markle has taken on the new role of Duchess of Sussex after marrying Prince Harry and joining the British royal family back in May. Many members of the Suits cast were, in fact, in attendance and living their best lives at the Royal Wedding. At the time, Markle's exit from Suits had already been planned and filmed. The writers actually anticipated her new path, and wrote her character out of Suits well in advance of her real life engagement, even, according to E! News. With Markle's ascent across the pond, both Rachel and Mike exited the series as characters at the end of Season 7. Will the firm's power couple at least be referenced in the new episodes?
Creator Aaron Korsh said in an interview with Deadline, "Probably.Suits doesn't forget about people that have been on the show. Even minor characters we sometimes mention and refer to repeatedly over the years, like Lola Jensen who we only saw once, or whoever it may be. So there's no doubt that the absence of Mike and Rachel will be played and referred to and talked about." Korsh added, "Just think about Rachel — Robert Zane is her father, right? Obviously our characters will be aware of their absence and we will try to have them talk about them as they would in real life."
Rachel's father Robert Zane, of course, joined the firm at the end of Suits Season 7, and actor Wendell Pierce will take on a larger role in Season 8, so there'll be mention of his beloved daughter for sure.
There is, also, a small possibility that Patrick J. Adams will eventually return as Mike and provide fans with some kind of update. "When Patrick left," Korsh said in the same interview, "he and I discussed it and decided we're both open to having Mike come back, 100 percent. When that is will be determined by A, whatever he's doing at the time, and also B, whatever organic story there is to tell, but I would love to have that happen. But for the first 10 [episodes], I don't see it happening just because we're doing other things." That's fair when you consider that giving time for fans like us to catch up and get used to the new makeup of the cast might take a minute.
The former Suits star may also return to direct, Korsh added. But Markle, who has retired from acting entirely, is done with the series. "I would say it was emotional," Korsh told Deadline about the end of Markle's time on the show with the Season 7 finale. "I remember having a really fun talk with Meghan as we were setting up to shoot the wedding and we were just wrapping up our time together."
There's also the Suits spin-off, Second City, to consider. Gina Torres' character Jessica Pearson, who is the protagonist of the new series, may mention Rachel and Mike as well. Meanwhile, Katherine Heigl is joining the series as Samantha Wheeler, an antagonist, and both Dulé Hill and Amanda Schull are being upped to series regulars. There is going to be more than enough Suits content out there, just without a certain leading lady.
Other than a possible picture or a few lines of dialogue, this is it. Don't hope for a secret Season 8 scene filmed before Markle's departure — the Season 7 finale is the last we've seen of Markle on Suits. Never say never, but this is pretty much as close to never as it gets.