Here's What Meghan Markle's Pregnancy Means For Her Tour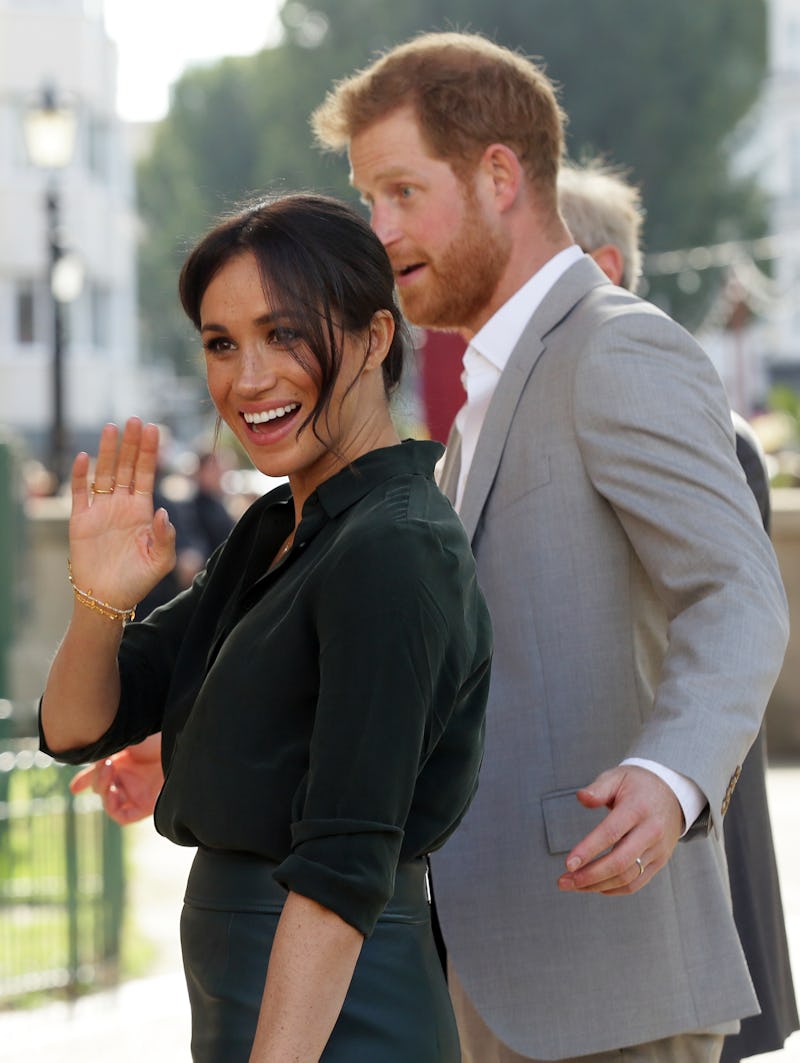 WPA Pool/Getty Images Entertainment/Getty Images
Here ye, here ye. A new royal baby cometh! On Monday, Kensington Palace announced that the Duke and Duchess of Sussex are expecting a child in the spring. And the news comes at an interesting time. Meghan Markle and Prince Harry have long had a tour of Oceania scheduled for October, so does this baby news change anything?
Put simply, no. In fact, Markle and Harry are already in Sydney, Australia. As reported by ABC News, the couple arrived in the city on Monday, October 15 and the pregnancy announcement was made hours after their arrival. It's a good call since video of them leaving the airport makes it look like an overwhelming situation already. Hopefully, the couple got to settle in at Admiralty House (fancy!) before the tweet hit the fan.
The Duke and Duchess' tour will officially begin on Tuesday, October 16 and last through the 31st. They will visit Australia, Fiji, New Zealand, and Tonga. The official royal family website has an extensive rundown of everything Markle and Harry will be doing on the tour, but their visit will focus on "on youth leadership, and projects being undertaken by young people to address the social, economic, and environmental challenges of the region" as well as "environmental and conservation efforts." They will also be in Sydney for the Invictus Games, the event Prince Harry founded for wounded, injured, and sick military members and veterans.
It makes sense that Markle's pregnancy would be announced before the tour officially kicks off. There had already been speculation that Markle was pregnant, and going to event after event for two weeks straight wasn't going to slow that down. Imagine if she avoided a champagne toast or trying some sort of raw fish delicacy or had to leave Harry to go to one of their meetings solo. People would immediately start thinking she was pregnant, and she might have to come up with excuses for things. With the news out there, all the people Harry and Markle are visiting will know exactly what's going on already. If Markle seems sort of ill one morning, for example, they'll know why.
When Kate Middleton announced her third pregnancy in 2017, she shared the news when she was still pretty early on because she was once again suffering from hyperemesis gravidarum, a severe form of morning sickness. Getting the news out there let people know what was going on with her — even if she wouldn't have necessarily wanted to announce that early otherwise. For instance, the same day the announcement was made, Middleton canceled a scheduled appearance.
Hopefully, Markle is doing well and her and Harry's tour will go off without a hitch. They're certain to get a lot of comments on the pregnancy once things get started, so on the one hand, that's an easy talking point for everyone, and on the other, Markle and Harry are going to need about a dozen canned responses. They're only going to be meeting literally hundreds of people.