Meghan's Sister Is Reportedly Going On 'Big Brother' So Let's Examine The Signs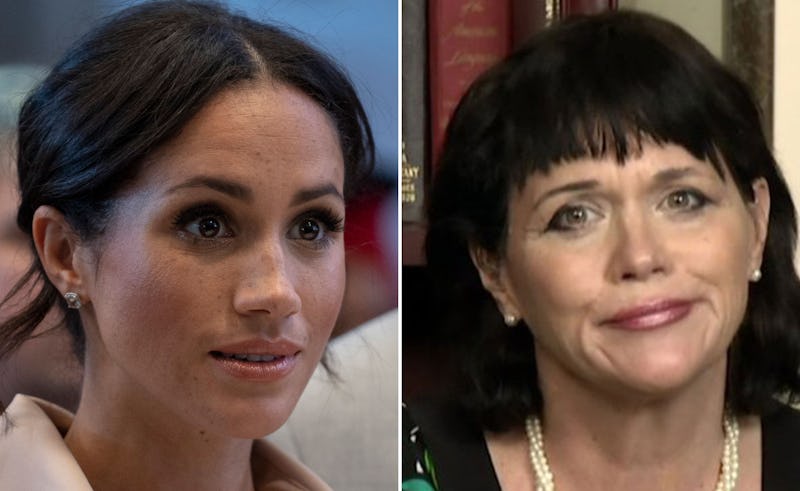 WPA Pool/Getty Images Entertainment/Getty Images /ITV
Forget the Love Island villa, the 2018 Celebrity Big Brother house is finally close to opening its doors. Obviously, with the countdown now officially on, housemate rumours are beginning to circulate, and there's one name in the hat that's really got people talking (including me); that's the Duchess of Sussex's half-sibling, Samantha Grant. So, is it true? Is Meghan Markle's sister doing Celebrity Big Brother?
Well, firstly, I have to stress this really isn't as far-fetched as you may think as you may think. Grant is apparently "high on the list of priority" for the show's creators, reports MailOnline. The show insider reportedly added: "The theme for this summer's CBB series is understood to be 'scandal' so Sam is ideal for this." Interesting...
To find out more, I decided to reach out to Channel 5 myself. A Celebrity Big Brother spokesperson tells me: "We wouldn't offer comment on speculation around possible housemates."
So then, I asked Grant's publicist to set the record straight instead. However, she was pretty tight-lipped too. Giving nothing away, her rep tells me: "Unfortunately we won't be commenting on any rumoured TV appearances, I'm afraid."
While neither would confirm a thing, at the same time, there hasn't been a flat-out denial of Grant going into the house. So, are there any other signs?
According to online betting site Paddy Power, the odds of Markle's sister actually entering the CBB house are currently sat at 10/11. So clearly, someone thinks she's in talks about signing up. Mind you, there are celebrities like Oprah Winfrey, Tiffany Trump, David Davis, and Stormy Daniels on that list also, so maybe take these odds with pinch of salt.
But there are other indicators that Grant could be a Celebrity Big Brother 2018 housemate. In a press release issued to Bustle UK, producers revealed that every celeb signed up for this series "will have been caught up in their own media storm." By taking part in the series, the statement explained that the famous faces will "once again putting themselves in the public eye and [will] have a lot to prove."
Well, Grant will arguably be suited to this theme, then. She has had some strong opinions regarding her sister's marriage to Prince Harry that have created huge media storms.
Earlier this week, she reportedly published a series of tweets on her private account — as claimed by Cosmopolitan — calling the royal family an "embarrassment". In the posts, Grant also stated that she would hold Markle "responsible" if their father died, according to the Huffington Post. I reached out to her rep for comment on the tweets but have so far not heard back.
However, that's not even the beginning of her opinions on Twitter. Earlier this month, Grant reportedly posted a disheartening series of tweets, according to the Evening Standard, including one which read: "Harry is a 'wuss' to allow the Duchess of Nonsense to mistreat everyone who has been close to her, especially her family. Diana would be ashamed."
She also reportedly suggested that Harry should have married Cressida Bonas instead of her sister. According to The Sun, she wrote on Twitter: "She is much more like Diana. That's who Harry should have married."
Then there's also the fact that Grant is no stranger to British TV. In the run-up to the royal wedding back in May, she was a pretty frequent interviewee on Good Morning Britain. In one interview with Piers Morgan and Susanna Reid, Grant called the media "vultures" after the paparazzi took "unflattering photos" of her father. However, during another TV appearance on Loose Women, Grant admitted that she had staged the now infamous staged photos of Thomas Markle to "benefit the royal family". Explaining why, she said the images revealed he was "getting into shape."
Although Markle hasn't spoken out about her half-sister and it's unlikely she ever will, Grant was noticeably not invited to the royal wedding. So make of that what you will.
There's no doubt that if Markle's half-sister is indeed a CBB housemate, this series will definitely be one to watch. However, I have a feeling that the other housemates will not share the same opinions of Grant regarding Markle or the royal family, pathing the way for some serious drama.