Here's How Melania Will Be Expected To Greet The Queen — And It May Include A Curtsy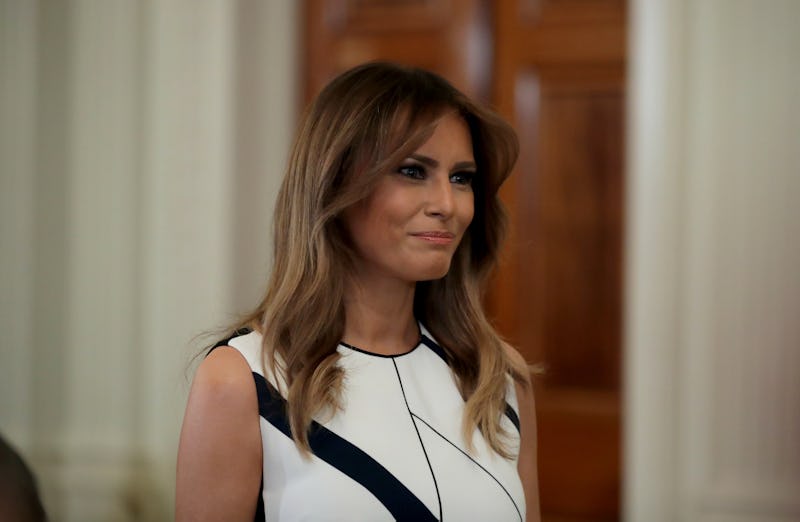 Chip Somodevilla/Getty Images News/Getty Images
President Trump will be making his first official trip as president to England this week, and while he's there, he and first lady Melania Trump will visit the Queen of England. There's an established etiquette for meeting the royal family, and so you may be wondering: Will Melania have to curtsy for the queen when the two meet?
Not necessarily — but she might. According to the BBC, women who meet the queen are expected to either give a small curtsy or shake her hand upon their introduction. However, the BBC also reports that it's considered a faux pas to present your hand to the queen for a handshake if she doesn't do so first.
It would seem, then, that how Melania conducts herself when she's introduced to the queen will largely depend on what the queen herself does. If she offers Melania her hand, they may just shake and be done with it. If she doesn't, the first lady will likely do a curtsy. It's also possible that she'll both shake the queen's hand and curtsy, as United Kingdom Prime Minister Theresa May did when she met the monarch in 2017.
If they do end up shaking hands, Melania should make sure her grip isn't "too tight or too loose," etiquette expert Grant Harrold tells the Telegraph, and she should only give "two to three pumps" before ending the handshake.
Both Melania and Donald will have to observe a complex set of rules when they meet the queen. For one, they'll both be expected to arrive on time; it's considered rude to keep the queen waiting, according to the BBC. They should refer to her as "Your Majesty" upon their first introduction and "ma'am" thereafter — although it's important to note that in this context, "ma'am" is to be pronounced "jam," according to the Telegraph. On that note, neither of them should initiate their introductions on their own; rather, they'll be "presented" to the queen by a third party, according to the Telegraph.
The Trumps will then be expected to take the queen's lead, according to the BBC. That means no speaking to her unless she speaks first, no sitting down unless she sits first, and so on. They should avoid turning their backs to her, as that's considered rude, and they should definitely avoid touching her.
When everybody sits down to eat, Donald, as the guest of honor, will most likely be seated to the queen's right. According to the BBC, protocol dictates that the queen will talk to Donald for the first half of the meal before turning her attention to whoever's seated to her left (It's unclear who this will be). During conversations with the queen, the Trumps should not ask personal questions or attempt to have anything other than harmless small talk, the BBC reports.
All of this etiquette is just that — etiquette. In other words, it's not enforced; as the Royal Family's website states, "there are no obligatory codes of behaviour when meeting the queen or a member of the Royal Family, but many people wish to observe the traditional forms."
High-profile figures have run afoul of royal etiquette in the past. In June, Susan Sarandon introduced herself to the queen directly without waiting to be presented to her. During a 2007 visit, George W. Bush winked at the queen and compared her to his mother, which wasn't a violation of any specific rule but was frowned upon nonetheless.
While Melania will possibly curtsy for the queen, Donald will instead be expected to give a small bow of the head. Rupert Wesson of Debritt's etiquette company tells the Telegraph that this should be "a very subtle gesture and not exaggerated," and that the queen "is said to be quite relaxed about this."