No One Can Replace McDreamy, But This New Doctor On 'Grey's Anatomy' Comes VERY Close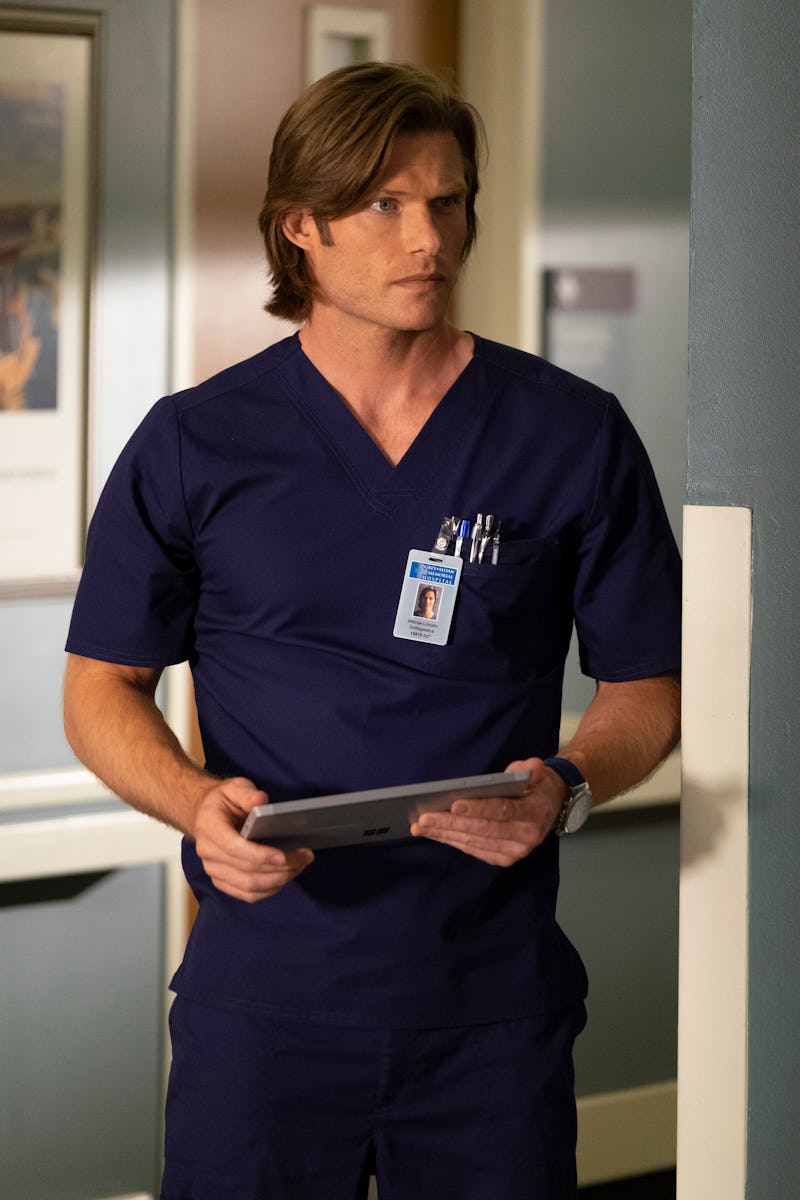 John Fleenor/ABC
Move over McDreamy and McSteamy, there's a new hottie on the Grey Sloan Memorial staff. The Grey's Anatomy character calls himself Ortho God, but he's also known as Atticus Lincoln aka Link — because it's shorter. With shoulder-length blonde hair, a carefree attitude, and a desire to have no-strings-attached fun — he's pretty much the anti-Derek, which makes him perfect for a certain someone. Meredith and Ortho God need to date on Grey's Anatomy, because she's mourned, she's moved on, and now she deserves to have some lighthearted romance.
Meredith's life has been pretty dark for a while now. Even her rebound relationship from losing Derek was ultimately super sad because Nathan Riggs' ex-girlfriend magically came back from the dead and they ran off together. So while Meredith doesn't need a man, she wants one. She doesn't want to be married to her work anymore. This new Ortho God is the perfect antidote to her past few years spent working, working, working. He may take his job seriously, but he's not a serious guy, he's gorgeous, and he's nice and fun. He's a great fit for a fling — and that's about it. Meredith doesn't need to marry the guy, but he's perfect for helping her get back into the dating game.
But, as much as fans may want this relationship to happen because it could be a breath of fresh air for Mer, that doesn't necessarily mean it will happen. He could end up with someone else — because, let's face it, Link will hook up with someone on staff eventually. After all, Season 15's theme is the "Season of Love," according to TV Line. And Camilla Luddington, who plays Jo, hinted to Us Weekly that a lot of people are going to fall for Link.
"We have a new Ortho God. Have you heard about him? We're bringing the sexy this season," Luddington said. "He's super charming and everyone's gonna fall madly in love with him." Everyone could be Amelia or Teddy or any of the interns — Link may not be destined for Meredith. But, someone else might be, because a tantalizing trailer for Season 15 showed a moment where Meredith and Andrew DeLuca are making out in a bed.
Now, it could be a dream as some fans have proposed, but they did share a drunken (on DeLuca's part) kiss during Alex and Jo's wedding. And Giacomo Gianniotti, who plays DeLuca, hinted to Entertainment Tonight that they're "revisiting" that kiss in Season 15.
"I think we're going to see something blossoming between them: A friendship? A friendship that could be more? At the moment, we don't know," Gianniotti said. "We are definitely building some romance, but to what degree, I don't know."
If DeLuca becomes Meredith's season long romance, Ortho God could be an early season hookup to get Meredith back on the horse, romantically speaking. In any case, Link is a fun addition to the show, and he's sure to have a steamy scene with someone soon. You can't look like that on Grey's Anatomy and not get an on-call room sex scene.