Here's What All Your Fave 'New Girl' Characters Are Doing After That HUGE Time Jump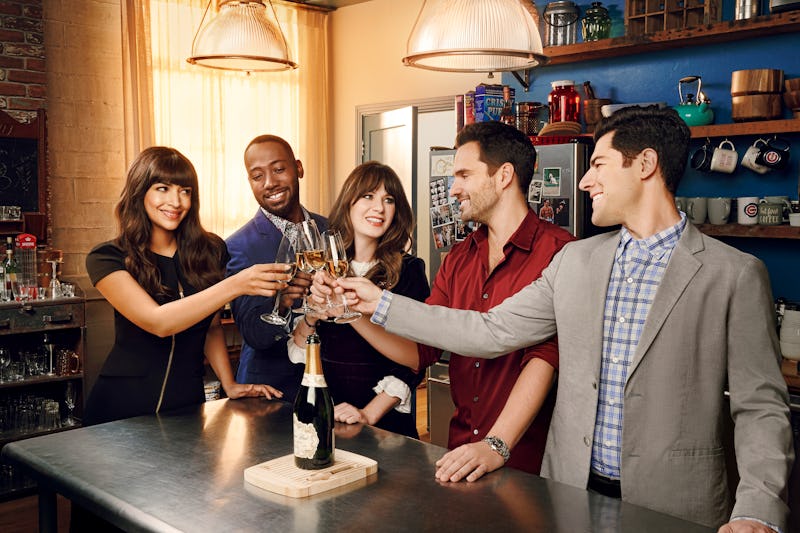 Jeff Lipsky/FOX
It's been a long road for New Girl fans. The show's sixth season aired its finale more than a year ago, and, now that they gang is finally back together, New Girl strikes a familiar tone while still presenting a three-year time jump to shake things up. Even after all this time, a longtime question still looms — will Nick and Jess ever get married on New Girl? Spoilers ahead for New Girl's Season 7 premiere.
Season 7 greets Nick and Jess fresh off a European tour for Nick's wildly successful book about Julius Pepperwood — a nostalgic hit for longtime fans right off the bat, as New Girl has often focused on Nick's long and labored love for this novel. The couple is still together after the three years since viewers have seen them, which is already a new high note after so many years of tumultuous romance, or lack thereof. One thing that hasn't changed, though, is the infuriating way Nick and Jess can somehow get themselves into a weird, awkward position in their relationship, when everything could just be solved by a heartfelt conversation.
At a birthday party for Cece and Schmidt's three-year-old daughter, Ruth — that's right, Schmidt is every bit the high maintenance stay at home dad you've always dreamed he would be — Jess runs into her ex-boyfriend Russell. She immediately becomes defensive after Russell notes that she and Nick were never able to fully commit to each other, and she tells him that they're engaged when they very much are not.
The most frustrating part of this whole situation is that Nick was actually going to propose when they got back to the loft after Ruth's party, but now because Jess feels like she has to overcompensate to assure him that she doesn't need to get married, he's put off from the whole idea and decides to wait until a better time. If you're screaming at your television at this point, you're not alone. Fans of this show have been waiting years to see if Jess and Nick will actually be the endgame for one another, and now that they're happy and stable, they should just tie the knot already.
But, honestly, New Girl wouldn't be New Girl if viewers weren't agonizing over some kind of lack of communication between Nick and Jess. Nick didn't abandon the idea of a proposal altogether, though, so hopefully it's something to look forward to later in the season. Jess and Nick's drama wasn't the only thing that remained the same among the group of friends, even with all the changes that came with the time jump.
Winston is still lovingly obsessed with Aly, who is now carrying his child and is a totally badass pregnant woman. He spends the episode soliciting advice from his friends about which "glam" maternity shoot photo is their favorite, and is adorably preparing for fatherhood in the most "Winston" ways possible. Schmidt and Cece are deeply in love, as it should be, even though parenthood has added whole new layers of depth to their characters. Schmidt has some of the funniest moments of the episode, as usual — he desperately and aggressively tries to gain Nick's approval of his new mustache, and works to pull off the most amazing third birthday party that any toddler has ever seen. He also angrily runs offscreen to reprimand a child who apparently "doesn't understand the meaning of upscale casual" and claims that his entire life has prepared him for the success of this party. Schmidt will be Schmidt. Cece is as fun and patient as ever, and makes a fitting mother, though hopefully the show explores her high stakes career more in subsequent episodes than it was able to in the premiere.
A time jump is a bold move for any show, and especially for one that's focused so heavily over the years on the everyday developments of its characters. New Girl invited viewers into the inner workings of that Los Angeles loft for season upon season, and it didn't abandon that comfortable tone even when leaving so much unsaid. The time jump is palpable, but the show never leaves its audience scrambling to fill in the blanks. New Girl's premiere gives off the distinct vibe of reuniting with some friends you haven't seen in a while, and after the first few hugs and "how have you been's" are out of the way, it's like no time has passed at all.