Will Nick & Vanessa Lachey Be On 'DWTS' Season 25?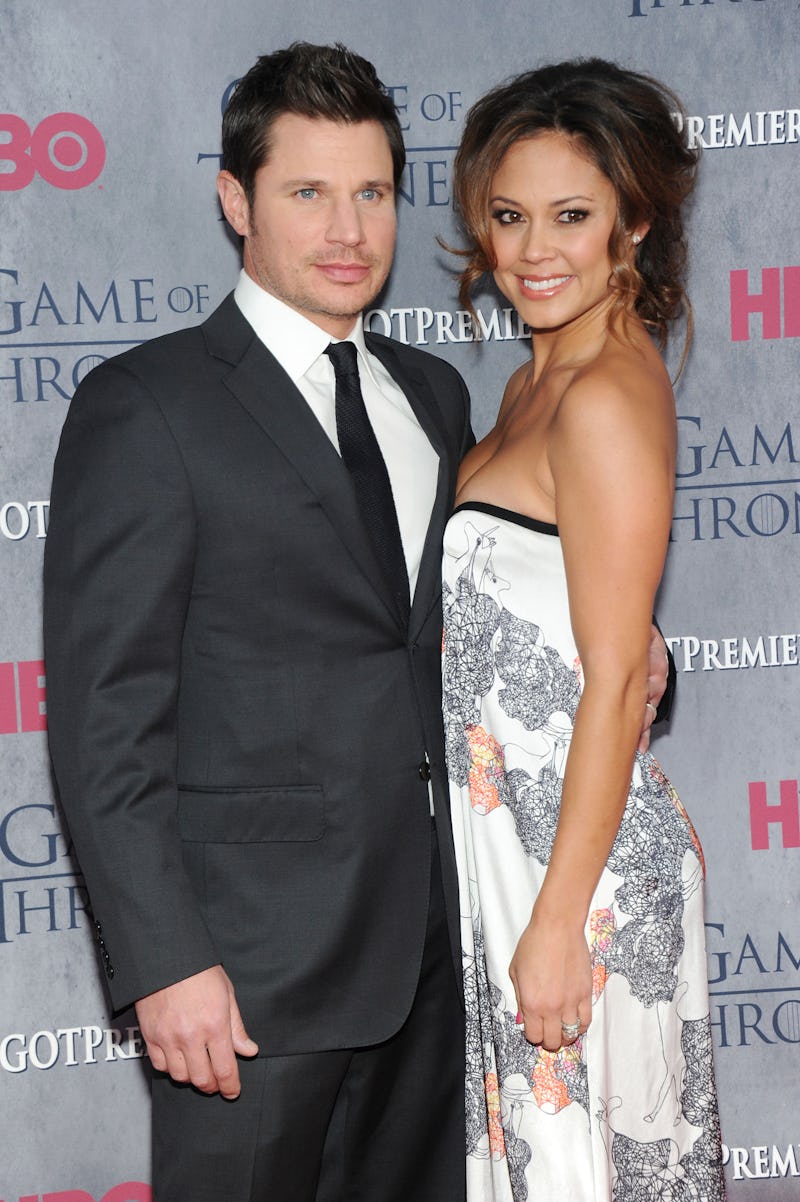 Jamie McCarthy/Getty Images Entertainment/Getty Images
We're only a few weeks away from the Season 25 premiere of ABC's Dancing with the Stars, and though the network hasn't announced which celebs will be competing for the mirror ball trophy, sources close to the show have started talking to the media about potential contestants. People is reporting that husband and wife Nick and Vanessa Lachey may be appearing on the new season of DWTS, however it hasn't been officially confirmed. ABC declined to comment on the casting rumor. The Season 25 cast will be officially announced on Good Morning America on Sept. 6.
If this rumor is indeed true, this wouldn't be the first time two married contestants competed on the show at the same time. Back in 2015 Alexa and Carlos PenaVega appeared on Season 21 of DWTS. Alexa came in sixth place, while he made it to the semi-finals.
It was confirmed during an episode of Good Morning America on Aug. 24, that Peta Murgatroyd and Maksim Chmerkovskiy — who are also married — would be among the professional dancers competing on DWTS Season 25. So if the reports are true, and Nick and Vanessa are indeed going to be competing, then there will be two different married couples competing to win.
Now, it might be a bit of a stretch, but Vanessa's recent Instagram activity suggest that she could be preparing for something.
Vanessa posted the above photo on Aug. 22, with a caption that read, "I haven't set foot in a gym in over a year because... well... life happens!" So true. She also explained why she was interested in working out. "I'm doing this for ME," Vanessa continued, "You gotta start at the foundation." Is it possible that she's also hitting up the gym because she's going to be competing in a physically demanding dance competition in a few weeks? We'll have to wait and see.
As fans of DWTS will attest, the reason people watch the show isn't just for the ballroom performances. Stars who do really well in the competition also connect with viewers on a personal level — which is why Nick and Vanessa would be perfect for DWTS.
First of all, they seem totally happy and watching the dynamic between Nick and Vanessa as they compete against each other could be enjoyable and relatable to DWTS fans. Oh, and they also have three adorable children who would likely appear in their weekly dancing rehearsal video packages.
According to People's sources. Drew Scott of HGTV's Property Brothers, and WWE wrestler Nikki Bella may also be competing on Season 25 of DWTS. The official cast still has yet to be revealed, but if true, it certainly seems like the new season of DWTS could be a really good one. The Season 25 premiere on Sept. 18 can't come soon enough!