'No Tomorrow' May Need An Apocalyst Of Its Own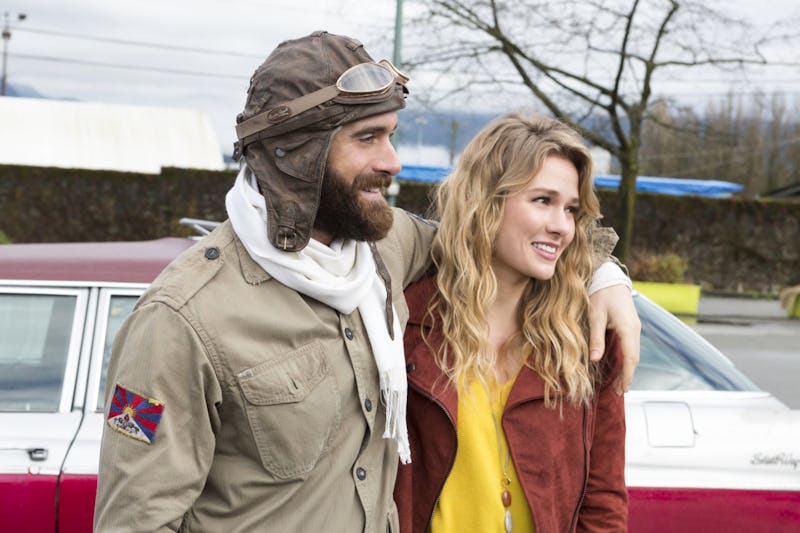 Michael Courtney/The CW
What would you do if you had no time left to be practical? That's the question asked by No Tomorrow, the CW's romantic comedy series about seizing the heck out of the day. In its first season, cautious and organized office worker Evie Covington (Tori Anderson) meets dashing daredevil Xavier Holliday (Joshua Sasse). She's not completely convinced by his theory that the world is ending, but Evie does discover a more rewarding life philosophy by pursuing the to-do items on her own "Apocalyst." It doesn't really matter if Xavier is right or not; what matters is that he inspires Evie and others to stop putting things off until later. The season finale airs on Jan. 17, but there's so much more for Xavier and Evie to experience together. So will there be a Season 2 of No Tomorrow?
The CW has not announced plans to renew No Tomorrow. The network also hasn't officially cancelled the show. But I'll be honest with you: it's not looking good. The first blow occurred in November when Deadline reported that The CW opted not to order additional episodes of the current season of No Tomorrow, leaving the episode count at just 13. Also according to Deadline, earlier this month, the network announced the renewals of several shows for the 2017-2018 season, including Crazy Ex-Girlfriend, Jane The Virgin, and all four of its DC comics adaptations. No Tomorrow was not on that list, leaving fans in the dark and unsure of its future. The fate of the show could hang on the pilots the CW picks up for next season and whether or not there's an open slot for this series to snag.
If No Tomorrow does survive to see another day, here's what I'd like to see from a Season 2.
Ditch The Love Triangle
No Tomorrow has gotten a lot of mileage from the Xavier-Evie-Timothy Finger love triangle. But it's time for Timothy to move on completely and for Xavier and Evie to stop running from each other.
Bigger, Bolder Adventures
Part of the joy of watching No Tomorrow is getting inspired to add bullets to your own bucket list. I love that some items that both Evie and Xavier want to accomplish are small, but the show really soars when they step out into the unknown together and do something really crazy. More of that, please.
More Of Xavier's Backstory
Xavier Holliday isn't even his real name! The Aussie is still quite a mystery, even though he finally shared his sad family history with Evie. I get the feeling that the writers have been saving some revelations for future episodes, and there's still much more to Xavier than Evie or the audience knows.
Less Of Hank & Deirdre's Creepy Romance
I know it's supposed to be offbeat and charming, but Evie's coworker's affair with their strict boss has dominated too much of the story. That time would be better spent focusing on their friend Kareema, a cynic who accidentally fell head over heels for her brother's fake fiance.
No Tomorrow hasn't inspired the buzz that the CW's other comedies have, but it's strong enough and original enough to deserve that elusive second season. The world may not be ending just yet.