OJ Simpson Can Advocate For Himself At His Parole Hearing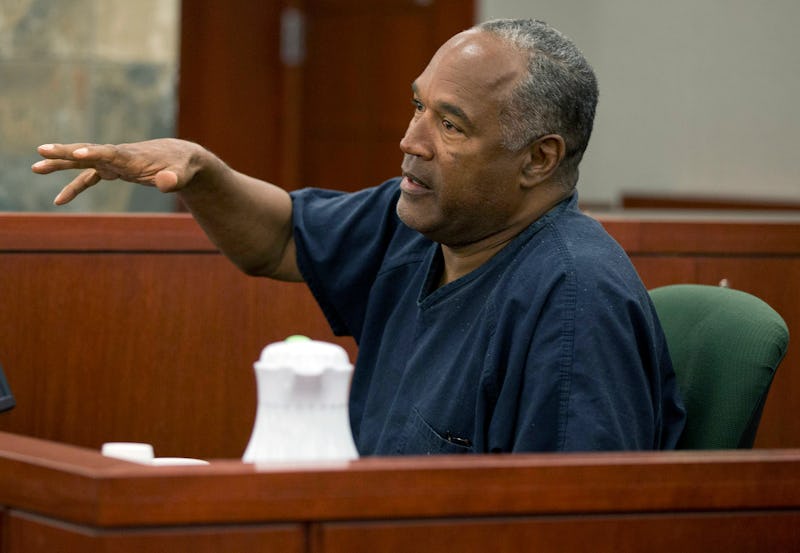 Pool/Getty Images News/Getty Images
On Thursday morning, OJ Simpson will appear before the Nevada Board of Parole for a hearing that, if it goes his way, could lead to his release as early as October. According to Time, the board's commissioners will come to a final decision in Simpson's case after the hearing. But will OJ Simpson speak during his parole hearing about why he thinks he deserves to be released?
The commissioners will evaluate, among other things, the nature of his crime and his plans following release, after which they will ask Simpson questions and give him the opportunity to speak further.
USA Today reported that Simpson will participate in the hearing via a teleconference from the Lovelock Correctional Facility, a Nevada medium security prison where Simpson has served his time for almost nine years. Four commissioners of the board will be present for the hearing — which will be televised — in Carson City, and Simpson needs at least four commissioners to vote in his favor in order to be paroled. If the four commissioners present can not come to a unanimous decision, other members of the seven-person board will call in.
This is the first year Simpson will be eligible for parole, having nearly completed the nine-year minimum of his 33-year sentence. During Thursday's hearing, the panel of commissioners will take into consideration Simpson's prior criminal record, his age, and whether or not he would pose a risk to society. They will also ask Simpson pertinent questions, and come to a decision later that same day.
According to the Associated Press, Simpson has a pretty good chance of being paroled. No one at Thursday morning's hearing is expected to oppose his release, and a former guard at Lovelock described Simpson as a model prisoner. Moreover, Simpson will be facing some of the same commissioners who granted him parole on the first part of his sentence back in 2013.
As a result, the hearing might even take less than an hour — which presents a stark contrast to Simpson's 1995 murder trials of his ex-wife Nicole Brown Simpson and her friend Ron Goldman, which lasted eight months.