Why 'One Dollar' Fans Should Be Worried About The Fate Of The Show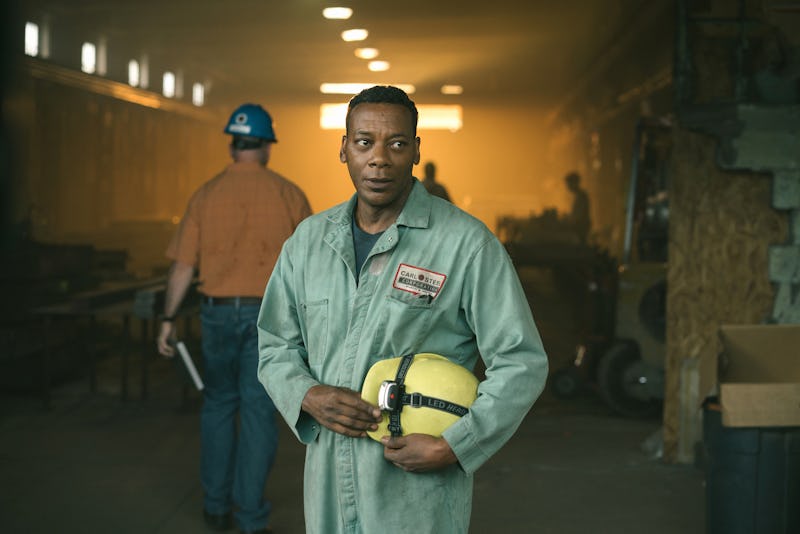 CBS
Marathon-worthy streaming isn't exclusive to Netflix and Hulu. Sure, they're considered industry titans, especially when it comes to original content, but other creators are adapting to reach their audiences, too — including CBS' streaming platform, CBS All Access. One of its latest original series, One Dollar, wraps its Season 1 finale Nov. 1, but considering it's received some shaky reviews, it's unclear whether or not One Dollar will return for Season 2.
Update: One Dollar has been canceled after one season, according to The Hollywood Reporter.
Earlier: The name of the show is pretty straightforward: it follows a dollar bill as it changes hands from character to character. Whoever has the bill, that's whose perspective viewers see, slowly unraveling more details about each person's story and how they're all likely linked to multiple murders — and of course, one single dollar bill.
It's a murder mystery that has been disparagingly critiqued as a less impressive American Crime. "What this show really is, at its heart, is American Crime, the ABC anthology, without all the good acting and interesting stories, but with that dollar," Tim Goodman wrote for The Hollywood Reporter. He went on to say that the show lacks forward momentum and doesn't offer the depth and diversity many other network-free streaming platform originals offer, calling it "a network show with some f-bombs."
TV Guide's Liam Mathews, meanwhile, compared it to The Wire's polarizing Season 2, saying that the sisterhood of the traveling dollar schtick was gimmicky and shallow.
"One Dollar is trying to do a lot of different things," Mathews wrote. "And it's better at the harder things, like building a world that feels real. It's not as good as The Wire Season 2, but what is?" In the same review, he calls the show slow to develop and criticizes the yellow tint the edit was given post-production, calling it "too bold for the story One Dollar is telling."
Amy Amatangelo even said that she had to straight-up pause the show because she was so confused by the characters' indistinct, seemingly disingenuous accents. "I think the actors are trying for a Pennsylvanian accent," she wrote for Paste magazine, noting that One Dollar is technically set in Pittsburgh. "But it's kind of like when TV series and movies try for a Boston accent and end up sounding like an exaggerated version of a Kennedy: It's distracting." She went as far as to take a dig at the CBS streaming service all together. "Is One Dollar enough to pay $6/month for the streaming service? Unfortunately, it's not," she wrote. "It's a solid, albeit flawed, series — and you can find plenty of those without paying more money. After all, every dollar counts."
So far, Rotten Tomatoes reviews have averaged out to a mediocre 71 percent, while audiences have ranked it with a much more promising 94 percent — which makes its fate all the more difficult to predict. All Access hasn't confirmed or denied a renewal, but it may be better off further investing in its other original series like Star Trek: Discovery, The Good Fight, and Strange Angel.