There's Probably Good News For 'Paquita Salas' Fans Hoping For Season 3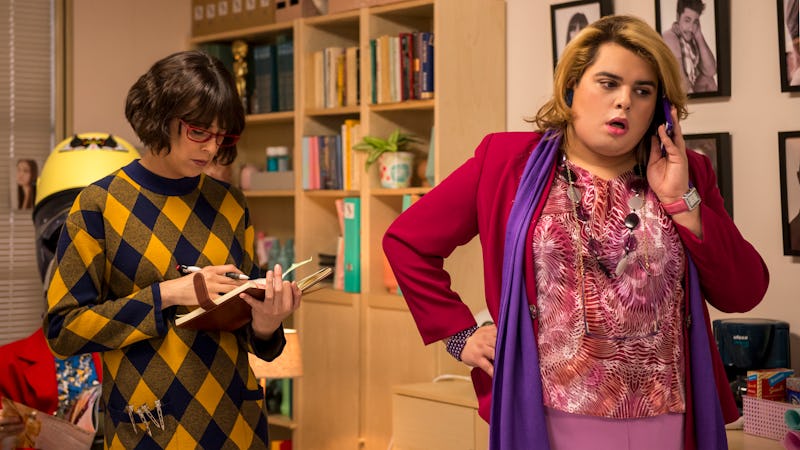 Tamara Arranz
The second season of Paquita Salas premieres on June 29 on Netflix, and fans are already buzzing about the new episodes. The comedy has been a surprise hit since its debut. So will Paquita Salas return for Season 3?
The Spanish comedy, starring Brays Efe in a gender-bending role, follows its titular character as she works as an old-fashioned talent rep, hilariously struggling to adapt to a changing world of show business. And, luckily for fans, it seems that there may be content on the horizon past Season 2. Although Netflix's media center doesn't feature any press releases confirming a third season, according to Formula TV, Netflix has announced that Paquita Salas will return for Season 3, which could arrive in 2020. El Televisero also reports that the renewal was announced in May. No return date or episode count has been confirmed, and information around the third season is scarce, but it certainly seems that plans are in the works to give fans more of their favorite talent rep.
Creators Javier Ambrossi and Javier Calvo first debuted Paquita Salas in 2016 on the online video platform Flooxer, per Netflix. The site also reports that the show garnered awards like best new series at the Cosmopolitan Awards, and best comedy series at the Feroz Awards, so it's clear the comedy, which helps boost Netflix's international content, is a favorite of critics and audiences alike.
The benefits of international programming are vast: Representations of cultures outside America matter deeply to the people being represented, and they also help broaden the horizons of viewers who are unfamiliar with those cultures. Even for those who don't speak a show's language, with the subtitles Netflix offers, it's easy to get a taste of other countries' pop culture, and their experiences in general.
Kayla Cobb wrote for Decider that branching out of American television through Netflix's offerings was one of the ways she found herself becoming more interested in and more understanding of the world around her. "Watching these shows has inspired me to further research these stories and these storytellers," she wrote in a piece entitled "Netflix's International Content Is Making Me A Better Person." Cobb continued, "It's given me a broader understanding not only of what television can be but about what stories are important to what cultures. It's also given me some truly excellent shows that I can happily recommend to friends."
On a business level, spearheading more international content also looks like it could expand Netflix's reach. According to a CNBC report from November 2017, a Wall Street firm estimated that the streaming service could reach 90 million to 100 million international subscribers by 2020 if it kept up with its original programming.
Due to their apparent desire for diverse storytelling, and the fact that they're always looking for ways to entice new subscribers, Netflix higher-ups are tuned in to international programs. "Our belief is that great storytelling transcends borders," Netflix Chief Content Officer Ted Sarandos said, according to Slashfilm.com. "When stories from different countries, languages and cultures find a worldwide platform where the only limitation is the creator's imagination, then unique, yet universal, stories emerge that are embraced by a global audience."
Given how willing the company seems to be to feature international content, it wouldn't be at all surprising if Paquita Salas keeps bringing laughs for seasons to come. There are plenty of ways the show could continue — its hilarious premise lends itself to a potentially lengthy storyline, and the faux-documentary style has given plenty of other American series, like The Office and Parks and Recreation, long lives for U.S. viewers. For now, fans can enjoy Season 2 while eagerly awaiting more information about what's to come.