Meghan & Harry Could Choose Their Baby's Title From These Awesome Options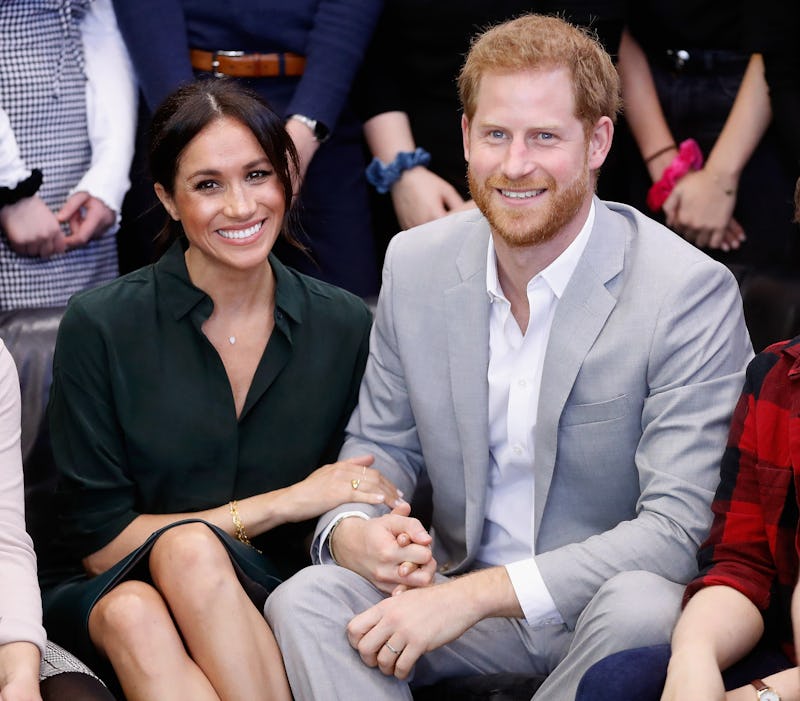 Chris Jackson/Getty Images Entertainment/Getty Images
Those people who have been trying to predict the Duchess of Sussex's pregnancy for the past few months must be relieved at Monday morning's news. Kensington Palace has confirmed that she and the Duke of Sussex are expecting their first baby next spring. Now, everyone's wondering about the gender and whether Prince Harry and Meghan Markle's baby will be a prince or princess.
Like most royal things, the answer isn't straightforward. Over the past 100 years, a couple of monarchs have passed laws relating to titles. In 1917, Harry's great great grandfather, King George V, halted the tradition of giving royal titles to individuals who were too far down the line of succession.
As the Express reports, the monarch declared that "the grandchildren of the sons of any such Sovereign in the direct male line (save only eldest living son of the eldest son of the Prince of Wales) shall have and enjoy in all occasions the style and title enjoyed by the children of Dukes of these Our Realms." What that means is that the great grandchild of a monarch isn't entitled to any royal title. However, the eldest son of a duke is able to use one of his father's lesser titles. In Prince Harry's case, this would be the Earl of Dumbarton.
So what happens if the baby is a girl? Well, she could not take one of her father's titles and instead would be known as Lady Mountbatten-Windsor. This is the personal surname used by direct family members of the Queen and Prince Philip. If Harry has a second or third son, they would be given the title of Lord Mountbatten-Windsor.
In 1960, the Queen passed another ruling relating to titles, reports Metro. She decreed that only the children or grandchildren of the monarch could be given the title of prince or princess. However, if you are the daughter of the Queen's daughter, you aren't entitled to a thing as this law only applies to children of the monarch's sons.
But being the Queen has its perks. She has the power to waive any of the above rules at any one time. In fact, she did just that with all of Prince William's children. Before Prince George was born in 2013, the monarch issued a Letters Patent giving each of the Cambridge children prince and princess titles. Although this didn't affect George's title, it allowed Charlotte and Louis to be known as a princess and prince respectively, rather than a Lady and Lord.
It's unclear whether the Queen will do the same for Prince Harry's future children. Even if she did, Harry has the opportunity to reject the titles just like Prince Edward did. He is the son of the Queen therefore his children had no problem with being known as princes or princesses. However, he and his wife decided to give them less pressurising titles, making their daughter Lady Louise Mountbatten-Windsor and their son James, Viscount Severn.
It's a real possibility that Harry could do something similar. Aside from always being seen as the rebellious royal brother, he has openly admitted to not always being happy with royal life. In a 2017 interview with the Mail on Sunday, the 34-year-old said that he once considered quitting royal life. "I felt I wanted out but then decided to stay in and work out a role for myself," he told the paper, adding: "Being in the army was the best escape I've ever had. I wasn't a prince, I was just Harry."
Maybe he'll want to let his children decide their future for themselves. As Phillips once told an interviewer: "As soon as you've got a title, it's very difficult to shed it."