All The Clues That 'Bachelorette' Stars Rachel & Bryan Will Get Married In 2018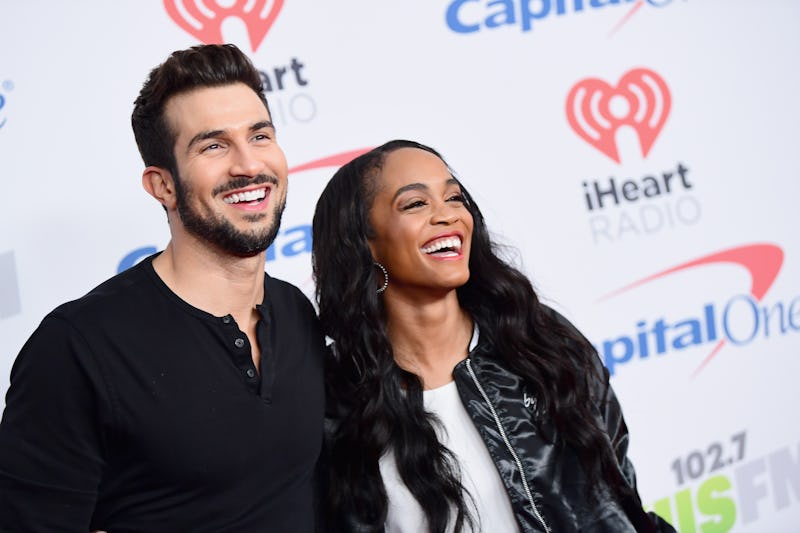 Emma McIntyre/Getty Images Entertainment/Getty Images
A new season of the Bachelor is upon us, but that doesn't mean fans won't still be keeping track of past favorites. Rachel Lindsay and Bryan Abasolo got engaged on the The Bachelorette Season 13 finale and have been going strong ever since. Bryan had been a clear frontrunner from the beginning, making even the sure-footed Rachel feel like he was too good to be true. They bonded over being ready to settle down, their faith, and both actually wanting a ring out of the deal (sorry Peter). But, will Bachelorette couple Rachel and Bryan get married in 2018? That is certainly possible.
The couple has made it clear they want to live their lives together — and that they plan on walking down the aisle together. Despite receiving criticism for picking Bryan, Rachel was undeniably a smart and focused Bachelorette who knew she wanted to find someone who was confident in their future. Every step the couple has taken since the show has highlighted their commitment to one another, a willingness to settle down, and has shown fans just how in love they are. Here are all the reasons a 2018 wedding is likely in the cards for them.
Rachel Is Ready
Rachel wasn't looking for a boyfriend on her season of The Bachelorette, she was looking for her soulmate — and now that she's found him, she's ready to get married. When talking about a possible wedding date, she told People TV:
"Originally we said a winter wedding then both of our mothers said: 'Don't, can we have a fall wedding?' Now, I could do spring! I'm ready! 2018 for sure. I am not waiting another year."
That sounds pretty decisive to me, Rachel wants to get married to Bryan in 2018. She even went on to say the two are planning for beyond the wedding too. "We're both eager to have that family unit," she said. "I'm ready to start our life together and I think that's going to be a beautiful thing."
They Already Live Together
If there was any doubt about concrete steps being taken, Bryan put those to bed by jumping all in and moving to Dallas, Texas to be with Rachel. The pair spoke to Entertainment Tonight about the move, gushing about how they live together and love each other. Bryan spoke excitedly about the future saying: "We're in Dallas now. I'm getting acquainted very well." Rachel continued the happy sentiment, saying:
"This is my city. This is where I was born and raised, but it's been forever since I've had a man with me here, and let alone a fiance. It's great to have Bryan here with me and to show him my city and where I'm from. I'm glad he loves it. That's what's key."
It seems that — for Rachel and Bryan at least — first comes love, then comes living together, then hopefully comes a wedding (on TV?) in 2018.
They're Already A Family
Bryan posted the above Instagram with him and the real breakout star of The Bachelorette: Rachel's dog Copper. Bryan captured the photo, "Deep in the heart of Texas #familyphoto #twinning #wcw #copperissmizing." It was always important for Rachel to find a man who loved her dog — and looks like she did. "Copper loves Bryan. He had no choice. If Copper didn't approve, we would have problems," she told PeopleTV. "But he loves Bryan and Bryan loves him. Bryan loves dogs. He wants another one. We're just one family unit!"
Rachel Has Rings On Her Mind
Bryan and Rachel make plenty of jokes about getting married, teasing fans with possible nuptials. Bryan posted the above "Christmas gift" with the caption: "Ok...could @therachellindsay be any more obvious at dropping Christmas gift hints?? I get it...you love Pandora! DOGetWhatYouWishFor." While this Instagram is actually a sneaky advertisement, it does hint that they're both ready to get rings on those fingers.
They Just Seem Happy
Sometimes couples get off camera and seem, well, not that happy to be with the person off the show. Bryan and Rachel appear to be more in love than ever. Whether on cute date nights or traveling on romantic vacations, the couple look like they are loving spending time with one another. Of course, social media doesn't always convey true emotion, but it really appears that this TV pair is living it up off the show.
The success rate of couples from The Bachelor franchise has increased over the years and fans like me are hopeful that Bryan and Rachel add to that number in 2018. And, if you ask me, they could say "I do" in Dallas, Miami, or on the moon, I just hope it's televised.