Don't Worry — HBO's 'Random Acts Of Flyness' Is Coming Back For A Second Act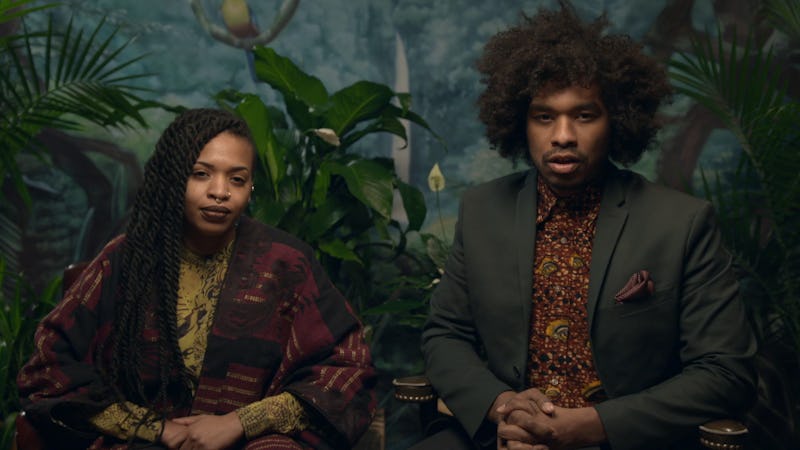 HBO
It's difficult to categorize Terence Nance's HBO series Random Acts of Flyness, and that's really the point. Is it a horror, a comedy, a musical, a documentary, a modern art show? Try all of the above, and then some. This avant-garde series, which takes a critical look at race and gender in America, is wrapping up its first season on Friday, Sept. 7. In the five episodes that have aired so far, Nance has touched on blackness, white and male fragility, gender fluidity, rape culture, police brutality, and body dysmorphia. And those are just the highlights. Fortunately, Random Acts of Flyness is returning for Season 2, so there's even more artful racial commentary on the way.
For those unfamiliar with the series, it's like an uncategorizable fever dream. At the American Black Film Festival back in June, where Nance hosted a screening, the showrunner described Random Acts of Flyness as a "direct representation of my subconscious." This explains the disjointed nature of the show, which was very much intentional. "I collected a whole bunch of sh*t I had done and asked, 'How can I put this together?'" he said. What's more, in an interview the New York Times, Nance said, "I think the show is a portrait of how we communicate with each other, how random it is but connected at the same time."
Indeed, the show isn't concerned with narrative through-lines, although Nance and actor Dominique Fishback show up occasionally as themselves. One of its recurring characters, however, is the deeply unsettling Ripa The Reaper (Tonya Pinkins), whose unenviable role is to usher black children into the afterlife. "You might be running from the police," Ripa explained with a wide smile in Episode 1. "You might be running from a stranger who thinks he's the police. You might be playing with a toy gun. You might be not selling cigarettes." These are the ways black people can die in America.
So far, Random Acts of Flyness has featured recognizable faces like Whoopi Goldberg, Jon Hamm, Jerry Springer, Jesse Williams, Gillian Jacobs, and Lakeith Stanfield. But their cameos are brief and besides the point. Most of the cast is unknown, and it's often unclear what is scripted and what is documentary footage. Scenes move abruptly from one topic to the next like a David Lynch fever dream, intercut with frenzied news reel footage, like KKK rallies, Sandra Bland being stopped by the police, and the Charlottesville rally. The series' assault on the senses ultimately reveals what it's like to be black in America.
Random Acts of Flyness's genre-defying mediums include claymation (which is used to reenact a man's account of dating while bi-sexual) and even a video game (in which a black woman tries to fend off cat-callers and white women trying to touch her hair). The frame often changes between vertical iPhone footage and lush, full-screen shots, and there are sometimes unexplained musical performances throughout.
But above all, Random Acts of Flyness celebrates black women. Although Nance is the showrunner, the series is co-written with several women, including Frances Bodomo and Naima Ramos-Chapman. "The black woman is God," an unknown man said into his phone in Episode 3. "Until you understand that, your relationship and your life is never gonna evolve correctly." This is further emphasized by a beautifully illustrated portion of the same episode, which recounts a faux-scriptural account of Michelle Obama's divinity. "Her birth predates the existence of the known universe," the narrator explained solemnly. "She was born of her own womb — she begat herself."
But the show also emphasizes how dangerous it is for black women to navigate the world. In one scene of Episode 3, three women were in the back of a cab, talking about their unpopularity on dating apps. "Let me see your seat belt," Jerry Springer said on the taxi's TV. "Particularly if you're a black woman — the demographic most likely to die in a vehicular collision." Wordlessly, all three of them reached for their seat belts. And in Episode 5, audiences learn about the dangers of being black while pregnant. "In hospitals, pregnant black women get different and often worse care than their white counterparts, which contribute to pregnancy-related complications," a voice-over said.
Fortunately for those who want more of this experimental series (and who doesn't?), Random Acts of Flyness was renewed for a second season on Aug. 20, per Variety. "We couldn't be happier with the response to Random Acts of Flyness — it's struck such a powerful chord with our viewers," said Nina Rosenstein, executive vice president of HBO Programming. "We're thrilled to bring Terence and his team back for a second season of this provocative, remarkable series."
And it's no wonder HBO renewed the series, with its favorable reviews and undeniably talented cast and crew. But as for when audiences can expect Season 2, it's too soon to tell. That being said, IMDb has it airing sometime in 2019. But if Season 2 is anything like its predecessor, it will be well-worth the wait.