Why Reggie & Veronica's 'Riverdale' Relationship Could Mirror The Actors' IRL Romance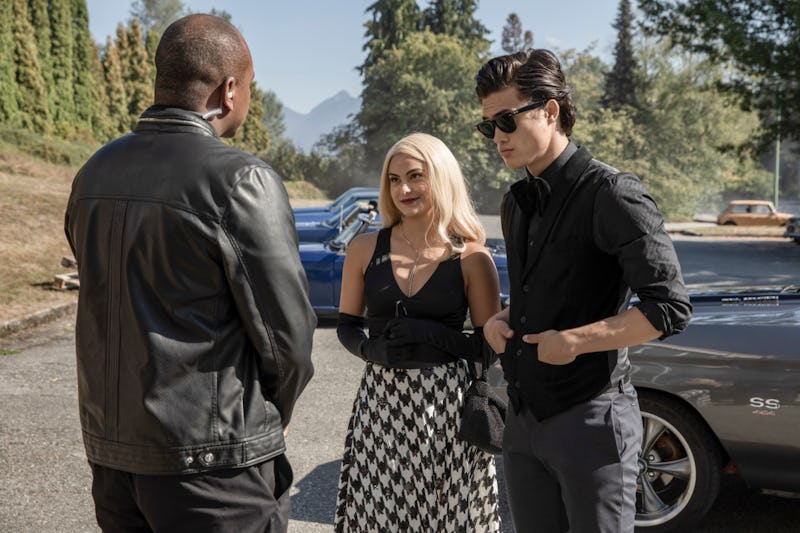 Jack Rowand/The CW
Noticed an uptick in appearances from a certain Riverdale character lately? Reggie has never really liked Archie's gang, yet he's been spending more and more time with his friends — and in particular, his girl. So will Reggie and Veronica date on Riverdale? This could be the start of a classic love triangle.
More than once in Season 3, Veronica and Reggie have posed as a couple to pull off some kind of heist or sneak into a venue. It's happening again in Wednesday's episode, The Great Escape, by the looks of the trailer. He's suddenly super invested in her speakeasy juice bar, running security and delivering packages, and he's suddenly developed a habit of losing his shirt, too. In the "The Midnight Club" flashback episode, we learned that Hermione and Marty hooked up during the drug-fueled Ascension Party. These are all classic fanfiction plots, the kind that end with two unexpected characters getting together — so what's going on here?
Archie tasked Reggie with leading the Bulldogs and keeping the peace with the South Side Serpents... and is this the cost? They are, canonically, rivals. What if, with Archie behind bars, Veronica starts to fall for a new football hunk? Now that Griffins and Gargoyles is taking over the town and Reggie's Dad is a suspect, he's bound to be hanging around more and more, too.
Or, counterpoint, is this some kind of weird meta Easter Egg about how IRL, Camila Mendes and Charles Melton are dating? Veronica and Reggie's friendship could have sprung out of that, and the writers decided to run with it and write him into a larger role. Maybe Reggie is getting more screen time because he's been hanging around the cast more outside of filming.
So far, however, nothing major has happened to spark a relationship. In Season 3, Veronica is pretty focused on getting Archie out of Leopold and Loeb's juvenile detention center. Her devotion to her beau is practically spousal; it's way more extra than your average high school girlfriend.
"Their relationship is put to the test for sure," KJ Apa said in an interview, according to Newsweek. He added that Archie's jail time inevitably changes his relationship with everyone in town a little bit. In an interview with E! Online, Riverdale creator Roberto Aguirre-Sacasa assured fans that Archie and Veronica don't want to break up. "They're going to fight against that and they're going to fight to stay together as hard as they can," he said, "but there are going to be certain realities that you just kind of can't work around."
Reggie, on the other hand, has flirted and hooked up with Josie in the past — it'd be cool to see that relationship develop into something more as well. Josie may be focused on her singing career and finding her solo sound, but she deserves a little loving as well!
That said, fans are 'shipping Veronica and Reggie already. In the comics, Reggie Mantle harbors a crush for Veronica, and tries to "steal" her from Archie from time to time. So there is fan support and a canonical basis for this to happen, should it actually happen. It would involve art imitating life in a way only Riverdale could pull off, that's for sure.