Camila Mendes' BF Charles Melton Nicknamed Her "Baby Dragon" & Here's Why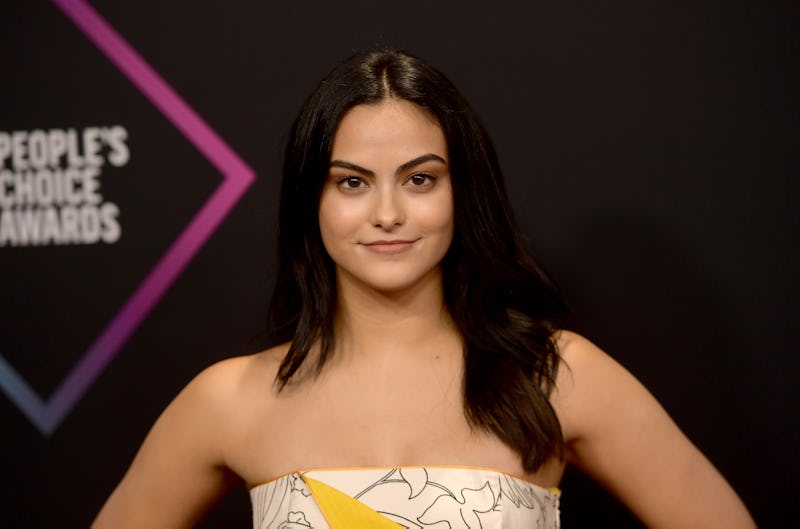 Matt Winkelmeyer/Getty Images Entertainment/Getty Images
Camila Mendes and Charles Melton's relationship is still going strong, especially as evidenced by the fun anecdote she shared on Busy Tonight. On the Nov. 12 episode, Mendes revealed the meaning behind Melton's nickname for her, and it's all kinds of adorable.
During her appearance on the late-night talk show, Mendes gave a little bit of background on her unexpected nickname, which she revealed at the People's Choice Awards. After answering a question from one of her "big fans" (aka Melton, who was not present on the red carpet), she let slip the moniker he has for her, per E! News. She told the publication that he calls her "baby dragon."
Why exactly? Well, she explained where the fun name came from on Busy Tonight. Mendes said,
"I can be quite...I guess just ferocious is the only word, but it's like a cute type of ferocious...I'm Brazilian, we're like passionate, so sometimes it's like a little baby dragon comes out."
Doesn't that just put an adorable spin on the already adorable nickname? Considering that they have gotten to the fun nickname stage of their relationship, it does seem like things are going smoothly for Mendes and Melton, aka "Charmila."
Prior to the Riverdale stars' Instagram official status in October, there were plenty of romance rumors swirling about the pair. On Oct. 7, E! News reported that Mendes and Melton were indeed an item. Before this confirmation, the couple was spotted getting close on numerous occasions whether it was a Labor Day getaway with their co-stars or a reported movie date. When it came to said movie date, an insider told E! News, "Camila sat next to Charles and leaned on his shoulder. As the lights were dimming, my friend saw them kiss!"
As previously mentioned, "Charmila" became Instagram official on Oct. 7, putting an end to any speculation about their relationship status. Mendes posted a photo of the pair to her Instagram, in which the two shared a sweet embrace as Melton planted a kiss on his girlfriend's forehead. She captioned the snap with a simple, "mine."
Mendes and Melton seem so happy in their relationship. But unfortunately, the new couple hasn't been immune from some trolling on social media. According to a Nov. 6 report from Teen Vogue, an Instagram user (who has since deleted their account) reportedly shared a negative post about the Riverdale stars' relationship in which they supposedly said that Mendes looked happier with her ex Victor Houston.
Mendes didn't take the message lightly and reportedly responded to the post, "I feel silly responding to this but I also feel the impulse to tell you that you're wrong. I'm happier than I've ever been in my life." In her own words, the actor is super happy in her relationship with Melton, which is all that really matters.
It's nice to hear that things are going so smoothly for the newest relationship straight out of Riverdale, as both Mendes' (or the baby dragon's) recent reported comments on both Instagram and Busy Tonight would imply.