Why NBC's 'Reverie' Could Be Summer TV's Next Casualty, Despite Its Fanbase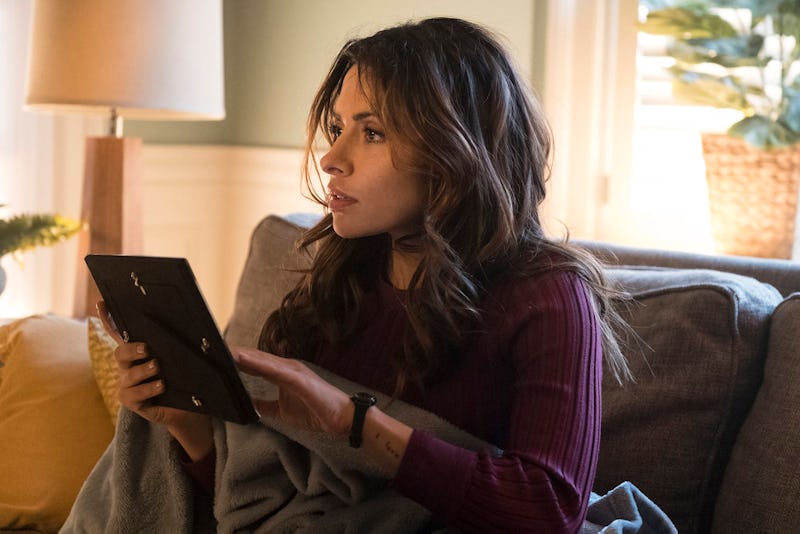 Justin Lubin/NBC
If you're into virtual reality, sci-fi, or dramatic rescue operations, you've probably been keeping tabs on NBC's series, Reverie. The drama features protagonist Mara Kint (Sarah Shahi), a former hostage negotiator who's now turned her eye to helping to save people who have become hopelessly lost in an uber-realistic virtual reality game. It's definitely an original premise, but the jury is still out on whether Reverie will return for Season 2.
UPDATE: Reverie has been canceled, according to The Hollywood Reporter.
EARLIER: No official word has come from the network on whether they will renew Reverie for another order of episodes. There are some good signs — the show has noticeably accumulated a following on social media, and there are discussion boards dedicated to dissecting new episodes. But, those boards aren't exactly buzzing with a ton of activity, and the social media conversation surrounding Reverie definitely isn't at the same level of bigger hits on NBC and other networks.
The numbers surrounding the situation also don't make that convincing of an argument that a Reverie renewal is coming. According to TVSeriesFinale.com, Reverie is the lowest-rated of all of NBC's summer lineup, averaging just over 2 million viewers per episode. For comparison, America's Got Talent is NBC's top summer hit, and it clocks an average of more than 11 million viewers each episode, according to the same site.
But still, fans are lobbying for the series to continue as the Aug. 8 season finale draws closer:
Reverie currently holds a 62 percent positive rating among critics on Rotten Tomatoes, which could be much worse, but obviously isn't a slam dunk, either. The audience rating on the same site, which can tend to be much more forgiving, is still only at 68 percent positive.
When Reverie premiered, reviews were a mixed bag. While IndieWire described the show as creative and intriguing, and Forbes deemed it a "high-concept thriller with potential," others were not as excited. Entertainment Weekly published a chat exchange between its TV critics that was solely a discussion about how confused they were by the show's plot, and The Verge called its pilot "completely forgettable."
Reverie's cautionary relationship with technology has been compared to that of Black Mirror, Netflix's hit dystopian anthology series, though the subject matter is certainly much milder than Black Mirror's often R-rated content. Exploring that dynamic between humans and technology is part of what drew Shahi to the role, according to an interview she gave to Collider, and a theme that could give the show more stories to explore if it does continue.
"As a civilization, we were built on compassion and empathy and good. When we spend the majority of our time with our heads buried in a computer or in our phones, then I feel like we aren't exercising those things, and that's dangerous territory to be in," Shahi said.
Still, there could be hope for the show — niche programs have been saved from the ax when a fan base gets itself riled up enough, and there's potential for that to happen here. NBC also recently made the decision to cancel Timeless (after a finale TV movie), another cult hit that had fans up in arms about renewal, so the network might not be too keen on chopping another show fans are invested in, even if the ratings don't necessarily hold up to their normal standards.