Here's What Roseanne Has Said About Her Involvement In 'The Conners'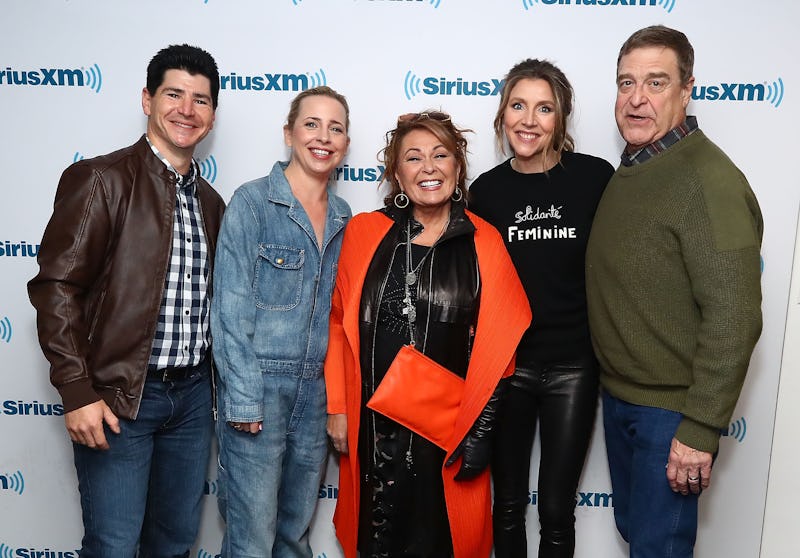 Astrid Stawiarz/Getty Images Entertainment/Getty Images
Just as quickly as the Roseanne revival came into our lives, the series came to an equally abrupt close after the show's star, Roseanne Barr, wrote a racist tweet about former Obama adviser Valerie Jarrett, which Barr later apologized for. Although ABC Entertainment President Channing Dungey later made a statement, calling the actor's tweet "abhorrent, repugnant and inconsistent with our values," the network still wasn't ready to say goodbye to the Conner family completely and created a spinoff series to the revival, titled The Conners. But will Roseanne Barr be in The Conners at all when the series kicks off on Tuesday, Oct. 16? The show's matriarch made a big decision in order for The Conners to get made.
Back in June, Barr made a statement to Bustle, confirming that she would not be involved in the spinoff series in any way. "I regret the circumstances that have caused me to be removed from Roseanne," Barr explained. "I agreed to the settlement in order that 200 jobs of beloved cast and crew could be saved, and I wish the best for everyone involved." Additionally, Barr also released a joint statement with executive producer Tom Werner to Bustle, which read:
"Tom Werner and Roseanne Barr have reached an agreement that will allow Werner Entertainment to produce a spinoff of the Roseanne series for ABC without Barr's further creative or financial participation."
With that in mind, it's safe to say that Barr won't be appearing in any way, shape, or form on The Conners. However, her presence is sure to be felt among both viewers and the cast since an explanation for her character's absence will need to be addressed. As for how the series will go about doing so, Barr herself has offered up an answer to that question, claiming that Roseanne dies of an opioid overdose.
"Oh ya, they killed her," Barr told Brandon Straka during his YouTube show, "Walk Away." "They have her die of an opioid overdose." And if you're wonder how Barr felt about this decision, she made her opinion on the matter perfectly clear during the interview, calling it an insult to the fans "who loved that family in that show." That being said, she's also well aware that she has no power or control over the decision-making process anymore. "There's nothing I can do about it," she stated. "It's done. It's over." (Bustle reached out to ABC for comment on Barr's claim, but had yet to hear back at the time of publication.)
Fans will have to watch the series premiere of The Conners in order to find out for sure what became of Roseanne's fate, but Barr's claim does appear to match recent comments made by her former co-star and on-screen husband John Goodman, who seemed to confirm that Barr's character dies. "I guess [my character will] be mopey and sad because his wife's dead," Goodman teased during an interview with U.K.'s Times.
Suffice it to say, Roseanne may have played a huge part in the show's past, but she (and Barr by extension) will no longer be part of its future.