Selena Gomez Hasn't Toured The UK Since 2013, So Could 2019 Be Her Year?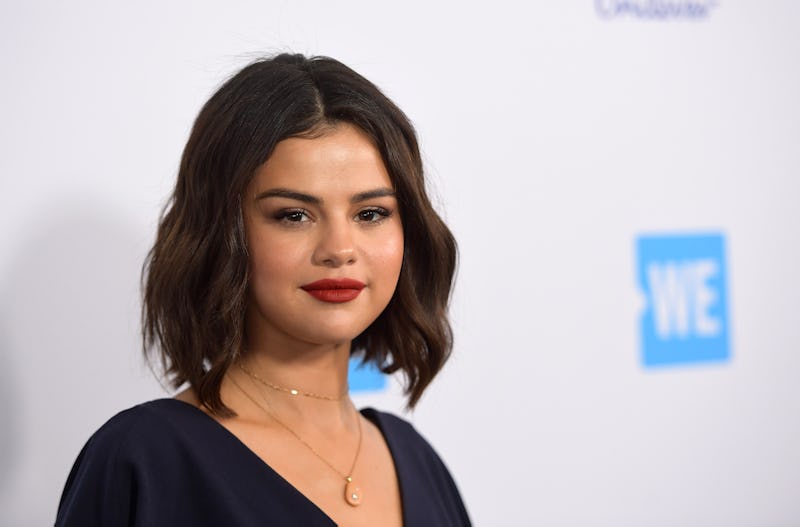 Matt Winkelmeyer/Getty Images Entertainment/Getty Images
It's been a pretty great year for Selena Gomez fans. First, there was the release of a brand new single, "Back To You" in May, to accompany the latest series of 13 Reasons Why. Then there was a return to the big screen for Gomez, in the form of Hotel Transylvania 3: Summer Vacation in June. And now, Gomez has revealed that her third solo album is finished, though she hasn't yet shared a title or release date. But what typically follows a Selena Gomez album drop? A world tour, of course. So will Selena Gomez tour the UK in 2019? Let's investigate.
First, the album details. Gomez made the announcement that her new music was complete in a pretty low-key way: she mentioned it on friend Connar Franklin's Instagram, when Franklin was broadcasting live, according to Billboard. "My album's coming out later," Gomez said. "I'm done with it."
She offered some more information during her own Instagram Live session, according to People — and she came tantalisingly close to previewing some music. "It's very honest, but playful and I felt like creatively it is in a really great direction," Gomez said. "I just wanted it to feel like what is going on in my head, which was a lot." As People reports, she almost dropped some new material right there and then, only for her friend Raquelle Stevens to intervene, encouraging Gomez not to spoil it. Selena's response? "I'm just so anxious because I want to play my music," she told her fans. "I can't wait for you guys to hear it."
According to People, the album will feature numerous collaborations, though Gomez didn't go into specifics. There are signs it will mark a new musical direction for her too. During the livestream, she said, "I'm just anticipating like what — I don't know what people are going to think — like do you think they are going to think it is the same thing?" The publication reported "Stevens interjected to say her new album isn't anything like her past work." Intriguing!
So what about a 2019 UK and Ireland tour? It's likely any announcement would come after the release of her third album, and since fans don't even know the title yet, it's a little early to expect any confirmation of dates. (I've reached out to Gomez's publicist for comment, but haven't yet heard back.) If she does tour her third album, it's likely she'll make several stops across the UK and Ireland. She was due to tour this side of the Atlantic in 2016, in support of her second album Revival. CapitalFM reported the dates when they were announced, revealing that Gomez planned to play in Manchester, London, Birmingham, Dublin, and Glasgow.
But after suffering mental health issues as a result of lupus, Gomez made the decision to cancel the tour in order to focus on her recovery. She told People, "I've discovered that anxiety, panic attacks and depression can be side effects of lupus, which can present their own challenges." Gomez added, "I want to be proactive and focus on maintaining my health and happiness and have decided that the best way forward is to take some time off."
The last time Selena Gomez toured the UK was in 2013; as Idolator reports, she took her Stars Dance tour to London's Hammersmith Apollo in September. It's likely, then, that if Gomez does tour her third album, she'll play several dates in the UK: after all, she's scheduled shows here consistently since launching her solo career. Plus, her profile's only risen since her Revival tour was announced: alongside "Back To You", she's released major singles including "It Ain't Me" with Kygo, "Bad Liar", "Fetish" with Gucci Mane, and "Wolves" with Marshmello. That could mean Gomez could play in even more cities, or perhaps spend longer in each one.
So no tour news as of yet, Selenators, though exciting things are evidently on the horizon. My best advice? Keep an eye on her Instagram for any further big reveals.