There Are So Many Clues That 'The Last Sharknado' Isn't ACTUALLY The End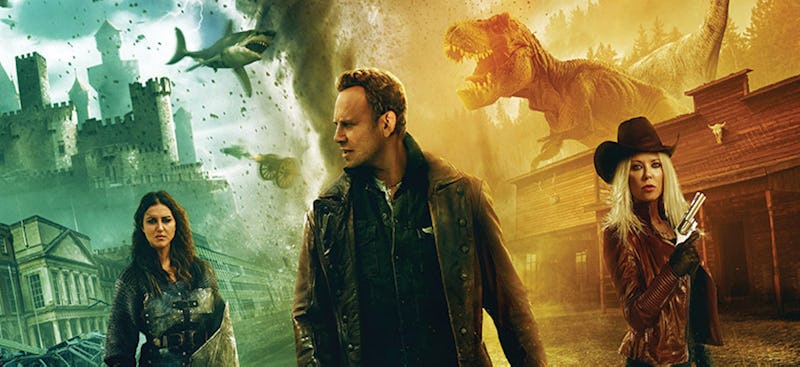 SyFy
If you were to believe the title of the latest Sharknado movie, you'd probably believe that Sharknado 6 is really the last one. After all, it's called The Last Sharknado: It's About Time. It's all right there in the title. The name actually works on two levels. On one, Syfy is poking fun at the so-bad-it's-good franchise by saying it's about time they're done — but the movie is also literally about time. Fin and company have to travel through time to put a stop to the Sharknadoes for good. But, is it really for good? Don't bet on it, because there are actually tons of clues that Sharknado 7 could happen.
Even if the trailers are promising that it's "time to finally put an end to the worst thing that's ever happened," don't expect Sharknado 6 to be the fin-al one. To start, screenwriter Thunder Levin told ScreenRant after the fourth movie that he'd planned the series out until at least Sharknado 7. "I have actually developed a story arc for Sharknado 5 through 7 — for the next three movies," he said at the time. Unless five and six ended up combining the arcs for all three movies, there could still be content ready and waiting for the next installment.
And, after Sharknado 3, director Anthony C. Ferrante told Variety that he was game to do them for as long as Syfy wanted them. "It's a summer event now. It's like a blockbuster movie, but for free on the network. People have parties and even kids love it," he said. "You embrace it as long as you can embrace it. As long as everyone wants to keep coming back and we have fun with it, I think you do it."
So, will Syfy want to do it again after the sixth movie? It likely all comes down to ratings. According to ScreenRant, the most popular movie in the series was Sharknado 2, which earned four million viewers. By contrast, last year's Sharknado 5 was only seen by 1.9 million people. But, if Sharknado 6 can get the network closer to those Sharknado 2 numbers, it wouldn't be surprising if it considered reviving the series. And, with the sixth movie's promise of dinosaurs, time travel, cowboys, knights, and more, it could certainly deliver on the viewership front when it airs on Aug. 19.
Basically, don't count the movie out until it's truly over — and maybe not even then. After all, Sharknado 4 was announced during the Sharknado 3 end credits, according to Variety. That same marketing move could happen again.
And, just like Sharknado 4 revived a dead April as a cyborg, so, too, could the franchise get resurrected if Syfy so wished. It's a movie series about flying sharks — it's completely realistic that it would "end" only to come back bigger and better. Dragging things out is kinda what this franchise does best, so it's not over as long as there are still sharks in the water ready to take flight.