Shawn Mendes Has A Solid Reason For Maybe Skipping The Teen Choice Awards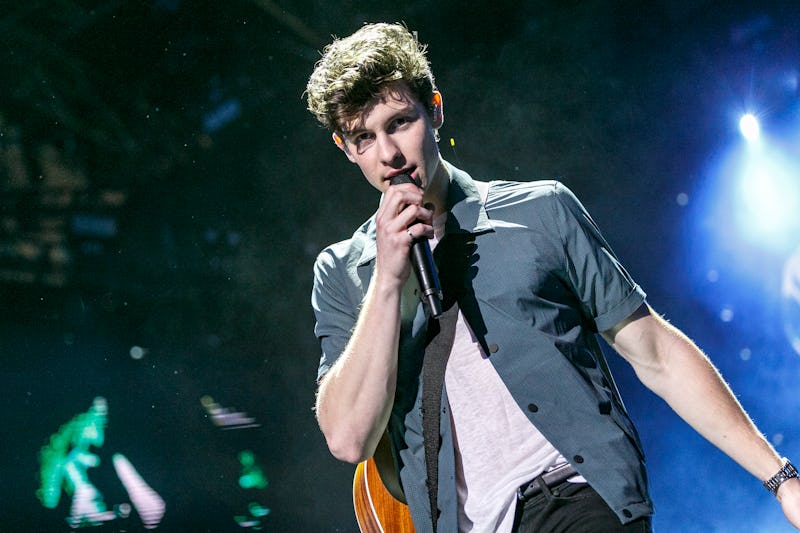 Rich Polk/Getty Images Entertainment/Getty Images
Shawn Mendes may be an internationally recognized pop star, but until recently, he was also still a teenager. While he's a lot busier than most other people his age, his fans are probably wondering if Shawn Mendes will be at the 2018 Teen Choice Awards on Aug. 12 to accept an award for any of his four nominations. Mendes is currently on a world tour, performing in Portugal on Aug. 11 and Hungary on Aug. 13, which technically leaves just enough time for him to catch a flight and make a quick stop by the ceremony if he so chooses to. But it seems like a long shot for sure.
Mendes has come a long way from his humble beginnings, going from Vine star to best-selling pop musician. However, while other awards shows were late to begin giving the artist accolades, one of his first ever awards came from Teen Choice. He won the 2014 award for Choice Web Star: Music, a feat which he repeated in 2015. Mendes' next Teen Choice wins came in 2017, where he took home the awards for Choice Summer Male Artist and Choice Male Hottie.
Mendes' recent 20th birthday officially aged Mendes out of the ideal voting pool for the Teen Choice Awards, that fact that he is no longer a teenager doesn't mean that he can't sweep an award ceremony decided upon by teens — arguably, the biggest demo of his fanbase. The artist will be more likely to show up if he's actually accepting an award, so let's take a look at his chances for this year. Here are the categories whose surfboards could entice Mendes to stop by the ceremony.
Choice (Summer) Male Artist
What differentiates a Choice Male Artist from a Choice Summer Male Artist? Mendes should know, as he won the surfboard for Choice Summer Male Artist in 2017, per The Hollywood Reporter. He's nominated for both this year, but may have a better shot of winning a second Summer Male Artist surfboard, as he spent part of the summer of 2018 on the top of Billboard's Artist 100 chart. Whether or not Mendes is an all-year artist or just a summer artist, it's clear that the voting body of the Teen Choice Awards are fans of his.
Choice Pop Song — "In My Blood"
Mendes' single "In My Blood" has been a massive hit for the artist, peaking at #11 on the Billboard charts. While there is some tough competition in this category, including "Delicate" by Taylor Swift and "No Tears Left to Cry" by Ariana Grande, he's as likely a winner as any of the other artists nominated.
Choice Male Hottie
Shawn Mendes may be the reigning champ of the Choice Male Hottie category, but this may be one of 2018's most competitive Teen Choice Award fields. Also up for the honor for are Chadwick Boseman, Chris Hemsworth, Cole Sprouse, Grant Gustin and Zac Efron. In a field full of superheroes, however, Mendes' troubadour act may be enough to differentiate himself from the crowd.
Mendes won't be performing or presenting at the ceremony, so he'd only be there to accept any surfboards that he happens to win. While he's very busy on his world tour right now, it's very likely that he'll continued to drop by the awards every few years to pay tribute to the ceremony that gave him a major platform early on in his career.