Fans Are Seriously Convinced This New Shawn Mendes Song Is All About Camila Cabello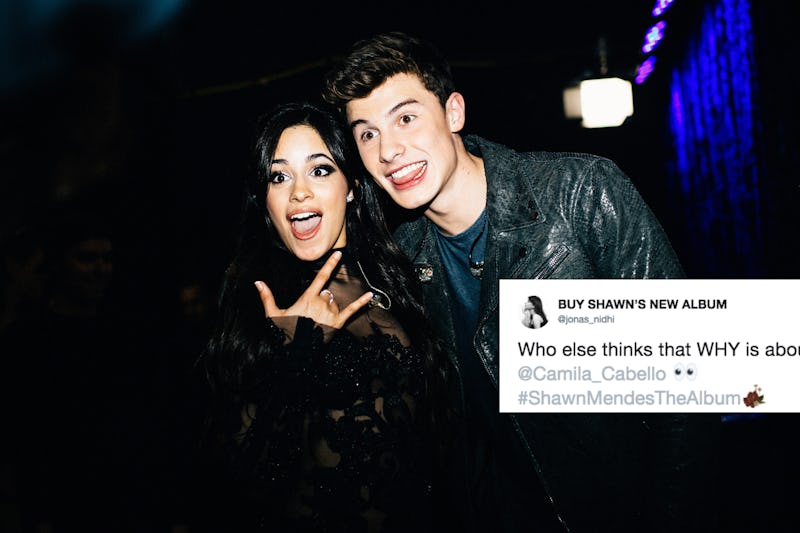 Mike Windle/Getty Images Entertainment/Getty Images
Shawn Mendes' self-titled album dropped on Friday, and the singer's fans immediately began breaking down the lyrics to his new songs. One track in particular has been getting a lot of attention online: Fans think Mendes' new song "Why" is about Camila Cabello, the musician's good friend and previously rumored girlfriend. The two have repeatedly denied a romantic relationship, but people have continued to speculate.
In the soulful track, over keys and hushed guitars, Mendes sings,
"I know a girl, she's like a curse
We want each other, no one will break first
So many nights, trying to find someone new
They don't mean nothing compared to her, and I know
When people ask about us now, we just brush it off
I don't know why we act like it means nothing at all
I wish that I could tell you that you're all that I want, yeah"
In the second verse, Mendes, 19, makes it clear the object of his affection is a musician as well. He sings,
"When I hear you sing, it gets hard to breathe
Can't help but think every song's about me"
The lyrics have fans all but convinced that the track is about Cabello, 20, and they have been sharing their theories on Twitter.
As @jocelynarianne tweeted, ''why' by shawn mendes was written about camila cabello and that's the tea," and @chrmnbscn said, "why by shawn mendes is about camila no one can change my mind".
Meanwhile, @ughbryan lamented the timing of the song, given that Cabello is rumored to be in a relationship with dating coach Matthew Hussey, writing, "Shawn really wrote a song about Camila admitting all his feelings while shes in a damn relationship. Its like the universe is working against them".
Mendes and Cabello have been close friends for years — they even collaborated on the song "I Know What You Did Last Summer" in 2015 — and fans have shipped the pair for much of that time. As recently as February, the two were reportedly spotted holding hands at a restaurant in New York City, according to Seventeen. Some fans also speculated that Cabello's song "All These Years" from her debut album, which came out in January, was written about Mendes.
Both artists have brushed the rumors off, stating that they're simply good friends. During an appearance on The Late Late Show with James Corden in 2015, when the talk show host inquired about the nature of their relationship, Mendes joked, "Every time I try to make a move she just swears me off ... It's never gonna happen." Cabello added, "He friend-zones me! He calls me 'kid!'"
Similarly, Mendes also told People in 2016, "We're just really close friends. She is one of those people who is just very easy to connect with and still, to this day, is one of my greatest friends. You find that instant connection with people, and she's one of them."
To make matters murkier, Mendes was recently rumored to be dating model Hailey Baldwin, and many took their red carpet appearance at the Met Gala in May to be their official debut as a couple. However, Mendes shut down speculation, telling People that they were both invited by designer Tommy Hilfiger.
"Obviously Hailey and I are friends, and it was just really cool for me to be able to walk with her because she's a vet and it was my first year, so it kind of took the pressure off a little bit," he said. "I was thrilled to be able to go with her."
As for his relationship with Cabello, Mendes has yet to confirm whether or not "Why" is about the "Havana" singer, but romance or not, they are definitely friendship goals.