Say Goodbye To Your Weekend, Netflix's Newest Baking Show Will Have You Hooked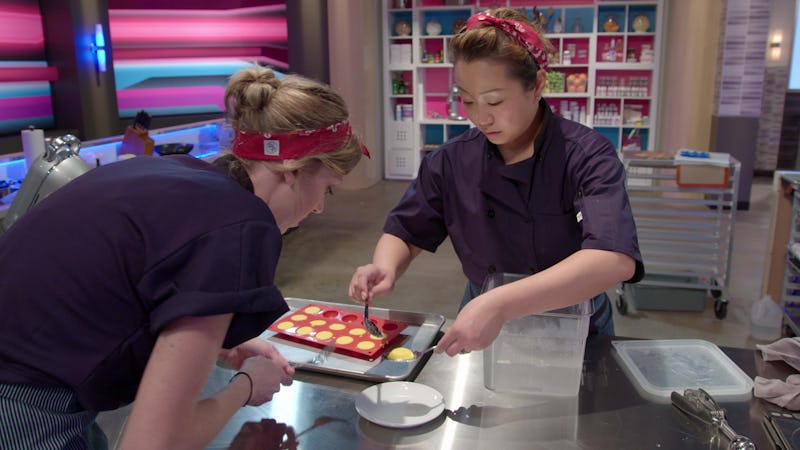 Netflix
Netflix is sinking its teeth into cake-centered competitive programming with Sugar Rush, premiering on July 13. The new series is the streaming service's latest foray into reality baking following the success of Nailed It, a comedy competition with terrible bakers attempting to create Pinterest-worthy cakes. This latest baking show looks just as binge-worthy, which is why fans are already wondering if Sugar Rush will return for Season 2 or not.
Netflix describes Sugar Rush as a baking competition where time is of the essence as several teams rush to bake delicious sweets. Basically, it is Nailed It with people who can actually "nail" complex cake challenges in record time. The Sugar Rush official trailer shows how intense the eight-episode challenge is for the talented contestants.
A large clock looms over four teams of bakers as they compete in three categories — cupcakes, confections, and cakes. Host Hunter March inserts quips while top-notch chefs Candace Nelson and Adriano Zumbo put pressure on the contestants as judges. As the trailer description states, the winner of the competition scores $10,000, bragging rights, and will probably end up with their own show in the future. Not a bad deal, at all.
It sounds like the kind of show that could definitely catch on, although there's no official word from Netflix just yet as to whether they've ordered a second season or not. So if you've become a fan of the series, you'll sadly have to wait a bit before more episodes are confirmed. If Sugar Rush follows the same pattern as Nailed It, though, there could likely be more episodes in even just a few months.
We can cut Netflix a bit of break, though. The contestants weren't even officially introduced to the world until the launch of the series, though several local news websites revealed some of their identities before the season dropped. For example, Montana Standard highlighted Mary Matthews and Ciara Alexander, a mother-daughter duo who are known for mascot and cartoon-inspired cakes.
According to Matthews' interview with Montana Standard, Sugar Rush producers reached out to her after seeing her cakes on the wedding-based website The Knot. She thought it was a joke, but soon realized it was real. Matthews and Alexander were cast after several interviews and baking examples and said the show was high-pressured but a great experience overall. The ladies don't own a bakery (yet) but they are working to expand Matthew's home to continue chasing their sugary dreams.
Another set of contestants, Rebecca Zimmerman and Jennifer Gryckiewicz, already have their own spot named Sugar Coated Bakery. Zimmerman is the bakery manager and Gryckiewicz is the owner, so there's no doubt that they have Sugar Rush worthy skills. The Lowell Sun reported that the Dracut, Massachusetts business is known for specialty cakes and cupcakes, but the ladies were still surprised to get the call from Netflix producers to be on the show. They left their cake decorator, Lizzie Anthony, behind to hold down the fort while they competed in the challenge of a lifetime.
The Sugar Rush contestants are bring a wide variety of experience with them and the judges are more than equipped to rate their skills. Nelson launched Sprinkles Cupcakes, the world's first cupcake bakery, in Beverly Hills in 2005, as stated on the company's website. Sprinkles Cupcakes have caught the taste buds of celebs like Oprah Winfrey and Katie Holmes, and has expanded to dozens of locations.
Zumbo, an Australian pastry chef, is known for his innovative desserts and has previously appeared on MasterChef Australia as a judge and guest per his IMDB page. He also collaborated with Netflix in 2016 for Zumbo's Just Desserts, another competitive show featuring amateur pastry chefs, which is why he might have looked familiar. The show's host may also be a familiar face to game-show lovers. March is the host of Emogenius on the Game Show Network and had a voice role as Hysterical Laughter in The Emoji Movie, according to his IMDB page.
So while there's no word yet as to whether the show will return for Season 2 with brand new contestants, there's more than enough talent to go around. Hopefully Netflix takes advantage of it.