'Sweet Home Sextuplets' Could Return Just In Time For The Kids' Birthdays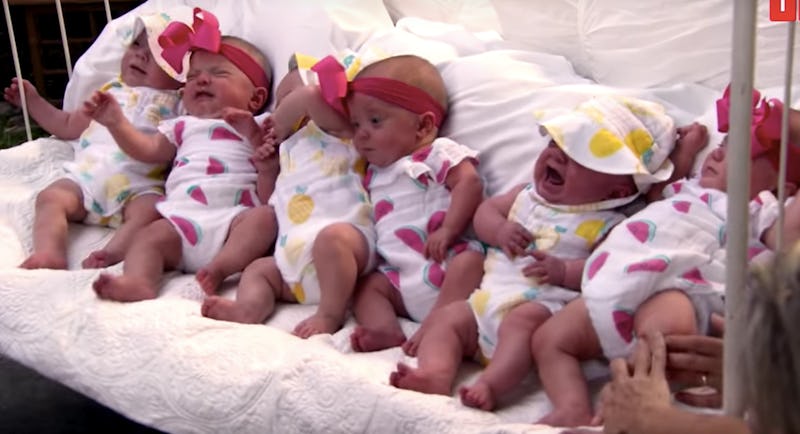 TLC
Imagine having three kids. Then imagine having nine. That jump happened overnight for Courtney and Eric Waldrop, the mom and dad headlining TLC's newest family special, Sweet Home Sextuplets. After giving fertility treatment a try in the face of multiple miscarriages, the Waldrops discovered they would be adding more than just one baby to their then-family of five — they would be welcoming six babies. The first season of the show that is documenting their new life with nine children premiered on September 19, and their family has already captured the hearts of so many across the country. Which is why they're already wondering if Sweet Home Sextuplets will return for Season 2, because now, they can't go without watching the Waldrop sextuplets grow up.
Initial program renewals are always tricky, because the decision to bring a show back is mostly based on the success of its inaugural season. But there's so much baby to love on this show, there's got to be enough of it to bring the Waldrops back for a second season. The official Instagram account for the family (@gods_divine_nine) has amassed over 37,000 followers in the short time that the show has aired, which is a pretty impressive feat. And that doesn't include the dedicated fans who are without Instagram accounts to follow along.
A series renewal would also warrant the Waldrop's consent, of course. And Courtney has said in the past that she and her husband Eric were hesitant to accept the TV show offer in the first place. "When we first considered saying yes to TLC we were VERY hesitant!!" Courtney wrote on Facebook. "But we also knew that God did not place us on this journey for us to not share his word and what He can do in everyone's lives. Our prayer is that God will be seen through us as we live To glorify Him!"
By the looks of how things are going now, the Waldrops seem to be enjoying themselves and the show. But it's hard to know for sure if they would be on board for another stint with the cameras. After all, taking care of six infants is hard enough — could you imagine doing it successfully or stress-free with an audience?
The one thing the Waldrops love about filming for sure, is the opportunity to archive the show as one big family home video. So far, they have enjoyed watching this season on TV for that reason. "It's just like watching a home video," Courtney told People. "It's hard to even imagine it's on in a million people's homes. I feel like it's only on in our house." And with nine little ones running around, it can be difficult to document and store every experience and memory, so it would probably be ideal for the family to keep the camera crew around to help. Let's face it, those babies will be grown before they know it.
They're already 10 months old and the second episode of this season saw them make their worldly entrance. So much has changed in such a short amount of time, and there are so many more changes to come.