The Bomb Cyclone Is Coming For New England — And Fast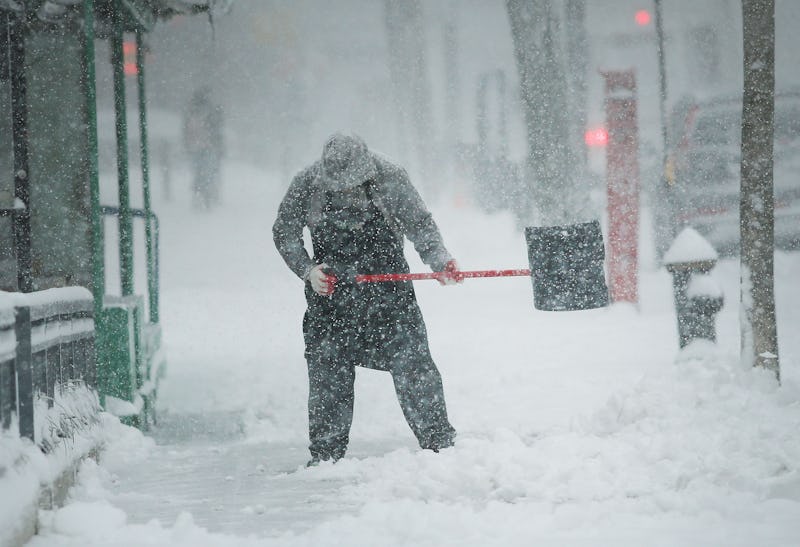 Spencer Platt/Getty Images News/Getty Images
If you thought hurricane season was over, think again. A "winter hurricane" is expected to hit the East Coast as early as Wednesday night, as Winter Storm Grayson moves North. This "bomb cyclone" will hit New England with heavy snow and winds, but each area of the region will be impacted differently.
Ice was already accumulating in North Florida and southeast Georgia on Wednesday morning. On Wednesday night, the winter storm is expected to move to the Carolinas and Virginia, then migrate all the way up to New England by Thursday morning. "Winter storm watches have been issued along the U.S. East Coast from portions of the Virginia tidewater northward through eastern Long Island into eastern New England," The Weather Channel reports. "Watches are posted mainly east of the larger metropolitan cities, with the exception of Boston, which is under a winter storm watch for significant snowfall."
While snow in Boston likely won't reach blizzard conditions, Maine, southern New Hampshire, and eastern Long Island could see heavier snowfall. The National Weather Service's main concern for Boston is heavy winds. The agency warned in a tweet Tuesday that the southeast New England coast could experience power outages Friday and Saturday due to "damaging wind gusts."
If you've never heard of a bomb cyclone, it's because they don't happen very often. With potentially record-breaking temperatures across New England, this week could be the coldest Boston has experienced in 100 years. To be considered a weather bomb, "the central pressure of a low pressure system must drop at least 24 millibars within 24 hours," The Weather Channel explains. "Bombogenesis results when there is a large temperature gradient, usually between a cold continental air mass and warm sea-surface temperatures."
Strong winds make the winter storm mimic a typical hurricane, hence the nickname "winter hurricane." North Carolina all the way up to Canada will be hit by dangerous gusts beginning Thursday morning. The Weather Channel explains when each area can expect wind speeds to surpass 50 mph:
"Wind gusts stronger than 50 mph are possible along the immediate coasts of North Carolina (Thu AM), New England (Thu PM) and Atlantic Canada (late Thu PM into early Fri AM) depending on the exact track of the low-pressure system. Wind gusts 60-70 mph are possible on Cape Cod and for the Massachusetts islands."
The entire eastern United States will feel the impact of the storm, with freezing temperatures and wind chills lasting through the week, according to the National Weather Service. Tennessee, West Virginia, North Carolina, Ohio, Kentucky, and Pennsylvania received wind chill advisories for Wednesday night and Thursday morning. "The cold wind chills will cause frostbite in as little as 30 minutes to exposed skin," the National Weather Service warned Wednesday. "Expect wind chills to range from 10 above zero to 10 below zero."
However, New England will experience the brunt of the bomb cyclone. The storm will sprinkle some snow on New York City and Philadelphia, but parts of New England could get upwards of 12 inches in snowfall that could last through Thursday night. "Some spots along Massachusetts' Interstate 95 corridor and in Downeast Maine could see more than a foot of snow," according to The Weather Channel. "For now, lighter accumulations are expected from the New York City Tri-state area to Delaware, with mainly less than 4 inches expected."
At least 11 people have died due to the cold weather in the U.S. this week, CNN reports. If you're in Maine, southern New Hampshire, eastern Long Island, or Boston (where heavy snowfall is expected), make sure to stock non-perishable foods, water, a flashlight, and plenty of supplies to stay warm for a few days. Once ice and snow start sticking to the roads, avoid driving until it's safe.