The Judge Who Decided Brock Turner's Fate Is One Step Away From Losing His Job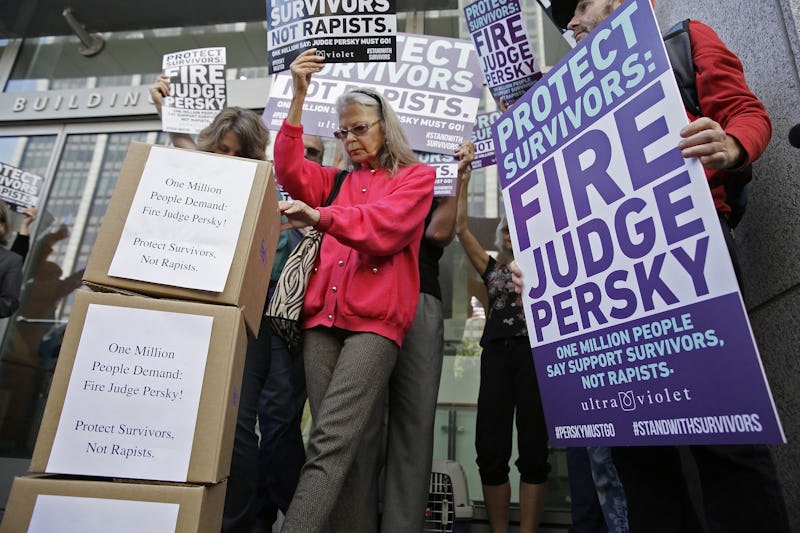 Eric Risberg/AP/REX/Shutterstock
Perhaps no single event in former Stanford swimmer Brock Turner's trial incited as much outrage as his sentence to just six months in jail for sexual assault. And now, the man responsible for that ruling, Judge Aaron Persky, may be recalled on a ballot vote in his county of Santa Clara, California.
Persky's recall will be up to voters to decide in June, and comes as a result of Stanford professor Michele Dauber's advocacy. She worked to secure the 95,000 signatures needed for the recall petition to make it onto the upcoming ballots.
"This historic campaign is part of a national social movement to end impunity for athletes and other privileged perpetrators of sexual assault and violence against women," Dauber told the HuffPost.
Turner's trial provoked a multitude of reactions nationwide as it made headlines throughout 2016. The then-20-year-old was found guilty in March of that year on three counts for his sexual assault of an unconscious woman on Stanford's campus.
Known as "Emily Doe," the unnamed victim wrote a 12-page statement directed to Turner that went viral, in which she recounted in harrowing detail how she had suffered as a result of his assault. And when Persky decided to give Turner just six months prison time, compared with the six years the prosecution had sought, many people erupted in outrage.
"What I've learned from working on this case is that bias in sentencing in domestic violence is particularly terrible, and it's particularly terrible in the case of collegiate athletes, that's for sure," Dauber told Bustle in December 2016.
The Stanford law professor has become an outspoken voice against the kind of special treatment she argues young men like Turner tend to receive, especially when they're members of certain exclusive groups — "We really need to look at collegiate athletics, and we really need to look at fraternities."
Dauber is hardly alone in her disappointment with Persky's prison sentence. A Change.org petition also calling for the judge's removal has garnered over 1.3 million signatures.
But some have pushed back on the effort to remove Persky from his job. Chief among them is Persky himself, who first defended his lenient sentence for Turner by citing a list of considerations that factored into his decision. Persky noted that Turner had not had any prior criminal offenses, that he was unarmed at the time of the crime, he appeared to pose no danger to anyone else if he remained out of prison, and that a harsher ruling would have a "severe impact" on Turner's wellbeing.
Persky has also issued a statement in direct response to the recall effort:
California law requires every judge to consider rehabilitation and probation for first-time offenders. It's not always popular, but it's the law, and I took an oath to follow it without regard to public opinion or any personal opinions I might have as a former prosecutor.
In the same statement, Persky notes that the prosecuting attorney, Jeff Rosen, also rejects the recall effort. As Rosen told The New York Times, "Most of the judges in California would have done the same thing as Judge Persky." The Santa Clara district attorney said this led him to the conclusion that the real problem was "not the judge but the law and that the law needed to be changed."
That may be true, but with the recall's placement on the June ballot, Santa Clara County voters are now the ones with the power to decide if Persky's judgment in handing a lenient sentence to Turner warrants his removal. Given the public nature of this case, their verdict will likely become its own national story.