Tony Danza & Josh Groban Play An Unlikely Crime Fighting Duo In Their New Show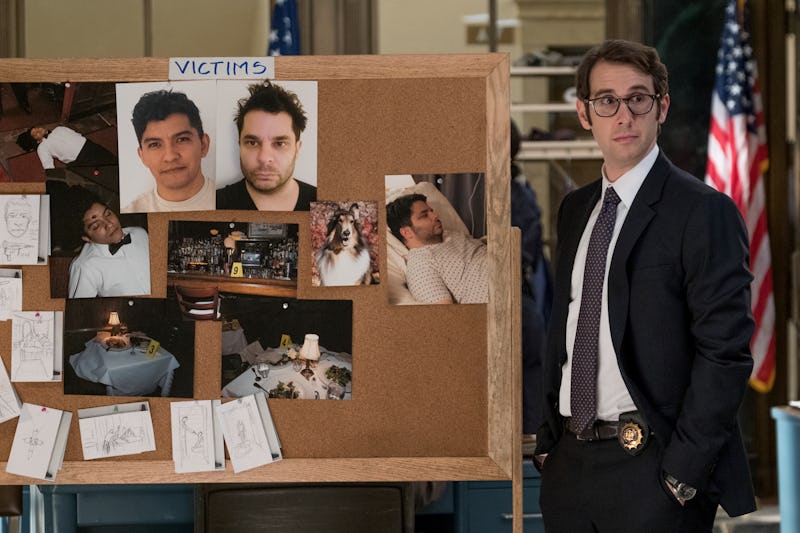 Michele K Short/Netflix
Many cop shows are all about endless drama and emotionally taxing stories. But, Netflix's upcoming comedy The Good Cop, premiering on September 21, puts a funny twist on the genre with a story about a straight-laced detective and his shady, yet lovable dad, who is also a former cop. It's the kind of lighthearted show that many people need right now — but will The Good Cop return for Season 2? Netflix has yet to make any announcements and the viewer response remains to be seen. But the show certainly seems like a good time.
Update: On Nov. 13, Deadline reported that Netflix had cancelled The Good Cop after just one season.
The Good Cop stars Tony Danza as Tony Caruso, Sr., a former cop who ended up behind bars after making some unwise choices. His charismatic and carefree attitude is beloved by almost everyone except his son Tony, Jr. aka TJ (Josh Groban) who is one of the top NYPD detectives.
The show's cheeky trailer shows off the duo's opposing personalities via a couple of incidents that will make them appreciate each other. TJ is in the midst of checking out an active crime scene when his father wanders in with a young, blond woman on his arm. As expected, the younger Tony scolds his dad about disrupting his very serious job and his dad makes a joke about "his lady being hot."
It's the first of many funny moments by Danza, who bribes someone with $50 to put his son on an ethics committee and says he disowned him at one point. Meanwhile, Groban is convincing as a no-nonsense cop with an obvious crush on his co-worker Cora (Monica Barbaro). He needs a lot more spice in his life and his dad will surely shake things up with his winning personality. And, of course, there are cases to be solved as they maneuver through interesting situations.
Danza spoke with Parade.com about his character and revealed that there is a lot of guilt behind his jovial exterior. "He pushes off his guilt because he goes on and does other things, but he's guilty," said Danza. "He's guilty about the fact that he wasn't there for Tony, Jr. when he was growing up. He's certainly guilty about his wife who was killed while he was in prison. He's totally torn up about that."
In the same interview, Danza said Tony's penchant for cutting corners is no different than the average person who intentionally does the wrong thing and doesn't see it as a big deal. He also believes this show can be watched by the entire family, but it cannot be categorized as a family TV show.
Groban also chatted about The Good Cop with the Los Angeles Times. Taking on the role of Tony, Jr. was ironic for a musician who has tried to distance himself from a "perfect guy" image. He said now was the perfect time to tackle this type of role because he can do it his own way. According to him, filming only took about five months to complete and there's a possibility that this "good" cop can take a bad turn during the series.
Only time will tell if The Good Cop returns for Season 2 but until then fans can have a good laugh at this lighthearted dramedy.