The Obamacare Repeal Will Go To The House Next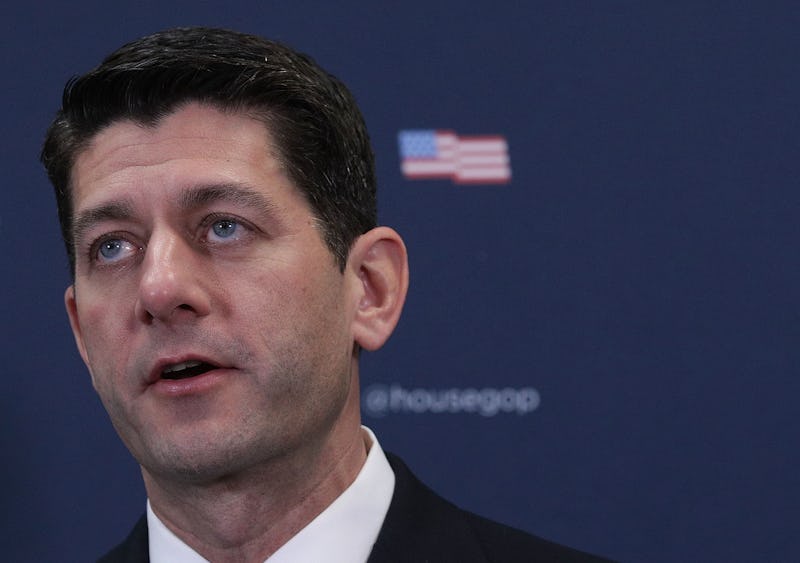 Alex Wong/Getty Images News/Getty Images
Concerning Obamacare, "repeal and replace" has been a six-year-long rallying cry for Red State politicians. And early Thursday morning, Senate Republicans cleared the first major hurdle to accomplishing that goal by passing a budget resolution on a narrow vote of 51-48. Now, that legislation heads to the House of Representatives where Republicans also hold a majority of seats, 241 to the Democrats' 194. However, House Democrats may find some unlikely Republican allies in their opposition to this effort to repeal Obamacare.
A reliably rowdier crowd, representatives have more leeway than most senators. Elected by a much smaller number of localized constituents, occasional intra-party disputes are almost a given. But the Tea Party phenomenon of 2010 helped send a particularly combative group of conservative hardliners to Congress' lower chamber. Known as the Freedom Caucus, their work has largely been to incapacitate any Republican deemed insufficiently conservative. In fact, they are the reason we're now looking at Speaker Paul Ryan, instead of former Speaker John Boehner. Freedom Caucus critics were livid that Boehner would not shut down the government in order to defund Planned Parenthood. Shortly thereafter, Boehner had to step down before facing a likely successful attempt to forcibly remove him.
And now, members of the Freedom Caucus have voiced concern over passing the Senate budget without knowing more of its contents. Talking with reporters on Monday, Chairman Mark Meadows said, "We need to slow down the process so we can understand a little bit more the specifics and the timetable of replacement votes and reconciliation instructions, etc," POLITICO reported. Presumably, this hesitancy to simply pass the Republican Senate sends them stems from a commitment to limited and accountable government. The Freedom Caucus argues that there hasn't been enough time to read and fully understand the contents of this 2017 budget.
Still, despite their reputation for cheerfully inciting battles within and without their party, it's a whole new world for the Freedom Caucus with President Obama leaving office. Defined almost entirely by their dogged opposition to all-things-Obama, the group must now find a new identity. Back in December, Meadows conceded as much. "The fallout can potentially be, 'Well, Mark, you can't get along with establishment types and now you can't get along with those fighting the establishment.' And if that's the case, it can have far-reaching implications back home."
Now that the Freedom Caucus must work with a fellow Republican as president, their affinity for grenade-launching may be on a longterm hiatus. This is especially possible given Trump's love of the public counter-punch. Step up to Trump, and they may find themselves a target on his Twitter feed; the possibility of being "primaried" by a more loyal Trump supporter is also a real threat. (Representatives are up for reelection every two years.)
Assuming that Democrats in the House follow the lead of their Senate counterparts in unanimous opposition to the budget bill, they will still be far short of the needed majority to stop this march to defund Obamacare. And while the Freedom Caucus may may have qualms about the limited timetable for budget review, they are fully in favor of repealing Obamacare. With that in mind, it seems highly probable that the House passes the Senate budget legislation.