The One 'The Last Jedi' Cast Member Who Will Probably Represent At The Globes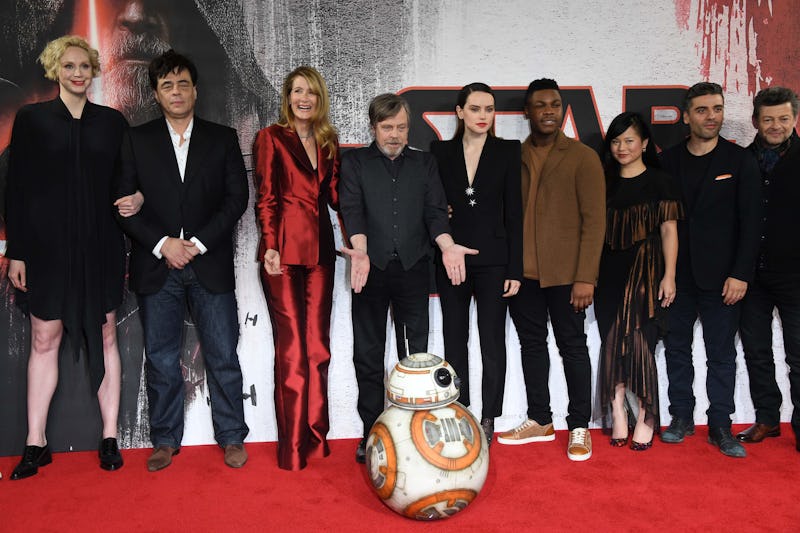 Stuart C. Wilson/Getty Images Entertainment/Getty Images
Star Wars fans hoping to see The Last Jedi cast at the 2018 Golden Globes may be in for a disappointment. The recently-released blockbuster didn't earn any nominations this year (which shouldn't necessarily have been all that shocking, seeing as how the last time a Star Wars franchise film earned a Golden Globes nomination was in 1980), but that's not the only reason the cast may decide to sit this one out. Of course, nothing's been confirmed either way just yet, but, to quote Luke Skywalker, Han Solo, and Princess Leia (plus, like, 10 other characters in various Star Wars films): "I've got a bad feeling about this."
Trust me, it's not that I want to be pessimistic about The Last Jedi cast attending the Golden Globes. I had high hopes of riding the new-year-positivity train well beyond a few pitiful days. Unfortunately, judging by the lack of attendance from previous Star Wars casts, it's just not looking good. (Aside from one certain actor, which we'll get to below.) Take, for example, 2015'sThe Force Awakens. Despite high hopes for an appearance by the Star Wars gang at the 2016 Golden Globes (even though, as previously mentioned, the franchise didn't receive any nominations), the cast — including then-break-out stars like Daisy Ridley and John Boyega — decided to skip the show. The last Star Wars film before that was Revenge of the Sith, which came out in 2005 (and again, received no nominations). Natalie Portman was the sole member of that cast to show up at the 2006 Golden Globes, but she was only there to appear as a presenter.
That being said, there's still the possibility that some of the cast from The Last Jedi might show up at this year's show in a similar capacity as Natalie Portman did in 2006. This year, the Golden Globes revealed the first wave of presenters via Twitter on December 28, added a few more stars to the list as the days went on. Sadly, no one from the cast of The Last Jedi has made the cut so far, but keep your eyes peeled for a last-minute addition.
But fear not, young Jedi, because not all hope is lost quite yet. There's a pretty good chance that Laura Dern — who plays Vice Admiral Holdo in The Last Jedi — will swoop in to save the day. Granted, she won't be there to specifically represent the Star Wars cast per se, but her presence at the show would definitely count as a win for the fans. Dern received a nomination this year for Best Supporting Actress in a Series, Miniseries, or Motion Picture for TV for her role as Renata Klein in HBO's Big Little Lies. If you're getting the feeling of deja vu right now, that's because Dern won her first-ever Emmy (for Best Supporting Actress in a Limited Series or Movie) for the same role at last year's Emmy Awards. Now, several outlets (including Rolling Stone and Variety) are predicting that Dern will win herself a Golden Globe as well, so it's probably pretty safe to assume that she'll be walking the red carpet.
And so, while it's highly unlikely that the majority of The Last Jedi cast will be gracing us with their presence at this year's Golden Globes, perhaps Dern will attend, win, and send a loving shout-out to her Star Wars cast-mates in her acceptance speech. Better yet, she could just bring BB-8 along in her purse.
Help us, Laura Dern. You're our only hope.