Trump's Latest Tweetstorm Is Making Everyone Wonder If He'll End The Russia Investigation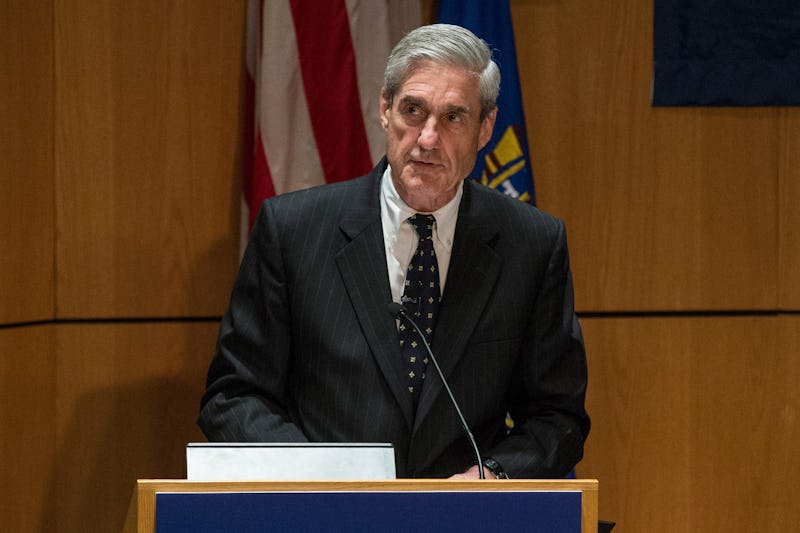 Andrew Burton/Getty Images News/Getty Images
Since the inception of Robert Mueller's special investigation into potential links between the Trump campaign and Russia, Donald Trump has made it clear that he would rather that it was not going on at all. He hasn't stepped in to stop it yet, but many are now wondering whether the Mueller investigation will end because of his most recent actions: firing deputy FBI director Andrew McCabe and shooting off a tweet storm that was heated even for Trump's standards.
"The Mueller probe should never have been started in that there was no collusion and there was no crime," Trump wrote in a tweet on Saturday night. "It was based on fraudulent activities and a Fake Dossier paid for by Crooked Hillary and the DNC, and improperly used in FISA COURT for surveillance of my campaign. WITCH HUNT!"
On Sunday morning, he continued with multiple tweets about the two high-level FBI officials he's fired since taking office: McCabe, and former director James Comey. The president accused these two longtime former public servants of lying and making up what he refers to as "Fake Memos." He then issued one more tweet about the Mueller investigation, saying:
Why does the Mueller team have 13 hardened Democrats, some big Crooked Hillary supporters, and Zero Republicans? Another Dem recently added...does anyone think this is fair? And yet, there is NO COLLUSION!
The claim that there are no Republicans on Mueller's team is false, as Mueller himself is a lifelong Republican. The Washington Post reports, though, that the tweets represent a new strategy from the president in that he actually refers to Mueller by name, which he doesn't usually do. In addition to coming right on the heels of McCabe's firing, the tweets are also notable because Trump lawyer John Dowd called for an end to the Mueller investigation, in a statement released on Saturday.
I pray that Acting Attorney General Rosenstein will follow the brilliant and courageous example of the FBI Office of Professional Responsibility and Attorney General Jeff Sessions and bring an end to alleged Russia collusion investigation manufactured by McCabe's boss James Comey based upon a fraudulent and corrupt dossier.
After telling the Daily Beast that he was speaking for the president, Dowd walked that statement back and told The Washington Post that he was only expressing his own mind. Trump, however, tried to fire Mueller as early as June 2017, shortly after the Special Counsel's investigation began, and he's repeatedly made it clear that he would like the investigation to end, one way or another.
The threats to Mueller from both Trump and his lawyer and Trump's now frequent dismissive comments towards the FBI have many commentators worried that Trump might actually attempt to fire Mueller himself. While this would still be an explosive option for the president to turn to, by law there are ways that he could do it. That route would be extremely politically damaging, however. While Congressional Democrats' alarmed response to Dowd's suggestion was entirely expected, some Congressional Republicans also made it clear that they would not support such a move.
"If he tried to do that, that would be the beginning of the end of his presidency," said Sen. Lindsay Graham.
"If you've done nothing wrong, you should want the investigation to be as fulsome and thorough as possible," Rep. Trey Gowdy (R-S.C.) said on Fox News Sunday.
While there are certainly many Congressional Republicans who have not come out one way or another on the president's recent actions and who could try to protect him if Trump did indeed try to fire Mueller, doing so would nonetheless create a very precarious situation for the president. His moves this weekend may make it seem like he's heading that way, it would still be a big surprise if he did it.