The ACLU Is Already Speaking Out On The New Ban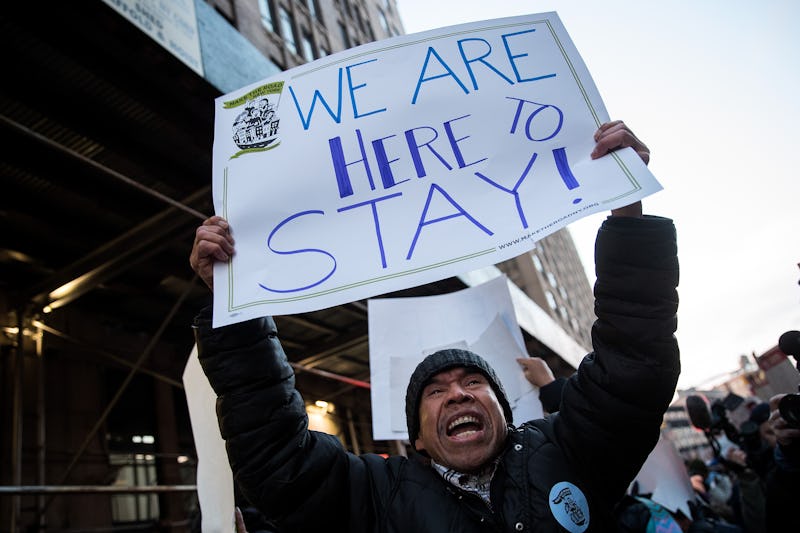 Drew Angerer/Getty Images News/Getty Images
On Monday, Donald Trump signed a new travel ban executive order that contained a few modifications on the last one, which was ultimately blocked by the courts. The new travel ban no longer targets Iraq, and it includes Syrian refugees in a 120-day suspension rather than banning them indefinitely. But as critics have already pointed out, the new ban still targets six Muslim-majority countries: Iran, Libya, Somalia, Sudan, Syria, and Yemen. As a result, the ACLU's Immigrants' Rights Project Director Omar Jadwat has released a statement asserting that Trump's new ban will face renewed resistance from the courts:
The Trump administration has conceded that its original Muslim ban was indefensible. Unfortunately, it has replaced it with a scaled-back version that shares the same fatal flaws. The only way to actually fix the Muslim ban is not to have a Muslim ban. Instead, President Trump has recommitted himself to religious discrimination, and he can expect continued disapproval from both the courts and the people.
What's more, the changes the Trump administration has made, and everything we've learned since the original ban rolled out, completely undermine the bogus national security justifications the president has tried to hide behind and only strengthen the case against his unconstitutional executive orders.
It isn't only the ACLU that's ready to take on Trump's new travel ban. New York Attorney General Eric Schneiderman, who filed a lawsuit against Trump's original travel ban, released a statement on Monday saying he was ready to "litigate — again" because "the intent to discriminate against Muslims remains clear" in the new executive order.
"Courts across the country have made clear: President Trump is not above the constitution," Schneiderman said in his statement.
When Schneiderman led a coalition of state Attorney Generals against Trump's original travel ban, it was not the first time he had faced Trump in court — and based on this statement, it evidently was not the last.
Although the new travel ban appears to make a few concessions, immigrant rights activists maintain that it is simply a Muslim ban in disguise, and critics continue to challenge its constitutionality. "The core problem will still remain, which is the travel ban is based on religious discrimination," ACLU attorney Lee Gelernt told Bloomberg.
Given the almost immediate reactions of the ACLU and people like Schneiderman — as well as activists' vows to protest the "Muslim Ban 2.0" — it seems more and more likely that Trump's new travel ban will once again be challenged in court.