The 'Will & Grace' Revival Needs The Original Cast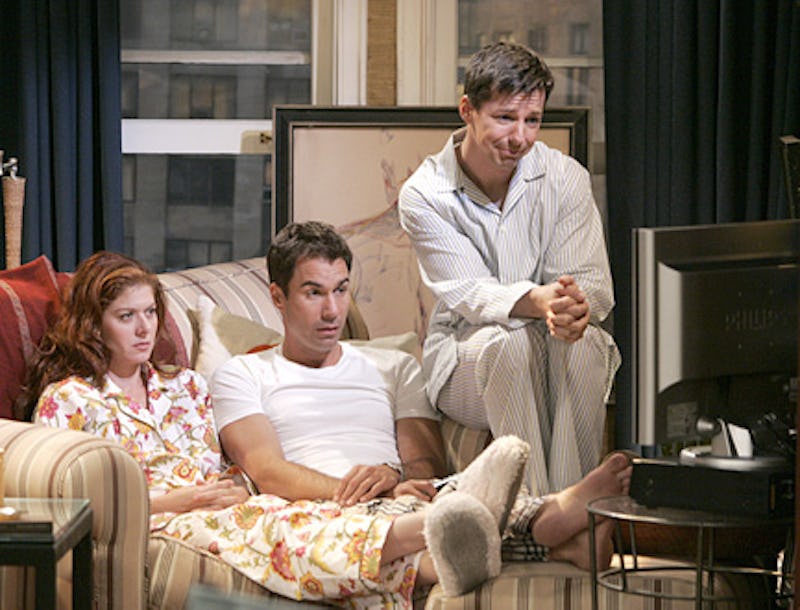 Everyone, I'm here to bring you historic news that will forever change the direction of this country... ish. Are you ready? OK, here goes nothing: Will and Grace Revival is happening after all. Too overdramatic? Well, sue me. I grew up absorbing Jack McFarland's melodramatic ways and it's too late to change now. Besides, there are more pressing matters at hand than my excitability, like is the original cast returning for the Will & Grace revival? I think we can all agree that the shoe wouldn't be the show without them, and we will accept no substitutes.
Well, let's take a good look at the major details, shall we? According to Entertainment Weekly, the revival will be 10 episodes long and will be airing on NBC. In addition to that, the showrunners, Max Mutchnick and David Kohan, and director, James Burrows, will be back. As for the cast, though? You'd be right to assume that the powers that be all returning was a good omen.
EW also relays via a network announcement at the Television Critics Association press tour, that, yes, the reboot, "will reunite stars Debra Messing, Eric McCormack, Sean Hayes, and Megan Mullally during the 2017-2018 TV season."
What does this all mean that the OGs are all returning, from the creators to the the cast? Well, it means that this revival is not just going to be taken seriously, but that it's being entrusted to the people who know the characters the best.
As EW reports, Mutchnick explained that, "Dave [Kohan] and I are absolutely thrilled about the opportunity to write what Will, Grace, Jack and Karen are thinking about in 2017." And, honestly? So are we. The only thing better than the fans being excited about a revival is the cast and crew being excited to deliver us material that will exceed our expectations.