Charles Michael Davis Talks The Future Of 'The Originals'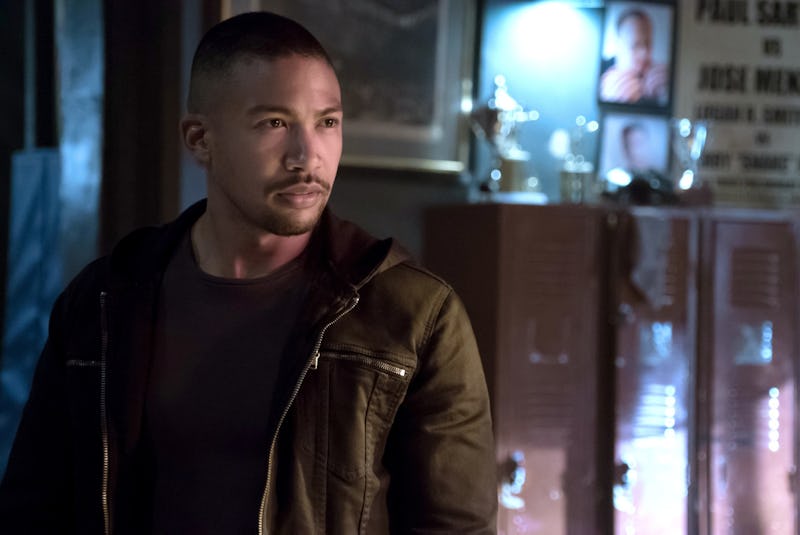 Annette Brown/The CW
Charles Michael Davis has played vampire Marcel Gerard on The Originals for almost four seasons. And, after all that time in front of the camera, the actor is making his directorial debut with "High Water and a Devil's Daughter," airing Friday, May 5. The episode marks the midway point of the series' fourth, and maybe last, season. Speaking with Bustle prior just before the airing of his episode, Davis talked about the possibility of The Originals Season 5 and what's ahead for Marcel.
After Season 4 of The Originals was reduced to 13 episodes and then pushed back from the fall to mid-season, fans worried the season might be the show's last. Currently, the series is sitting right on the bubble — unlike other CW shows, the Vampire Diaries spinoff has yet to receive a season pick up and it's fate will likely remain a mystery until late spring. But before you go mourning the show, know that there is hope, and it comes straight from Davis himself. "It's literally 50/50, but I do feel really good," he says. "I heard some information, and, you know, now it's just a matter of time." Cryptic, I know, but Davis claims fans shouldn't lose hope. "I feel really good. Keep your fingers crossed," he says.
Davis is clearly confident that the show at least has a good shot at getting picked up, but that doesn't mean that fans should take a Season 5 of The Originals for granted. The showrunners sure aren't. While the actor can't reveal much about what the rest of Season 4 has in store, he claims the writers took great care to end the season in a way that would be satisfying should it become an unintentional series finale. "We weren't really sure if we were going to come back or not after this season. So, if it needed to end now, we needed to have closure," he says. "I hope the fans hang in and really feel the weight of that, because we put a lot into every episode."
For Marcel, closure could mean fixing his troubled relationship with Klaus. Granted, that's not going to be an easy fix considering the fact that he's currently being held prisoner in the Mikaelson's basement. Luckily, there's a big bad that needs defeating, and it's going to need Marcel and Klaus to be on the same side. "I think with the Hollow coming in and threatening everything, it makes the feud between Klaus and Marcel seem at least small enough to put to the side for now," Davis tells Bustle. As for what Klaus and Marcel's relationship could look like in the future, Davis has a unique theory: "I could see them saying, 'You know what? There's a lot of energy... between us, let's open a bed and breakfast.'"
Jokes aside, Davis promises that Season 5 or no, fans will get to see the storylines reach a satisfying conclusion. "The storylines really move forward," he says. "I think that some of the things that you've wished for or wanted to see for the characters, you're going to be able to see happen in this season." One thing fans will definitely get to see is the Hollow, which Davis teases is "not like anything we've ever done before."
Like the showrunners, fans have also begun to brace for the end of The Originals, with Twitter campaigns #RenewTheOriginals and #SaveTheOriginals already going strong. Davis, however, hasn't seen them. Unlike many of his co-stars, he doesn't have Twitter and isn't active on social media. All that, however, might change if the show gets a Season 5. "If we get picked back up, then I'll get an Instagram account," he says, though he makes no promises to post any photos, and the only person he'd follow is Martha Stewart. So, get tweeting Originals fans! Not only does Season 5 of The Originals depend on it, but Davis' social media does too.