Why 'Shannara Chronicles' Fans Are Nervous About The Fantasy Series' Future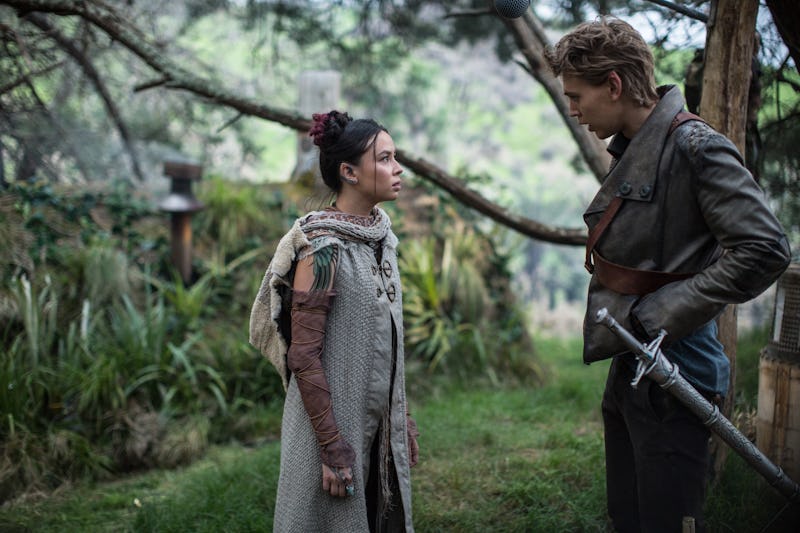 Spike
Nov. 22 brings the two-episode Season 2 finale of The Shannara Chronicles, but already, fans are antsy for more, and anticipation has quickly turned to the show's next run. So when, exactly, is Season 3 of the Shannara Chronicles? Will there even be a Season 3, or could Wednesday night double as its final goodbye?
So far, Spike has yet to confirm a renewal, and admittedly, the show seems to be on shaky ground. It originally premiered on MTV in 2016, but moved to Spike before its second season, and the transition hasn't made for stellar ratings. According to TV Series Finale, it's been averaging about 245,000 viewers — a roughly 72 percent drop from Season 1. The network has also begun airing two episodes per night, which could signal a burn-off.
That being said, Spike was recently rebranded under the Paramount Network, so they might let the dip in ratings slide as they strive to establish themselves and build an audience. And while The Shannara Chronicles isn't the most-talked about show, it's certainly been well-received. In October, Forbes' Merrill Barr even hailed it as television's best fantasy series — an impressive nod, given that Game of Thrones is still ongoing. But next year will mark the HBO mega hit's last season, so perhaps they'll be more space for a project like Shannara as viewers looks elsewhere for their fantasy fill.
Furthermore, there are important stories left to tell. By introducing several new characters, Season 2 took important strides toward a more diverse, inclusive cast — an area where Game of Thrones has noticeably fallen short — and those voices deserve to be further explored. Eretria, for example, is openly bisexual, and though the Season 1 flirtation between her and Amberle never amounted to much more, in Season 2, she finds a new girlfriend in Lyria (Vanessa Morgan). It's a relationship star Ivana Baquero, who plays Eretria, hopes to continue. "I honestly think it's so awesome," she told The TV Junkies earlier this month. "I had so many people approach me in Season 1, in fact, about the Amberle and Eretria relationship, and be so passionate about it, and tell me how they felt represented, and how there's not much of it on TV." She went on to say that that's exactly why Shannara needs a Season 3, continuing:
"The show has other things like many more diverse characters and amazing female characters. To be in a show that has all those things is so unique and it makes me want for it to have a third season so, so [badly], because I feel it covers so many things, and so many people can feel connected to it."
Also of note? Season 2 covers the gap between the second and third books in Terry Brooks' Shannara novels, which the show is adapted from. Since there are 41 books in the series, that means much of the universe has yet to be examined on-screen.
Finally, and perhaps most importantly, Shannara has a rabid fan base, and the demand for more is high. A quick scroll through Twitter reveals plenty of pleas for a Season 3. "PLEASE GO WATCH THE SHANNARA CHRONICLES THIS WEDNESDAY AT 9/8C ON SPIKE BECAUSE I NEED THEM TO RENEW THIS SHOW FOR A SEASON 3," wrote one user in yes, all caps. "Shannara Chronicles is one of the most underrated shows on TV! I'm loving burning through 2hrs a week, but I hope it doesn't mean it's getting cancelled. Need to get a season 3 of this show!" tweeted another.
If the series is renewed, a Season 3 would likely arrive next fall. Though it originally debuted in spring, it was pushed back due to the switch to Spike, and a spring 2018 premiere would be a tight turnaround. With no word yet, however, it's hard to say for sure. For now, viewers will just have to keep their fingers crossed.