Mel B Just Spilled Some Piping Hot Tea About The Spice Girls Headlining Glastonbury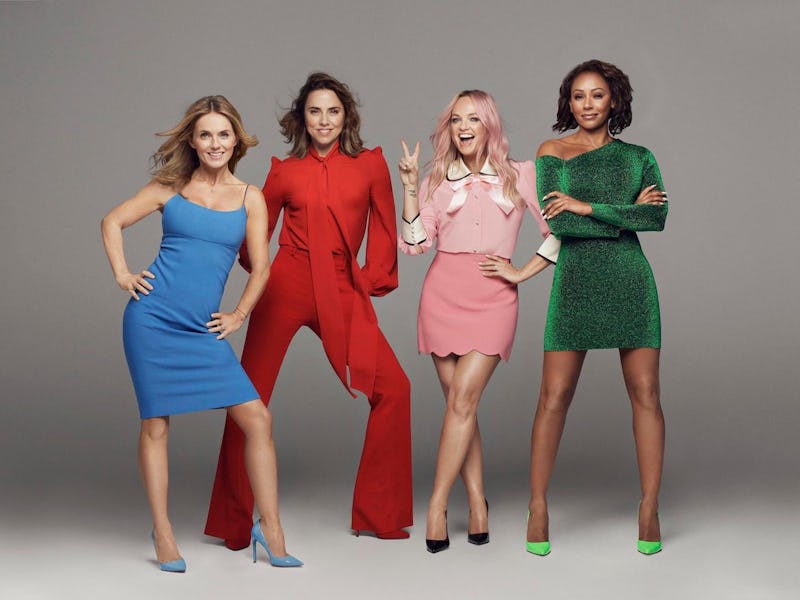 Spice Girls/Instagram
Have you got tickets to see the Spice Girls on their reunion tour? No brag, but I have. But real talk any uber fans, like myself, who might not have bagged a ticket are absolutely entitled to feel incredibly maudlin, despairing, bereft. Oh inconsolable ones, I feel your pain. But guys, do not despair, there is a long stretch ahead of us. Lots of time for things to be announced. Like, will the Spice Girls headline Glastonbury 2019?
Well, as the Daily Mail reports, Mel B appeared on Jessie Ware's podcast Table Manners suggesting that the quartet may be in talks with the festival's organisers, meaning this may well happen. The singer said it had "been talked about." However, Somerset Live is reporting that the comments weren't as conclusive as they sound. "But that's so pop and so cool and indie. That's funny, that would be funny to me," Mel B added of a Spice Girls performance. Bustle reached out to Glastonbury's press department for comment.
Come on guys, it is absolutely possible, because let's look at the information we have. The biggest girl band in the history of the world have reunited for a tour. Their tour will begin on May 24, and end on June 15. OK call me a gossip monger but Glastonbury is from June 26 to 30. This means they would have potentially a lovely two week break period to rest their weary legs, polish their sequins, and get ready to zigazigaaaah. Oh come on and you KNOW our gal VB might be up for doing it too.
However, nothing apart from Stormzy headlining the Friday night has been confirmed yet, and we will have to wait with baited breath to find out who else will be gracing the multiple stages at the world's best music festival. One of the leading voices in UK rap, Stormzy has proven himself to be an incredible performer and not afraid of standing up for what is right. Did y'all watch his performance at the Brits? OMG if you haven't, drop what you are doing and watch this.
So he got up, backed by an incredible live Gospel choir, singing his hit song Blinded By Your Grace. So moving and beautiful, and it's raining on stage which adds to the shiver inducing dulcet tones. Then, as if your shivers weren't enough, he then whips his top off and starts on what can only be described as an annihilation of the powers that be in the UK, slamming the government for not supporting the victims of the Grenfell Tower fire, telling the country's elite media exactly how he feels about them, and finishing off by celebrating the success of other black British people. A performer and artist who is not afraid to say what they think maybe isn't the most rare thing in 2018, but one who says things that make actual change really is a revolution in itself.
After his performance, the star called on his loyal Twitter followers to sign a petition which called for Theresa May to use her powers as Prime Minister to appoint additional panel members to the independent public inquiry of the fire in Grenfell Tower, as Huffington Post reports. And only a few hours after his tweet, the petition had registered more than 100,000 signatures, enough for it to be debated in parliament.
Well an artist this astute and willing to tackle issues, is absolutely going to not only give a good show — but also hopefully flag some issues at home and internationally.