The Spice Girls Have Finally Reunited — So When's The Tour?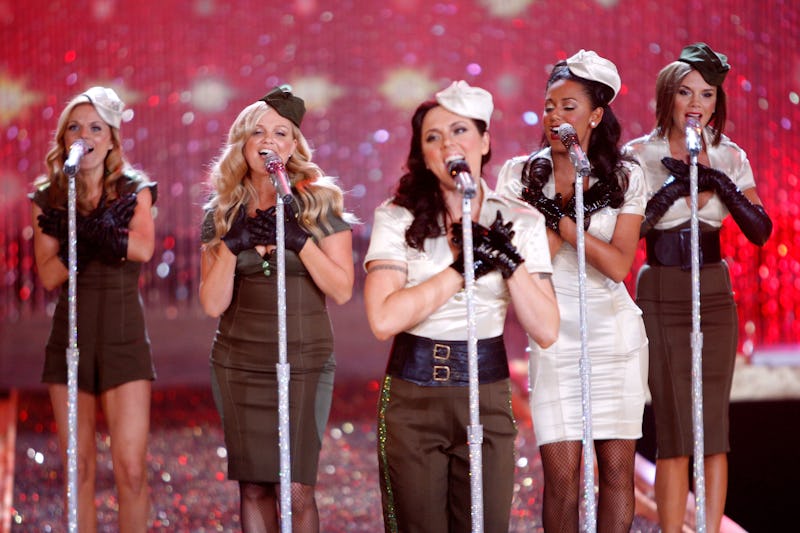 Mark Mainz/Getty Images Entertainment/Getty Images
There's no doubt that girl power is alive and well, but is it so alive that it'll bring five epic women back to the stage? The Spice Girls reunion photo has been posted and now the question must be asked: are the Spice Girls going on a reunion tour? (Bustle has reached out to their manager for comment, but did not receive an immediate response.) On Friday, Geri Halliwell, Victoria Beckham, and Emma Bunton posted a photo to their respective social media accounts of all five women reunited in all of their glory. After six years apart, their photo and messages are promising for fans who are ready for more of the Spice Girls. And it wouldn't be the first reunion tour from the ladies, since they put on The Return of the Spice Girls tour in 2007 and 2008 after the last time they all performed together in 1998. Fans have been speculating that a tour is coming for the last few months, but there's a catch.
Update: On Friday, Feb. 2, the Spice Girls issued a statement about their reunion that was reported by ET Online. It read,
"We have enjoyed a wonderful afternoon catching-up and reminiscing about the amazing times we have spent together. We are always overwhelmed at how much interest there is across the whole world for The Spice Girls. The time now feels right to explore some incredible new opportunities together. We all agree that there are many exciting possibilities that will once again embrace the original essence of The Spice Girls, while reinforcing our message of female empowerment for future generations."
Earlier: First of all, apparently their reunion wasn't just for fun; there's some reported business going on here. According to Just Jared, the Spice Girls reunited at Halliwell's London home on Friday for a meeting. Their manager Simon Fuller was also spotted at the mansion along with lunch deliveries brought by security. Planning a game-changing worldwide reunion tour can be pretty draining after all, ahem ahem...
Although future plans haven't been confirmed, their social media captions alone are pretty telling. Halliwell wrote, "Lovely seeing the girls #girlpower is alive and well." Meanwhile, Bunton and Beckham teased more ahead writing, "Love my girls!!! Exciting!" and "Love my girls!!! So many kisses!!! X Exciting x #friendshipneverends#girlpower," respectively.
In mid-November, news emerged that the Spice Girls would have a new album and one-off TV special in 2018, as reported by NME. Reports also claimed the group had been in secret meetings for a few months prior. A source told The Sun, "The five of them have been locked in secret talks since the summer, and finally they are all on-board for a 2018 reunion."
However, a few weeks later in late November, Beckham claimed she wouldn't be a part of it. "It is not happening. At some point you've gotta know when it's time say, 'that was great'," she said on This Morning. "Girl Power will always be out there and is something that we all still believe." Now that Beckham is reportedly on board, there are additional reports that she will not be singing in whichever projects are on the horizon.
Despite all of that, fans cannot contain their chill about the very idea of a reunion tour from the iconic pop group.
According to The Sun, potential Spice Girls projects include TV shows, a new talent series, endorsement deals, and a compilation album of their greatest hits (forecasting a $14 million paycheck for each).
Which means that now fans are not only speculating about a Spice Girls reunion tour, but also a collaboration with other '90s throwback performers on the road like Britney Spears (who recently announced her upcoming world tour) and the Backstreet Boys.
It's not totally unreasonable, the idea has been brought up before. "We've had conversations, I've had conversations with Scary Spice and Emma, and we've talked about it," a member of the band told Us Weekly in June. "We're always open to doing a tour with them. I think it would be an epic tour."
Most of all, fans are so excited to see what the feminist band, who's always been a symbol of true girl power, has in store at a time when women are that word is on people's minds more than ever.
Whether they return to the stage or not, audiences can count on these five game-changing women to deliver messages of girl power like they never have before. What a time to be alive.