Sound The Alarms: The Spice Girls Are Posting Pics Of ALL Of Them Together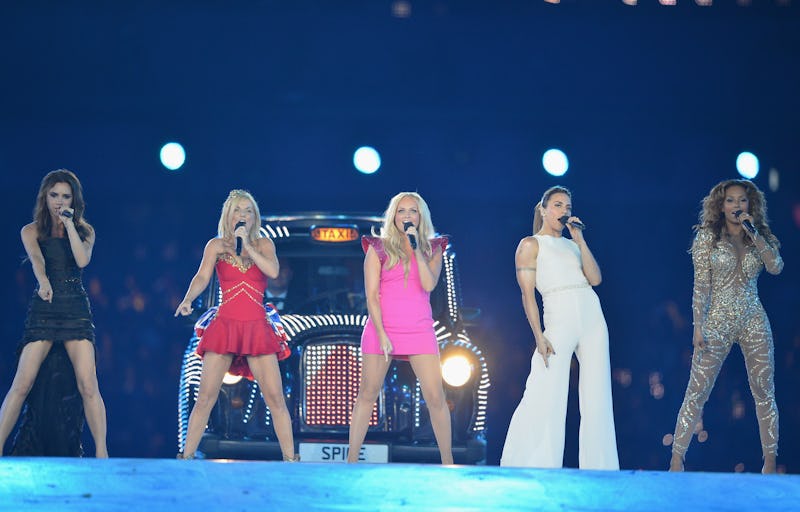 Jeff J Mitchell/Getty Images Sport/Getty Images
Stop right now! Thank you very much. On Friday morning, the Spice Girls officially reunited with a not-so-secret meeting at Geri Halliwell's London home. They were reportedly discussing getting the girl band back together, and their manager, Simon Fuller, was there too. Victoria Beckham, Emma Bunton, and Geri Halliwell have all posted Instagrams of all five of the Spice Girls together at Ginger Spice's house, which confirms that after many years of reunion rumors, the Spice Girls are finally doing something.
UPDATE: On Friday, the Spice Girls released the following statement to Entertainment Tonight about their meeting:
We have enjoyed a wonderful afternoon catching-up and reminiscing about the amazing times we have spent together. We are always overwhelmed at how much interest there is across the whole world for The Spice Girls. The time now feels right to explore some incredible new opportunities together. We all agree that there are many exciting possibilities that will once again embrace the original essence of The Spice Girls, while reinforcing our message of female empowerment for future generations.
EARLIER: What that something is isn't yet clear, but even just the fact that they're posting these Instagram is enough to send fans over the edge. According to The Sun, Beckham reportedly finally agreed to new Spice Girls projects if she did not have to sing, a huge compromise since Posh Spice has always been the most adamantly against a reunion of any sort. The girls will reportedly get 10 million pounds each for whatever project is to come.
Posh, Ginger, and Baby all posted the same adorable group photo, capturing the first time all five women were photographed together since 2012. Bunton's caption said "the future is looking spicy," pretty much confirming what everyone hopes to be true: the Spice Girls will be wielding their girl power again soon, whether that means with a TV show, a new album, or even a tour.
Fans might be reticent to get there hopes up, though, since a Spice Girls reunion has been teased for years now and the rumors have flowed wildly. The last time that they all had a proper reunion was at the 2012 London Olympics, when they came out to close the ceremony and sent fans into an utter, excited panic. The highlight: Posh posing to the side while the other four girls danced. They met up again later that year for the opening of Viva Forever, the musical based on their songs, but they didn't perform.
Though it seems like she has finally (thankfully!) changed her mind, Beckham has been the most against getting back together. She's said in the past that, of course, she still loves her fellow Spice Girls, but it's time to move forward. In March 2017, she appeared on the Today show and was inevitably asked about the possibility of a reunion. "There won't be a reunion because I think that when we performed at the Olympics, it was so great and that was us celebrating everything that we'd achieved," she responded. "We're still very close, but I think that you need to know when it's time to actually say, 'That was great, we achieved a lot,' and everybody moves on ... I'll always be Posh."
That is for sure; once spicy, always spicy. Even as late as November of last year, Beckham said that it just wasn't gonna happen. According to Digital Spy, Posh said during an appearance on This Morning that the Spice Girls wouldn't be coming back, even though "Girl Power will always be out there and is something that we all still believe."
She hasn't been the only one to burst the bubble, though. In 2015 there was buzz that the girls might tour together in 2016 (minus Beckham) to celebrate the 20th anniversary of "Wannabe." But, according to The Wrap, Bunton said on her radio show that it was just a rumor — but she tried to reassure fans, maybe hinting at something in the future. "If anything happens and it's concrete, and we decide on something, I will let you know," she said.
And on Friday, it seemed like Bunton and the rest of her girls were letting people know! Beckham posted not a only photo of all them together, but also all the girls plus their manager, Fuller, which seems like a pretty clear indication that they were cooking up some projects and not just meeting for breakfast. So, it looks like it's safe to actually get your hopes up this time for a Spice Girls reunion — and not a moment too soon, because the world needs Girl Power now more than ever.