Trump Wants To Repeal DACA So Badly He's Taking It To The Supreme Court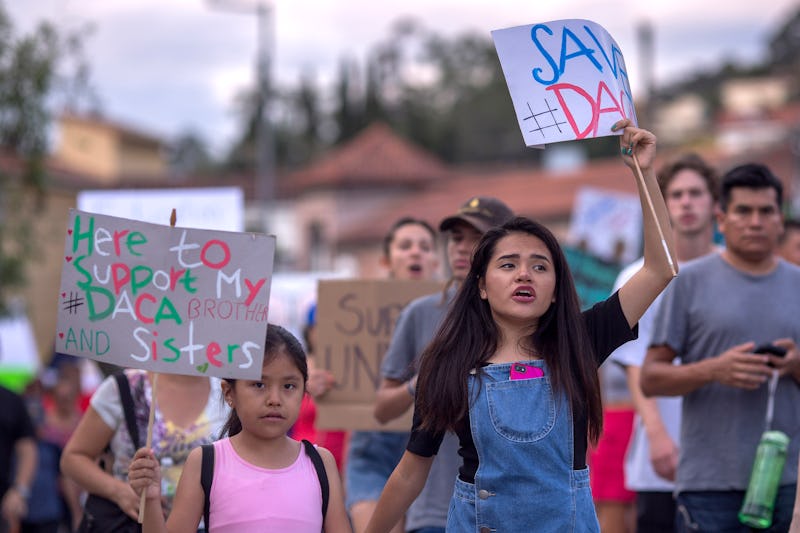 David McNew/Getty Images News/Getty Images
Describing it as a "rare step," the Department of Justice (DOJ) announced Tuesday that it intends to directly ask the Supreme Court to allow Trump's administration to end DACA, an Obama-era program which shields undocumented immigrants brought to the United States as children from deportation. It also plans to ask the Supreme Court to overturn a court order which temporarily protects DACA recipients from deportation.
"It defies both law and common sense for DACA — an entirely discretionary non-enforcement policy that was implemented unilaterally by the last administration after Congress rejected similar legislative proposals and courts invalidated the similar DAPA policy — to somehow be mandated nationwide by a single district court in San Francisco," said Attorney General Jeff Sessions in a statement.
Earlier this month, a California judge issued an injunction that ordered that DACA recipients, often referred to as Dreamers, maintain their deportation protections while the program undergoes legal challenges. According to the DOJ's announcement, the Trump administration will ask Supreme Court justices to review the judge's decision, and also ask them to take up the case before the lower court rules on it, effectively skipping a step if the case eventually to make it to the Supreme Court on its own.
"We are now taking the rare step of requesting direct review on the merits of this injunction by the Supreme Court so that this issue may be resolved quickly and fairly for all the parties involved," Sessions said.
When the Trump administration announced in September of last year that it intended to end the program as soon as March of 2018, several states filed a lawsuit challenging the decision. These states included California, Minnesota, Maryland, and Maine.
California's Attorney General, General Xavier Becerra, said at the time that the sudden unraveling of DACA violated due process, and that it would hamper the state's economy. "It just so happens that one of every four of the DACA recipients in this country — some 200,000 — live and work and call California their home, and they've been helping California become the sixth-largest economy in the world," Becerra said at a press conference.
Earlier in January, California-based U.S. District Judge William Alsup ordered that the federal government continue renewing DACA certifications for those who were protected under the program when Trump announced its dismantling. Initially, the administration had stopped accepting renewal applications on Oct. 5, 2017, a month after the announcement to end the program wholesale. Alsup's injunction didn't make way for new applications, but extended protections for DACA-recipients who already formally qualified for the program.
After the injunction was announced, Trump responded on Twitter: "It just shows everyone how broken and unfair our Court System is when the opposing side in a case (such as DACA) always runs to the 9th Circuit and almost always wins before being reversed by higher courts," he said.
One of the key arguments against DACA is that the program is unconstitutional because it was put in place via executive order. When Trump announced he was ending the program, he said he was open to an alternative version of the program if it were passed by Congress.
As the six-month grace period before the program's official dismantling begins has wound down, debate has ensued among congresspeople regarding the best way to pass a permanent DACA bill. By and large, Democrats are insisting on a "clean" DACA bill - a piece of legislation devoted solely to protecting Dreamers. However, many Republicans, including Trump, are insisting that any bill protecting Dreamers also include significant immigration reform, as well as increased border security.
Added into the mix is the fact that funding for the government expires on Friday. As the government approaches a potential shutdown, many Democrats are insisting that any bill that funds the government must also provide protections for Dreamers. It is currently unclear whether Democratic lawmakers will successfully use government funding as leverage to pass a DACA bill.