Congress Might Not Complete Its Crazy Long To-Do List Before The New Year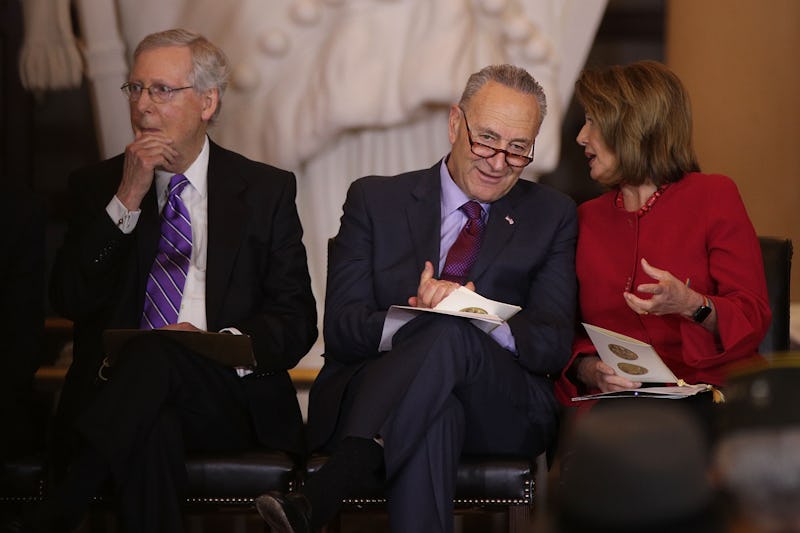 Alex Wong/Getty Images News/Getty Images
When lawmakers return to work after Thanksgiving, they'll begin a three-week sprint to tackle some of the thorniest items on 2017's congressional to-do list. From funding a children's health care program to funding the entire government, lawmakers have a slew of work to sift through in the 12 days they'll be in session between Tuesday and Dec. 14, when the House and Senate both are scheduled to head home for the holidays. But a laundry list of priorities could potentially keep them working all the way through New Year's Eve.
According to Republican and Democratic leadership aides, lawmakers must pass a government funding bill; raise the debt ceiling; send more financial aid to areas devastated by hurricanes and wildfires; fund a health care program that covers nearly nine million lower-income kids; and figure out what to do with the roughly 800,000 undocumented people who were brought to the United States as children, all before the clock strikes midnight on Dec. 31.
Beyond that, President Trump has promised to sign into law tax cuts that he calls "the biggest in the history of our country" (they're not) before the end of the year. Republicans are proposing a sweeping overhaul that could lead Democrats to revisit the health care issue that torpedoed Trump's core campaign promise last summer. Trump, still looking for the first major legislative "win" of his presidency, and Republicans say the stakes couldn't be higher. Failure to deliver this time could bruise the party ahead of the 2018 midterm elections.
With bipartisanship at a record low and members of both parties on the ballot next year, the fight's heating up. And despite deep divisions between Democrats and Republicans — and Republicans and Republicans — the parties will need to cut deals with each other to check everything off this list.
1. Avoid A Shutdown At All Costs
Back in September, Republicans and Democrats made a deal to extend funding for the government through Dec. 8. That deadline is quickly approaching, and lawmakers first need to strike a bipartisan agreement on where to cap funding levels before deciding on the specifics of a final, omnibus spending bill (that's a bunch of smaller bills about where the money is going, all grouped into one package).
If that doesn't sound complicated enough, both parties also are expected to use the must-pass mega-bill to push their own agendas. Democrats' priorities are strengthening Obamacare and passing legislation to take the place of the Deferred Action for Childhood Arrivals (DACA) program. Republicans want to increase military spending, and could lure Democrats on board by conceding to one or more of those goals. While Republicans say they also want to address the needs of DACA recipients, and they support a bipartisan measure to stabilize insurance marketplaces, Trump wants something else from his party entirely: money to build a wall along the U.S.-Mexico border.
Failing to pass a government funding bill isn't impossible or unprecedented. Over the past 40 years, the government shut down more than a handful of times. That includes a two-week long stretch in 2013 that kept hundreds of thousands of government employees home from work without pay, closed down national parks, and slowed down airport screenings and passport applications.
If lawmakers can't come to an agreement on a spending bill by Dec. 8, they could revisit the issue in early 2018 and pass a stopgap measure that funds the government in the short term to avoid a shutdown. While that's a far better outcome than the government closing up shop, federal agencies and the military don't favor the approach, since it's hard for them to plan ahead without knowing how much money they have to spend.
2. Keep The Government From Maxing Out
Think of it like this: If the United States put all its spending on a credit card, the debt ceiling would be the maximum amount it could charge. But while a maxed-out credit card would simply get declined, hitting the debt ceiling would trigger all kinds of scary financial problems far beyond America's borders.
So the debt ceiling is a limit to how much money the government can borrow to fund its expenses, and after that limit's reached, there's essentially no more money left to pay the bills. To borrow more money and meet its obligations, the government needs to raise the debt ceiling, which was done without much fuss until a few years ago. In an effort to extract concessions from Democrats, Republicans threatened to refuse to raise the debt ceiling in 2011, in 2013, and again in 2015.
This political game of chicken didn't ultimately cause the country to default on its debt. But it was enough to shake confidence in the United States' ability to make repayments, so credit agencies downgraded the country. If the U.S. government truly ran out of money to pay its bills in full and on time, it would shake financial markets around the world.
While Treasury Secretary Steven Mnuchin has said he believes the government will be able to borrow money until at least the end of January, the issue could become wrapped up in negotiations over the big spending bill this December.
3. Deliver More Aid To Areas Rocked By Natural Disasters
The Trump administration sent Congress a disaster aid request package at the end of last week. It's the first step in sending additional funding to devastated areas like Texas, Florida, and Puerto Rico, which were hammered by hurricanes last fall. But the request was immediately criticized because it failed to include relief money for victims of the wildfires that burned through California earlier this year, charring more than a million acres and forcing more than 90,000 people from their homes.
The latest request would bring the total disaster aid package close to $100 billion, and that's not the last of it. If Republican lawmakers push for budget cuts to make up for that increased spending, a new fight could erupt over virtually anything they propose to put on the chopping block.
4. Slash Taxes—BIGLY
Republicans have identified a sweeping tax overhaul as the one big thing they want to get done before the end of the year. While that's a self-imposed deadline, they're counting on the legislation to pass and for that win to carry their party through the 2018 midterm elections. President Trump also is counting on Republicans to get it done so that he can point to a major legislative achievement in his first year in office.
But Republicans and Democrats are deeply divided over the proposed tax cuts, which include big breaks for corporations and wealthy individuals. With more than a handful of GOP senators considered potential "no" votes, Republicans only can afford to lose two votes from within the party and still pass the bill.
5. Breathe Some Life Back Into Obamacare
In an effort to dismantle President Obama's signature health care law after multiple repeal efforts failed in Congress, Trump moved to end subsidy payments to health insurance companies. These payments from the federal government enable insurers to keep costs down for lower-income people, and are essential to the law's promise to insure all Americans.
There's momentum around a bipartisan proposal from Sens. Patty Murray (D-WA) and Lamar Alexander (R-TN) that would fund these subsidies while giving states greater flexibility to maneuver around some of the law's restrictions. Lawmakers could push to incorporate their measure in December's must-pass government spending bill.
On another front, Senate Republicans are pushing draft tax legislation that would repeal the part of the Affordable Care Act that requires everyone to have insurance or else pay a penalty. While the White House has signaled that it's open to moving ahead on overhauling the tax system without a change to this individual mandate, health care reform is now part of the sweeping tax negotiations.
6. Reauthorize Insurance For Millions Of Kids In Need
The Children's' Health Insurance Program, or CHIP, covers close to nine million low-income kids whose parents don't qualify for Medicaid. While the program needed to be reauthorized in September, most states had enough funding to continue that insurance through the fall. But three states and the District of Columbia will begin to run out of funding next month, while 31 more states are expected to run out of money for the program by March.
Last fall, funding for community health centers, which serve more than 27 million people nationwide, was coupled with a short-term deal to provide funding for CHIP. Those, too, could be folded into the end-of-year spending bill.
7. Decide The Fate Of 800,000 DACA Recipients
Democratic and Republican leadership aides tell Bustle that both parties want to craft legislation to replace the Deferred Action for Childhood Arrivals program, which enabled some undocumented young people to work and live in the U.S. without threat of deportation. The question is, when to tackle it? Democrats are pushing for a resolution by the end of the year, while some leading Republicans say they'll gain leverage if they can hold off on debate until January. Trump punted the issue to Congress last fall, when he announced an end to the Obama-era program that temporarily shielded roughly 800,000 undocumented young people.
"Congress now has 6 months to legalize DACA (something the Obama Administration was unable to do). If they can't, I will revisit this issue!" Trump tweeted in September. He has urged Republicans to push for increased border security and immigration enforcement, which could become bargaining chips in the lawmaking process.
While Congress has until March to meet Trump's demand to "legalize DACA," expect lawmakers to push the issue in the end-of-year legislative flurry — for now, it's unclear exactly how they'll do so.