'Timeless' Is In Danger Again & Fans Are Making Impassioned Pleas On Twitter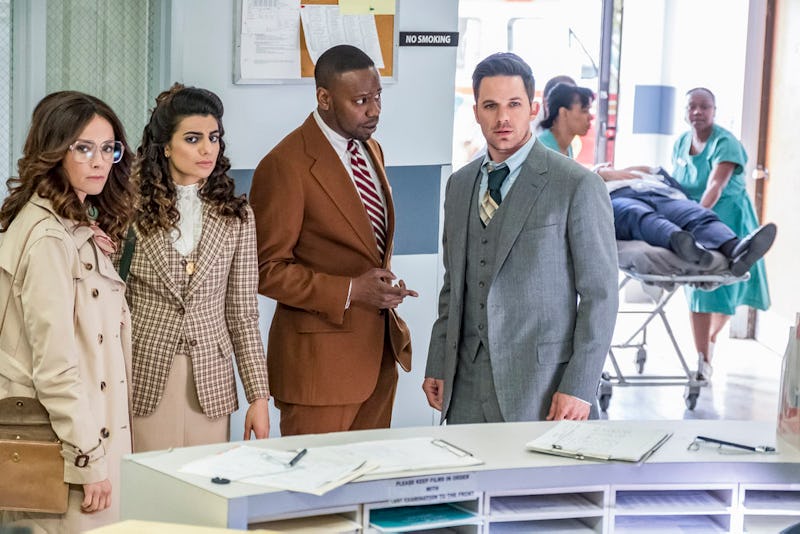 Ron Batzdorff/NBC
By a TV miracle, a Season 2 of Timeless on NBC exists. And for Timeless to be renewed for Season 3, some more time travel-like magic may need to occur. When Timeless was canceled after its first season, NBC rather unfathomably reversed its decision a few days later and gave the show another chance, as Vulture documented. NBC was swayed by the passionate Timeless fanbase and negotiated with the production company Sony to make a Season 2 a reality.
But jump in time a year later and Timeless is in danger of being canceled again. On May 5, showrunner Eric Kripke tweeted a letter from him, fellow showrunner Shawn Ryan, and the cast and crew that pleads for people to watch the two-part Season 2 finale live on Sunday, May 13 to help with the ratings. The letter also encourages writing to NBC on social media because the fate of Timeless rests in the hands of its fans yet again.
While Season 1 had 16 episodes, NBC gave Timeless just 10 episodes for its second shot. The final two episodes of Season 2 will both air on May 13 and this starts at an earlier time of 9 p.m., which Kripke hopes will help entice more viewers. And apparently, something major happens in the Season 2 finale that will make you extremely anxious for a Season 3. Wyatt actor Matt Lanter told Entertainment Tonight:
"There's a small bit at the very end that's a season cliffhanger and I can't wait for people to see this because it's awesome and — I promise you — it opens so many questions. It's one of those things that happens that changes everything we thought we knew about time travel. People's lives are hanging literally in the balance; there are literally people who could die or survive in this finale. It changes everything."
So, as history repeats itself for Timeless, you can try to keep the show alive for another season by tuning in live for that major cliffhanger of an ending. If you're searching for inspiration for you #RenewTimeless tweets, here are just some of the reasons why people are begging for a Timeless Season 3 on Twitter.