Tom Holland Could Be Spilling 'Avengers' Some Secrets On The Teen Choice Carpet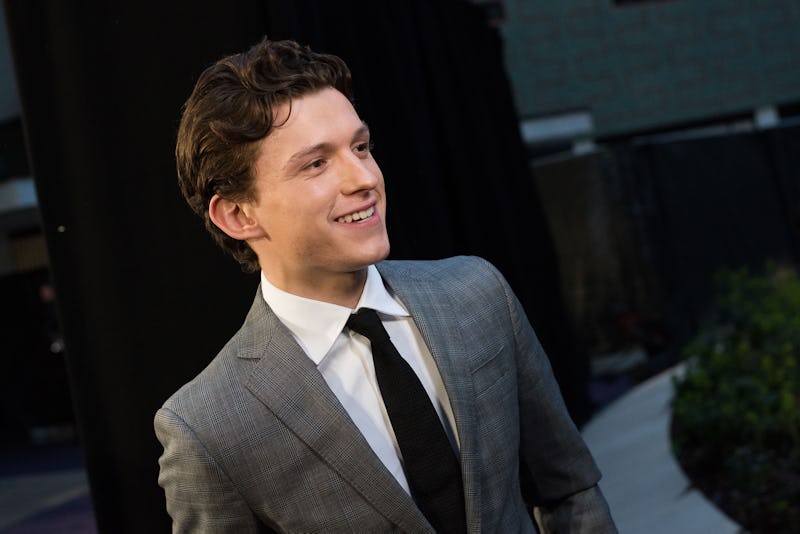 Gareth Cattermole/Getty Images Entertainment/Getty Images
My spidey-senses are tingling, which must mean that actor Tom Holland might be about to grace us with another public appearance. Holland is nominated, along with his fellow castmates from Avengers: Infinity War, in quite a few categories in the Teen Choice Awards, airing Aug. 12. But will everyone's favorite Spiderman be strutting his stuff on the red carpet? Will Tom Holland be attending the 2018 Teen Choice Awards?
Alas, Holland hasn't confirmed yet whether he'll be headed to the awards. But since he and all of the Avengers are up for so many surfboards, it seems likely that the cast might decide to attend. Avengers: Infinity War is nominated for Choice Action movie, and most of the cast members are nominated as well. Tom Holland is up for Choice Action Movie Actor, along with his fellow Avengers Chris Evans and Robert Downey Jr. The female Avengers got nods as well, as Zoe Saldana, Scarlett Johansson, and Elizabeth Olsen were all also nominated for Choice Action Movie Actress for their roles in Infinity War. How awesome would it be if the entire Avengers squad rolled up for the Teen Choice red carpet? And if anyone needed saving during the ceremony, the Avengers would certainly be up for the task.
This isn't the Spiderman actor's first time being nominated for a coveted surfboard. Holland was previously up for the Choice Movie: Scene Stealer award in 2016 for his role in Captain America: Civil War, and in 2017 he was nominated for Choice Breakout Movie Star and Choice Summer Movie Actor for his role in Spider-Man: Homecoming. He didn't manage to snag a win in any of those categories, but I have a feeling this could be Holland's lucky year. It would be a shame if he finally managed to secure a win, and wasn't there to accept the award in person!
But maybe Holland won't be attending the awards because, as it's been revealed recently, he is a bit of a liability to the Avengers team... in the spoilers department, anyway. Apparently, Spiderman is notoriously bad at keeping secrets about the upcoming movies. Directors Anthony and Joe Russo revealed in an interview with Entertainment Tonight that Holland keeps accidentally confirming fan theories and offering up spoilers on red carpets. "What are you gonna do? You know," Joe Russo said. "He's the nicest guy in the world, so you can never be punitive towards Tom Holland." Maybe, rather than risk spoiling yet another aspect of the next Avengers movies, Holland will just avoid the Teen Choice Awards red carpet.
But the directors revealed that they had managed to figure out an effective way to keep Holland in line — assigning him Benedict Cumberbatch as a babysitter. "By the way, Benedict is a great partner for [Holland] on the press tour," Joe Russo said in the same interview. "Because Benedict is actually very good at dancing around spoilers — and monitoring Tom Holland." An enterprising Twitter user @iamgeekingout even made a hilarious montage of Cumberbatch stopping Holland from spoiling anything, sometimes even literally singing over his answers.
So as long as Cumberbatch is there to accompany him, there shouldn't be a problem with Holland hitting the red carpet at the Teen Choice Awards on Sunday night!