Why You Shouldn't Expect Tom Selleck To Pop Up On The 'Magnum P.I.' Reboot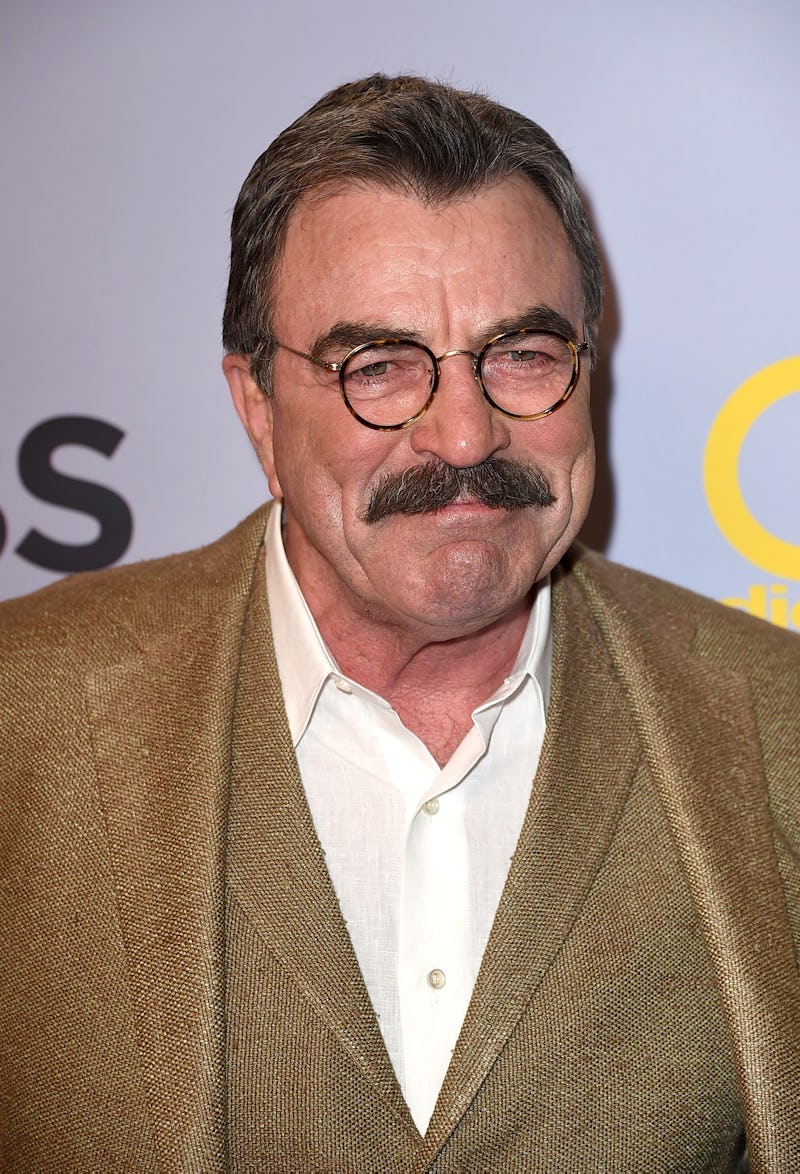 Kevin Winter/Getty Images Entertainment/Getty Images
Throughout his long tenure in Hollywood, Tom Selleck has been the face of quite a few famous characters, and now one of them is coming back to the small screen. Before he was Frank Reagan on Blue Bloods, Jesse Stone in Hallmark's eponymous mystery series, or Monica's dreamy older boyfriend on Friends, he was the titular character of a certain '80s detective show. But will Tom Selleck be in the Magnum P.I. reboot, or is he passing on the torch to a new crop of talent?
Selleck isn't credited as an actor — or any other role for that matter — on the new CBS drama's IMDb page, and there isn't really any news about him being involved whatsoever. So for right now, don't expect to see America's favorite mustache back on the show that kickstarted his career. That doesn't mean he wasn't consulted ahead of the new version, but in a September interview with Parade magazine, he said he simply gave his approval and moved on.
"I don't really have any say. CBS was nice enough to include me in a meeting," Selleck shared. "They said, 'We won't do this if you really have a problem with it.' I said, 'I did my own show and I'm very proud of it. I wish you well.'"
There also aren't any fun one-off cameo appearances in the works — in fact, Selleck sounded pretty against the idea when asked about the possibility of a guest stint. "I told them that I won't do some cameo guest spot to let the audience know I approve," he told TV Insider after noting he's too busy with Blue Bloods to take a behind-scenes role on the Magnum reboot, either. "I'm sure [the fans would] like it, but I have an obligation to my version. And [showrunner] Peter [Lenkov]'s going to do his take on what a Magnum under some similar circumstances should be about."
And so, with Selleck supportive but ultimately out of the picture, it's time to welcome a new Magnum. Jay Hernandez (Scandal, Nashville), who will play the titular P.I. in the reboot, is a departure from the original character in more ways than one. For starters, he's Latino — and Hernandez thinks having a person of color in the role helps to diversify TV's otherwise largely white universe.
"There's a lot of negativity attached to people of color, so it's really wonderful and bold and special to have this opportunity to put that imagery to tell stories and to be on TV and to have something up there that is in very stark contrast to a lot of what we're absorbing on a subconscious level," Hernandez toldVariety.
Will the new Magnum P.I. make the splash the original did? It's too soon to tell. But it's armed with all the right tools, including a capable star, a lush, tropical setting, and the blessing of the TV legend who first brought it to life. Judge for yourself when Magnum P.I. premieres Sept. 24.