'Top Of The Lake' May Have To Continue Without Elisabeth Moss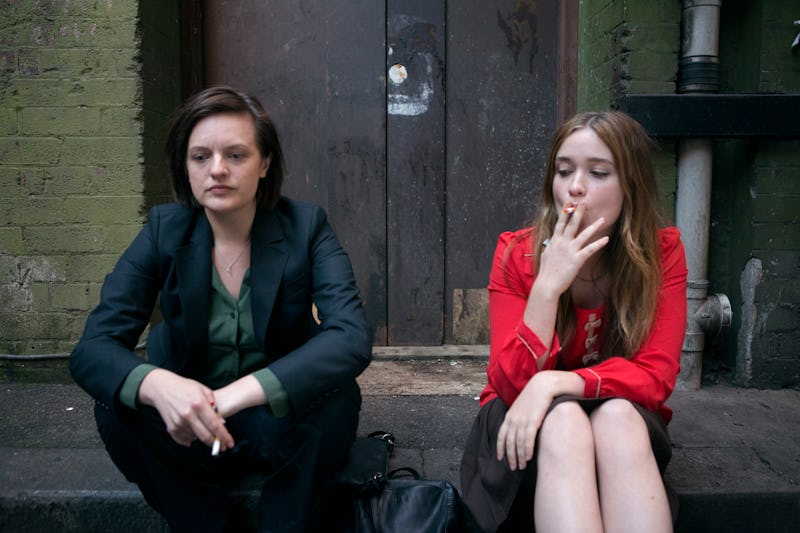 Lisa Tomasetti/See-Saw Films/Sun
The return of the event miniseries has yielded a new class of prestige shows with defined endings and uncertain futures. When Top Of The Lake Season 1 ended in 2013, a four-year hiatus ensued. If Top Of The Lake returns for Season 3, a similar wait could be in store. While it's still too early to say if another chapter of the Elisabeth Moss series will follow China Girl — and Sundance TV has yet to say anything about the show's future — there's a surprising amount of information already out there about what needs to happen before the network can confirm or deny that Top Of The Lake will be back.
Producer Hakan Kousetta told The Hollywood Reporter that Top Of The Lake Season 3 is in the hands of the show's creator, Jane Campion. "It's Jane's decision as to if and when," Kousetta said. "I hope she does. I am happy to remind her as often as possible. It lends itself to that possibility, but we'll have to see." But when asked directly if there are any plans for Top Of The Lake to return, Kousetta answered negatively. So there are solid plans yet, but it sounds like at least one producer is interested in continuing the series.
Less interested in making more is star Elisabeth Moss, who told TVLine, "Yeah, I think I don't want to just do the same thing over and over. It's boring, and I get bored easily, so I don't want to do the same thing over and over." Would Moss turn down the opportunity to make more Top Of The Lake if Campion presented it? Maybe.
"I want to just, I want to try new things. I want to challenge myself," she told TVLine. "I want to try to be a better actor." Perhaps a future season would be exciting and challenging enough for the actor that Moss would want to return to her character again. But she's definitely looking for a unique story to tell with her performance.
So, the challenge is on the table for Top Of The Lake's creator: can there be a Season 3 that rivals the first and second season, enough that it would provide either a whole new acting challenge for Elisabeth Moss or leave room for the character of Robin to be cut.
In an interview with Vanity Fair, Campion gave some indication of where the story is going in her mind. "If there was anything I feel like I'm going to circle round and pick up, it's GJ, Holly Hunter's character," Campion said. Hunter played an eccentric leader who formed a collectivist commune in shipping containers near Robin's New Zealand hometown in Season 1, but will not be featured in the Australia-set Season 2. Campion's vision for GJ's triumphant return? "... She's kind of ended up in Thailand and dying for the whole episode," she said. "We were so sad not to have [GJ in season two]. She was so strong and amazing; that's why I want her back. It would all end up back at the lake, of course."
So, it sounds like the creative side is taking it slow, and there's certainly nothing concrete in place at this time. But these comments from Moss and Campion suggest that, if the show returns, it may change direction and focus significantly. Coule Campion's vision for the series jettison the procedural framework in favor of telling the story of the return of a beloved character from Season 1? That Sundance will likely give her the time and room to develop this new version of the drama is just one of the many ways in which Top Of The Lake defies typical TV rules.