Here's How Airlines Want You To Prepare For Tropical Storm Harvey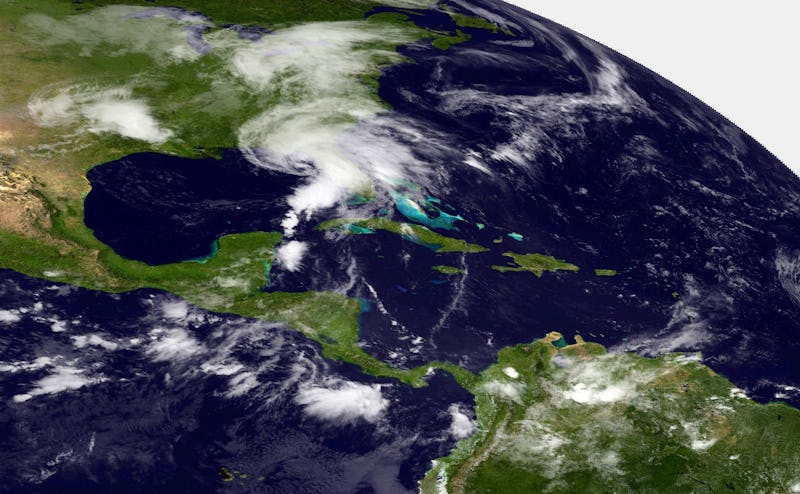 Handout/Getty Images News/Getty Images
After redeveloping into a tropical depression in the Gulf of Mexico on Wednesday, tropical storm Harvey is expected to make landfall on the Gulf Coast by the end of the week. The coast of Texas is currently under a hurricane watch — which means that conditions are ideal for a hurricane to form in the region within the next 48 hours — and both Texas and Louisiana are expecting severe rainfall and flooding. So if you're traveling through this region in the next few days, you probably want to know: Will tropical storm Harvey affect flights? Airlines like Delta have warned passengers that it is certainly a possibility.
According to Delta Airlines' website, travel to or from Houston — the fourth largest city in the U.S. — may be affected, and the airline will consequently waive flight change fees for passengers traveling this route. USA Today reported that Houston is expected to receive a significant amount of rain.
Numerous airlines, including Southwest, United, Frontier, and American, have similarly offered to work with passengers traveling through the region — especially to, through, or from cities like Austin, San Antonio, and New Orleans — to make changing or canceling flights as painless as possible.
According to a local ABC station, American Airlines is being the most cautious; the city is allowing passengers traveling to or from Austin, Beaumont, Brownsville, College Station, Corpus Christi, Harlingen, Houston, Lake Charles, McAllen, and San Antonio to rebook flights between Saturday and Monday at no extra cost — as long as they do so within the week. Frontier, meanwhile, will let passengers change their itineraries one time on travel affecting Austin, San Antonio, Houston, and New Orleans.
Southwest is giving passengers 14 days from their original date of travel to rebook or fly standby on flights to, from, or through Austin, Corpus Christi, Houston, Harlingen, and San Antonio, while United is waiving the cost of changing flights for travel affecting Austin, Brownsville, College Station, Corpus Christi, Harlingen, Houston, McAllen, and San Antonio.
If you will be traveling through the region in the next week, be sure to check your airline's specific conditions for changing or canceling your flights on the days mentioned above. To prepare for Harvey, the National Weather Service has issued its first-ever storm surge watch, which indicates that there is a "possibility of life threatening inundation, from rising water moving inland from the coastline" within 48 hours.