A Potential Hurricane Is On Its Way To North America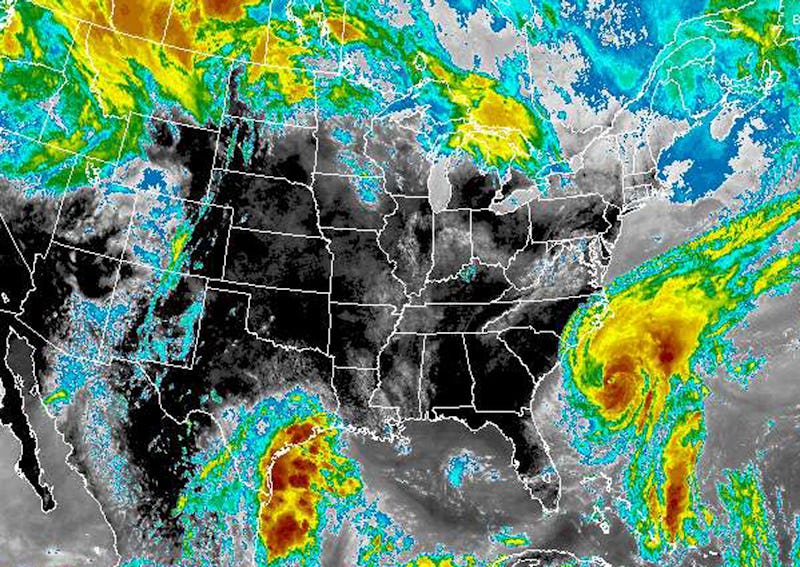 Handout/Getty Images News/Getty Images
After forming as a tropical storm in the Caribbean last week, Harvey has redeveloped into a tropical depression. On Tuesday, Harvey moved over the Yucatan Peninsula as a tropical wave after initially dissipating in the unfavorable environmental conditions of the Caribbean. Whatever is left of Harvey is now gaining strength in the Gulf of Mexico, which presents a more favorable set of conditions than the Caribbean. But when will tropical depression Harvey make landfall? According to CNN, a hurricane watch has been issued for the Texas coast, meaning a hurricane could strike there within the next 48 hours.
Initial forecasts indicated that Harvey would likely make landfall in Mexico, leading the Mexican government to issue a tropical storm watch for the country's coast. In the past day, however, Harvey appears to have moved north, and The Weather Channel has predicted that Harvey will redevelop into a tropical storm or hurricane, subsequently bringing rainfall and flooding to Texas and Louisiana.
As a result, the National Weather Service has issued its first-ever storm surge watch. According to the National Hurricane Center, a storm surge watch is put in place when there is a "possibility of life threatening inundation, from rising water moving inland from the coastline" in the next 48 hours.
Because of the slow trajectory Harvey appears to be taking across the Gulf of Mexico — it is moving northwest at roughly nine miles per hour — Harvey likely will not be able to reach the Texas coast until Friday at the earliest, and possibly not until Saturday. Current estimates indicate that Harvey will probably make landfall along the Texas coast on Friday afternoon or evening, and a map from the NHC shows the tropical system moving further inland on Saturday. This slow progression gives Harvey plenty of time to strengthen into a hurricane, possibly even after the 48-hour mark.
"The system is likely to slow down once it reaches the coast," the NHC said, "increasing the threat of a prolonged period of heavy rain and flooding across portions of Texas, southwest Louisiana, and northeastern Mexico into early next week."
The Weather Channel has advised affected areas to prepare for 10 to 15 inches of rainfall through Tuesday, but the middle and upper Texas coast and southwest Louisiana could see up to 20 inches of rain. If Harvey stalls for a few days, it would gather even more strength and consequently produce more rainfall and flash flooding.